Aidan Murphy
Alana Kowalczyk
Amy Clark
Andrew Forrest
Antony Scott-Pegum
Belinda Williamson
Bernita Edwards
Brendan Kenny
Brett Duke
Brett Miles
Bryony Milner
Carolyn Toledo
Cassandra Pine
Catherine Allen
Charlotte Churchill
Christopher Wardle
Cleopatra Ganis
Dale Armstrong
Danielle Borowski
Deanne Passenger
Elise Harris
Esther McKinnon
Felicity Yang
Hamish Brown
Hannah Bridgman-Smith
Jack Dodgson
James Baker
James Sia
James Stuart
Jayson Blight
Jee Heng
Joe McDermott
John Negus
Juan Sanchez
Julian Farrell
Kara West
Karin Morilla
Karine Sehn
Kate Pottinger
Katherine Callanan
Katie Holzberger
Katrina Pollock
Katy Roberts
Kim Richards
Lauren Hickling
Lauren Skelsey
Liliana Amaro Poot
Lisa Cummins
Madeleine Webb
Mark Shay
Matthew Alder
Maxie Navius
Megan MacKenzie
Michael Bailey
Michael Rayner
Michelle Fitzgerald
Misha Lamb
Mohsen Rahmanian
Natasha Chee
Natasha McGuffog
Peter Hale
Phillip Pappas
Richard Desgrand
Samantha Ritch
Shaun Hegarty
Sonia Palmer
Sophie Benn
Stephen Gunn
Susan Desbrosses
Tara Ram
Thomas James
Tracey Maree
Tristan Gration
Troy Rafton
Wei Shun Lee
Xavier Wong
Zile Zolte
One One One Eagle Street | Interiors
Brisbane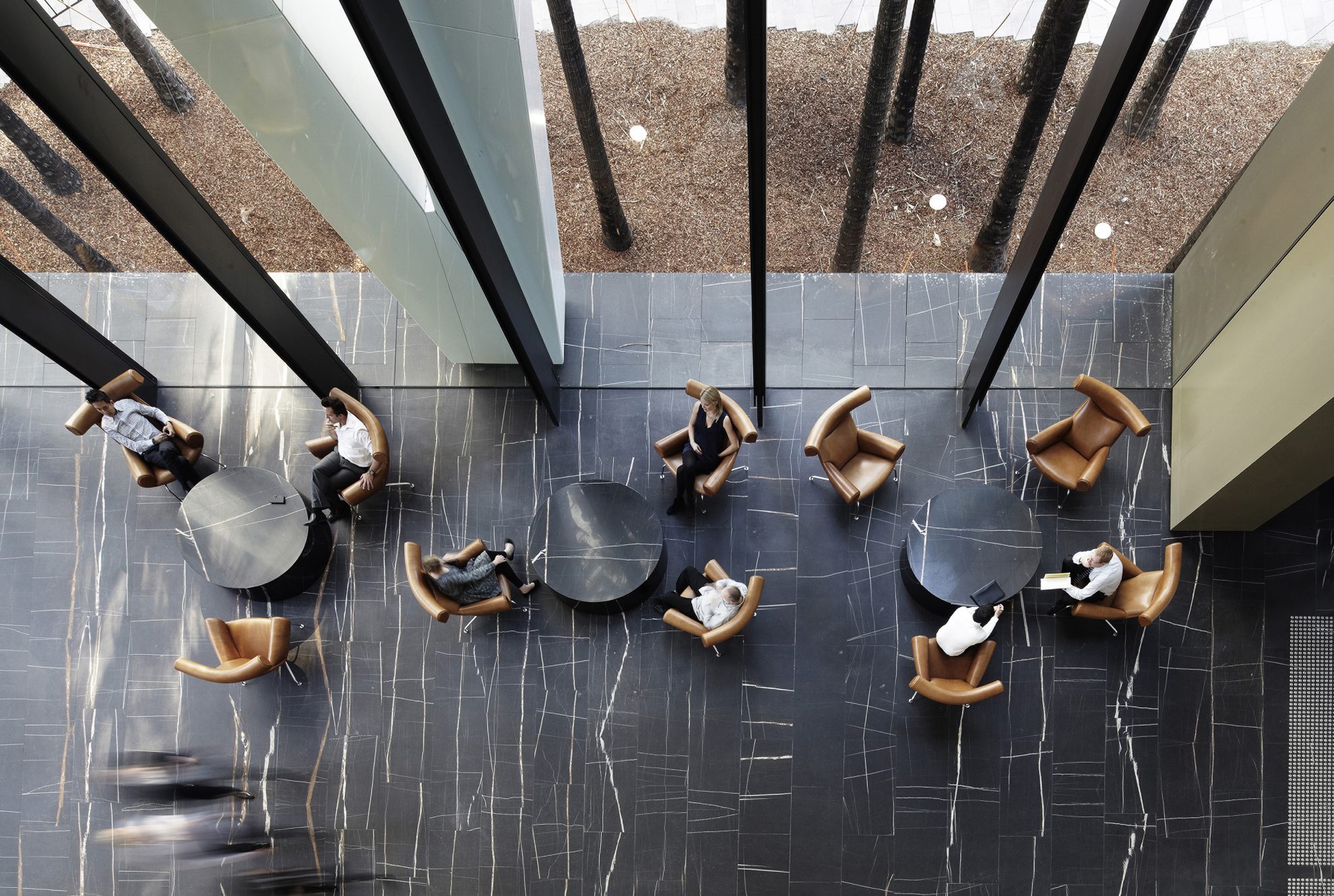 Dramatically adding to the cultural identity of Brisbane as a city – One One One Eagle Street has been recognised as an enriching and livening addition to Brisbane. A direct physical public benefit is the tower's base which folds up from the Riverside and Riparian plazas to form its own internal plaza and restaurant strip in a much-used thoroughfare between the ferry terminal and CBD.
The base of this commercial office tower is designed over two interconnected levels – the ground acting as a dining-activated public plaza and the upper as corporate foyers. The base's interior experience is derived from the tower's unprecedented free structure and idea of contextual integration.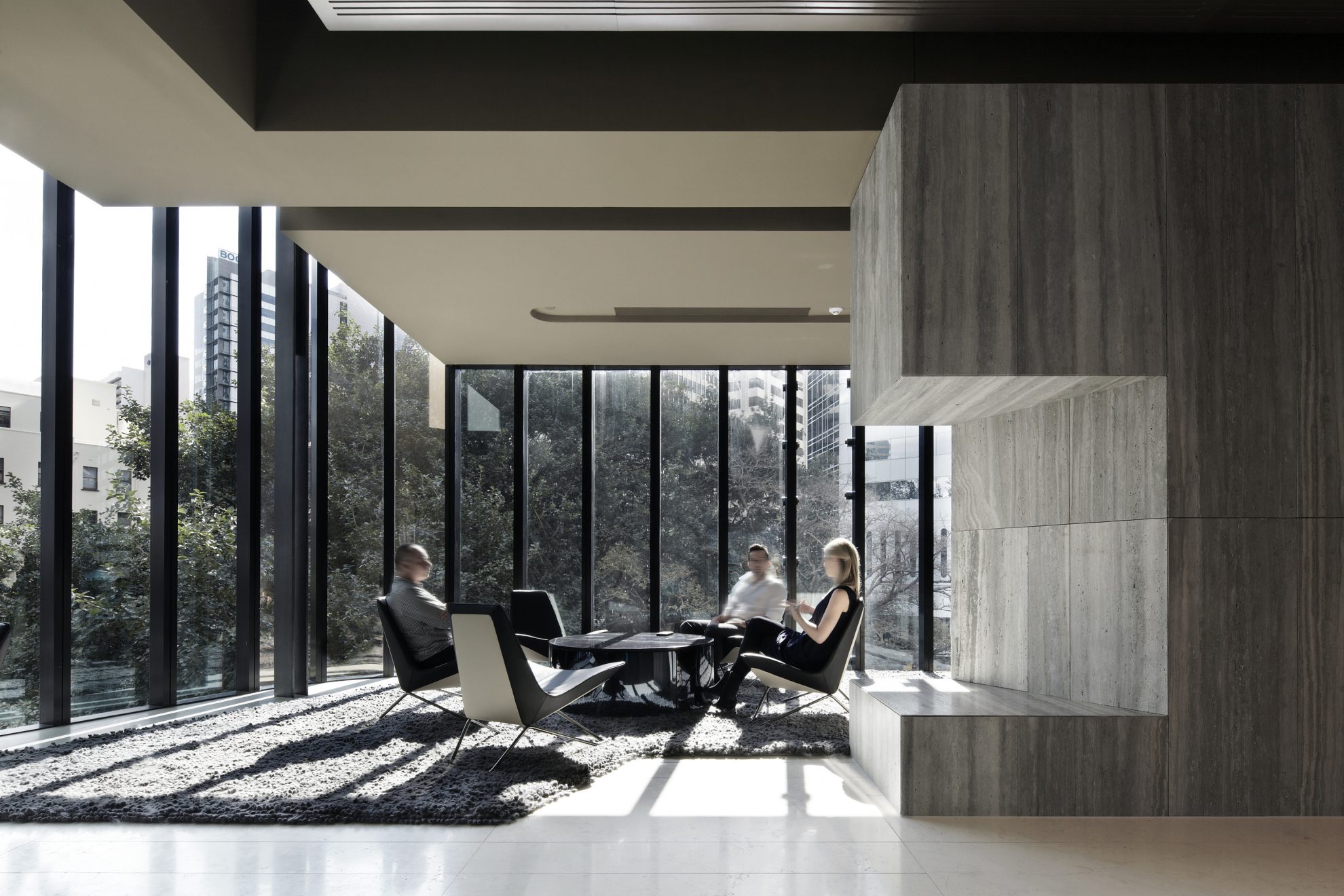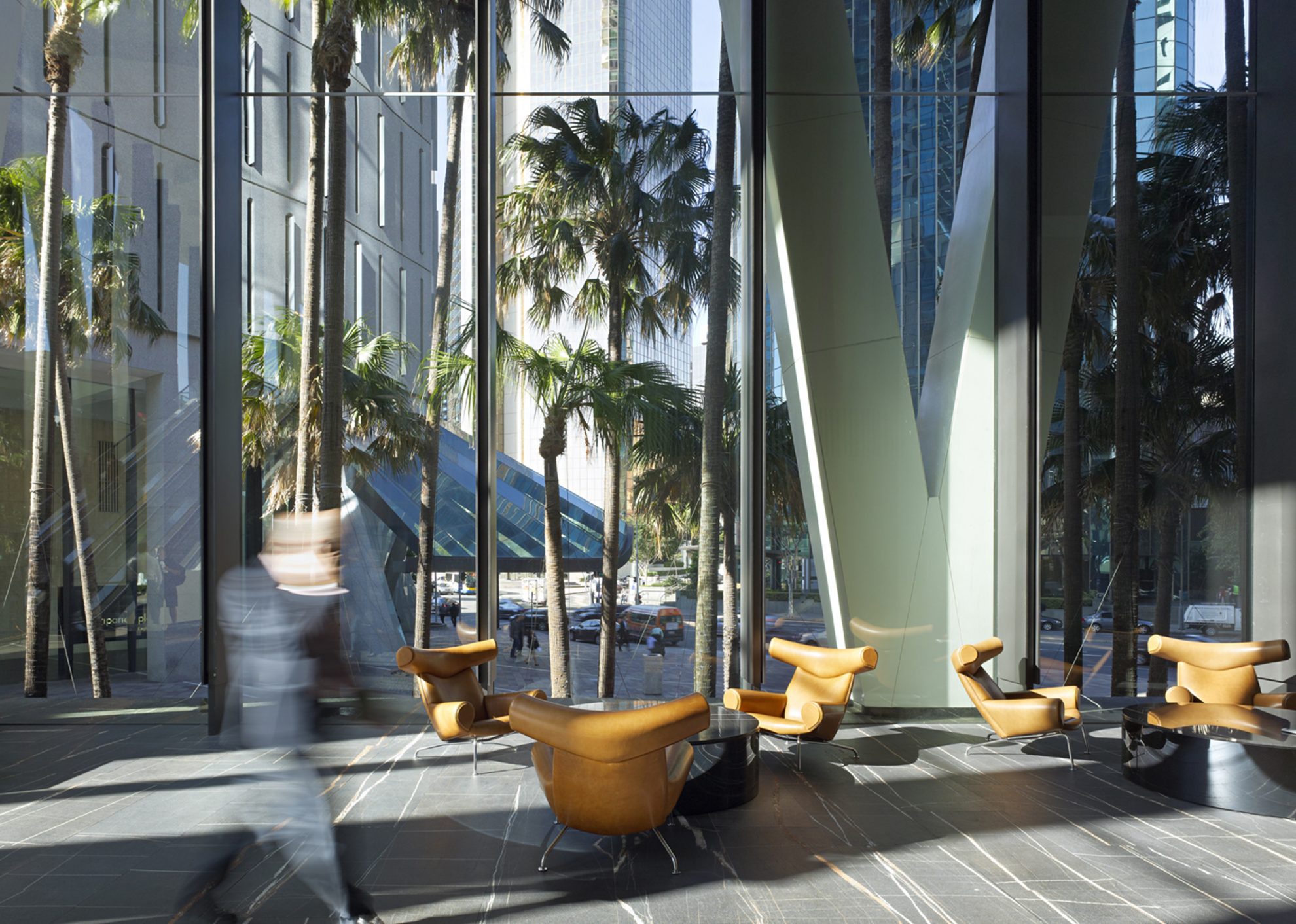 The concept was to create a place within this dramatic tower which the people of Brisbane would embrace for its amenity, diversity and drama. Splitting the levels between public and corporate allowed the ground level to act as a thoroughfare, reinforced in expression by a geological approach to its floor, its hall and open bistro restaurant – The George.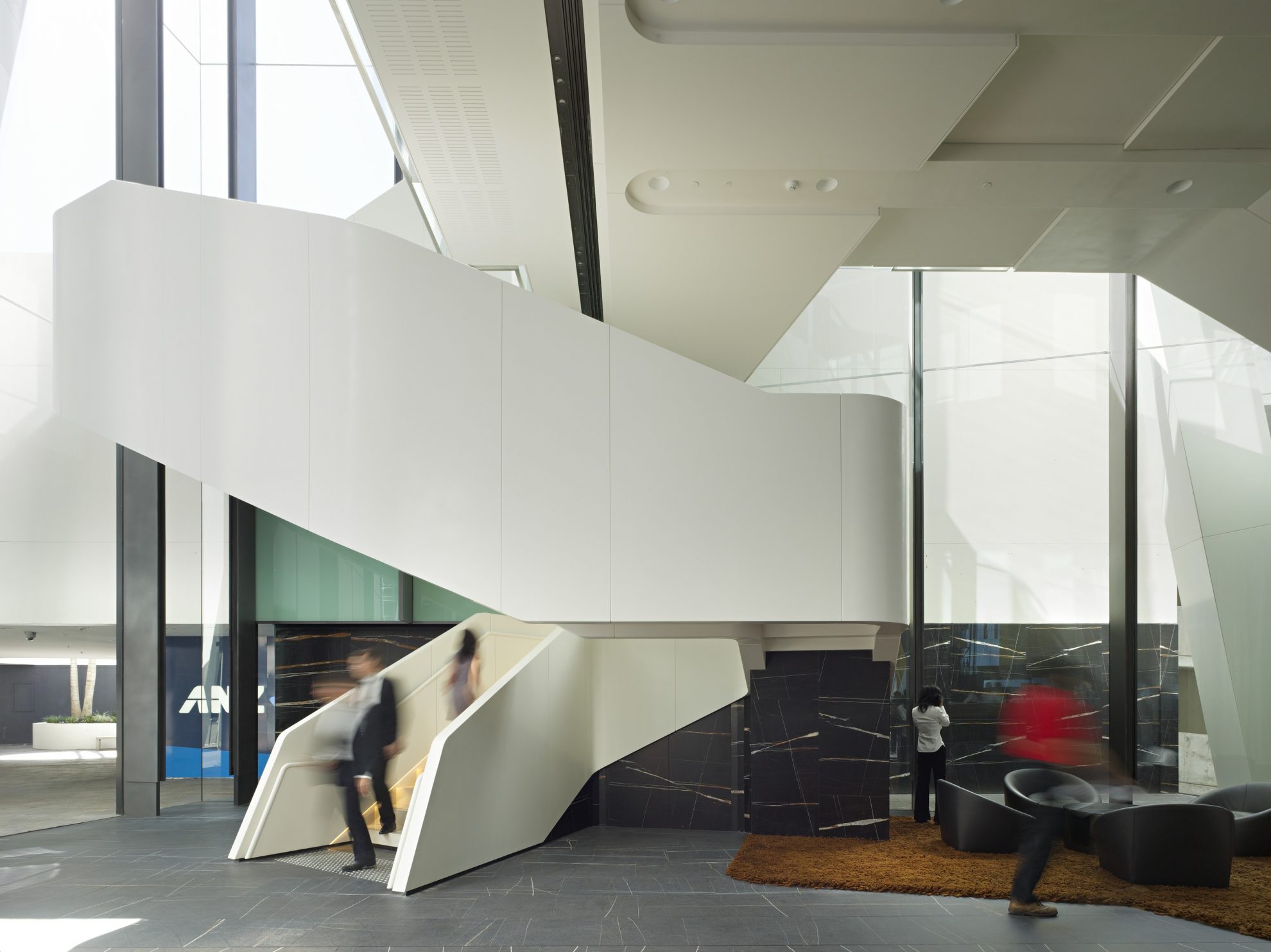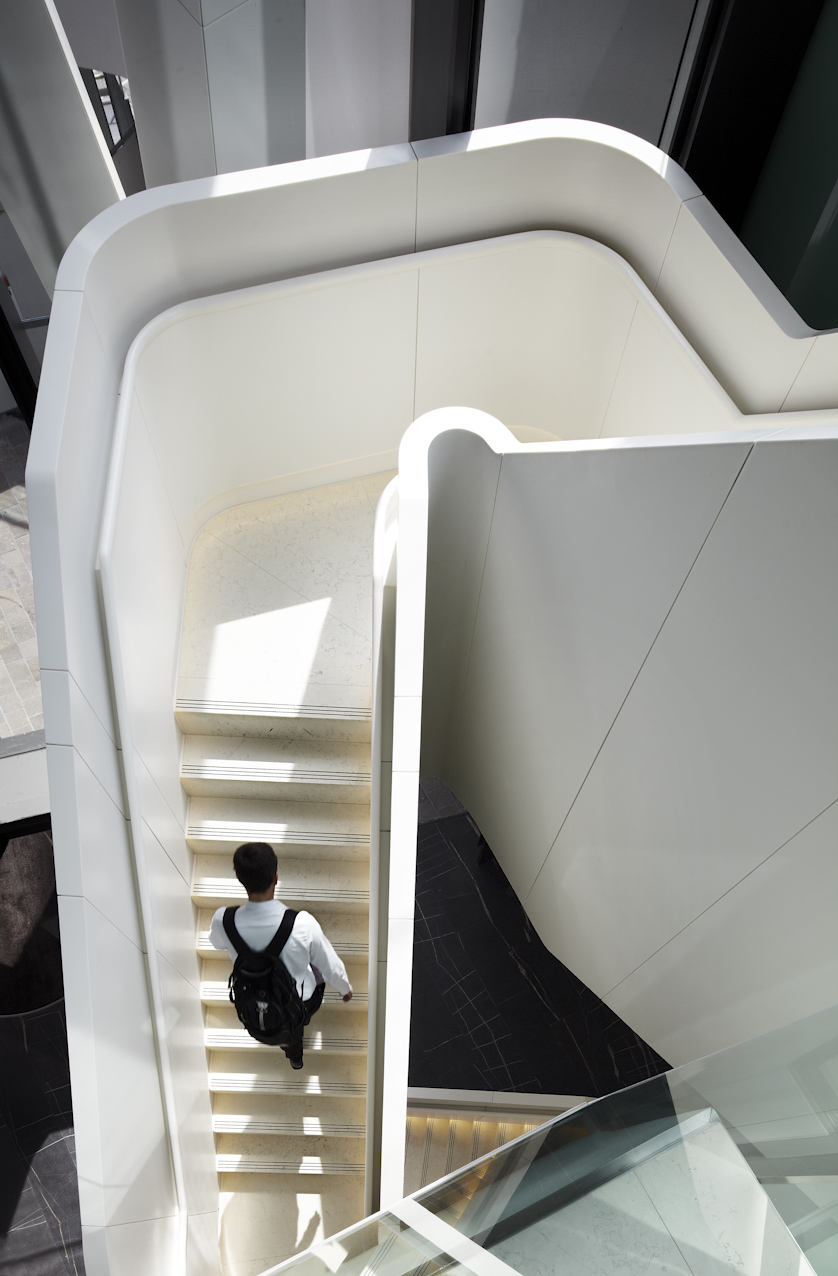 The upper level is distinguished to its identity as a 'white space,' relating to the tree structure encasing and supporting the tower and resolving its forces by forming the ceiling. It is activated by a small café and has become renowned for its meeting nodes and underfloor connections, including a sculptural staircase that pays homage to Harry Seidler – the Riverside precinct's original designer.