Project Contact
John Ferendinos
Brett Duke
Casey Vallance
Cassandra Pine
Christopher Bennett
Eric Buhrs
Ervin Fontana
Gary Michelson
Hang Ling
Hao Li
Ingrid Richards
James Stuart
Jane Hill
Jayson Blight
John Negus
Kara West
Katerina Roth
Katie Holzberger
Kim Richards
Lixin Wang
Luke Dutney
Lynn Heng
Matthew Alder
Megan MacKenzie
Michael Rayner
Michelle Lucas
Natalie Hoitz
Natasha McGuffog
Peter Hale
Philip Cox AO
Quentin Parker
Robyn Butler
Stephen Gunn
Tan Tian
Ton Ha
Troy Rafton
The Helix Bridge
Marina Bay, Singapore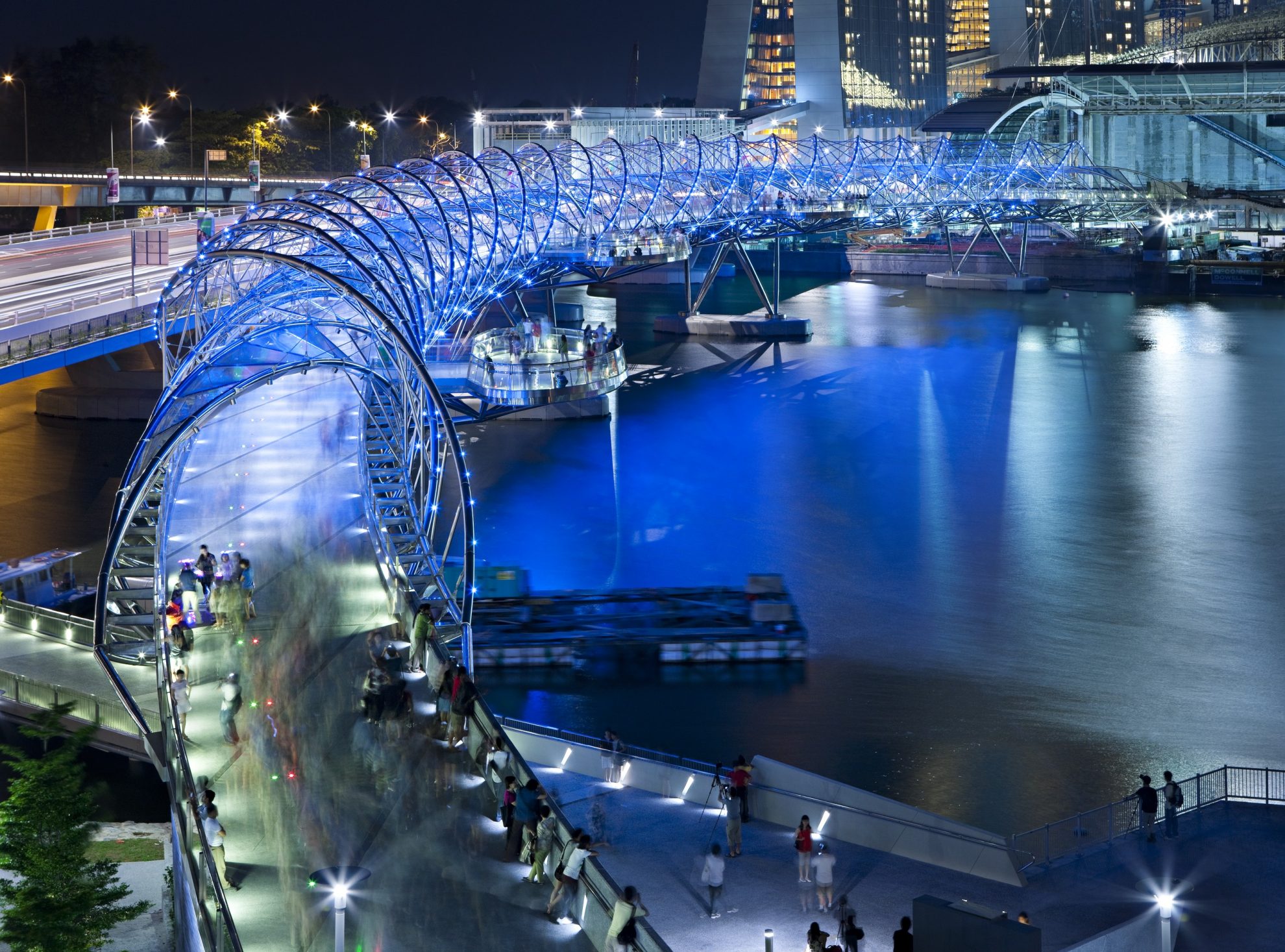 The Helix Bridge at Singapore's Marina Bay was inspired by the geometric arrangement of a DNA strand, resulting in a walkway that is enclosed by opposing double-helix structures of stainless steel.
Spanning the Singapore River from the city's central business district and bayfront area, the 280-metre-long twisting bridge allows pedestrians to walk its curved deck from one side of the river to the other.
The Helix Bridge wanted to be a more delicate and lightweight alternative to the vehicular bridge that was also part of the project. The pedestrian bridge is curved in plan to distance foot-traffic from cars, while also enabling pedestrians to connect from one bridge to another in the middle.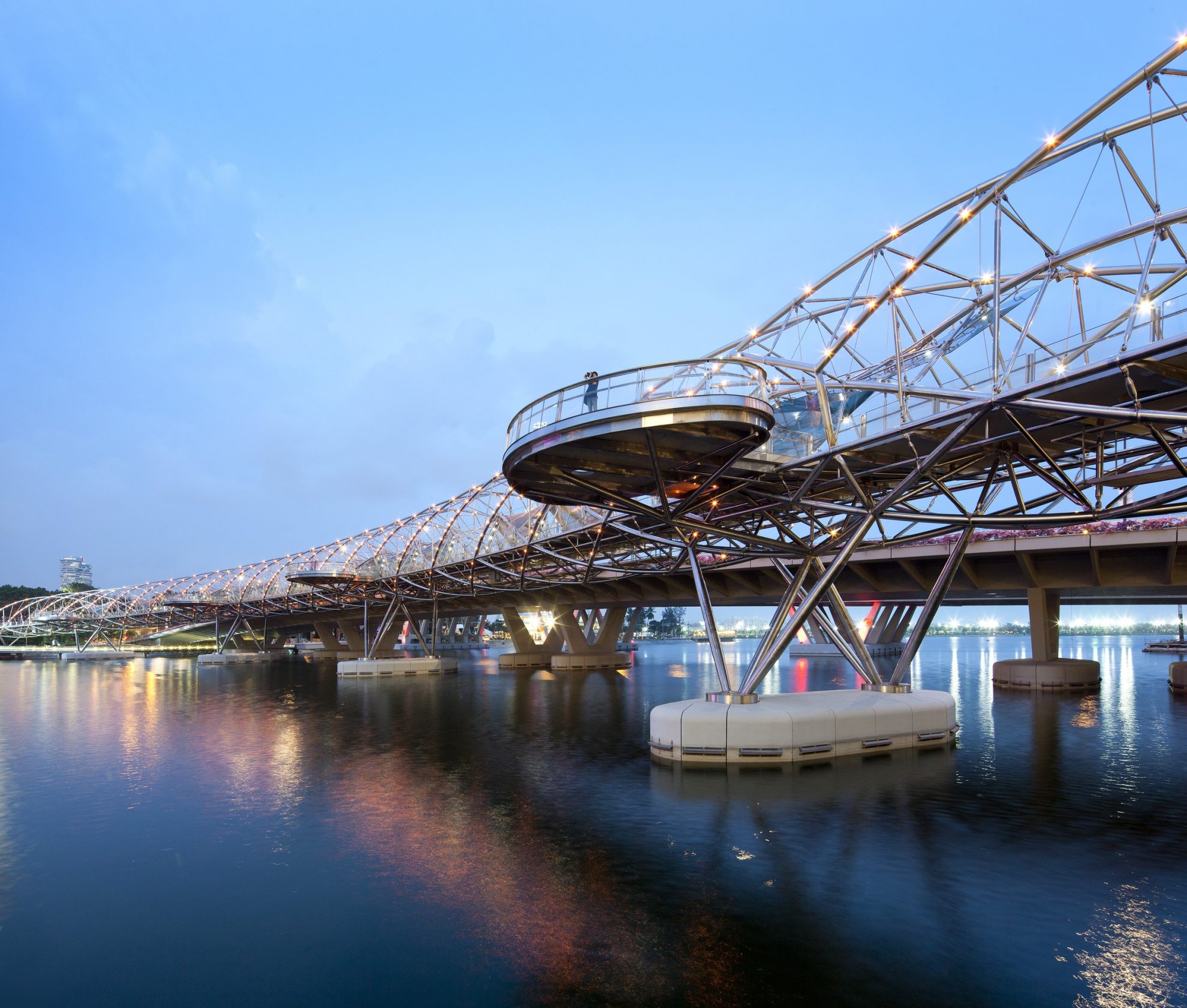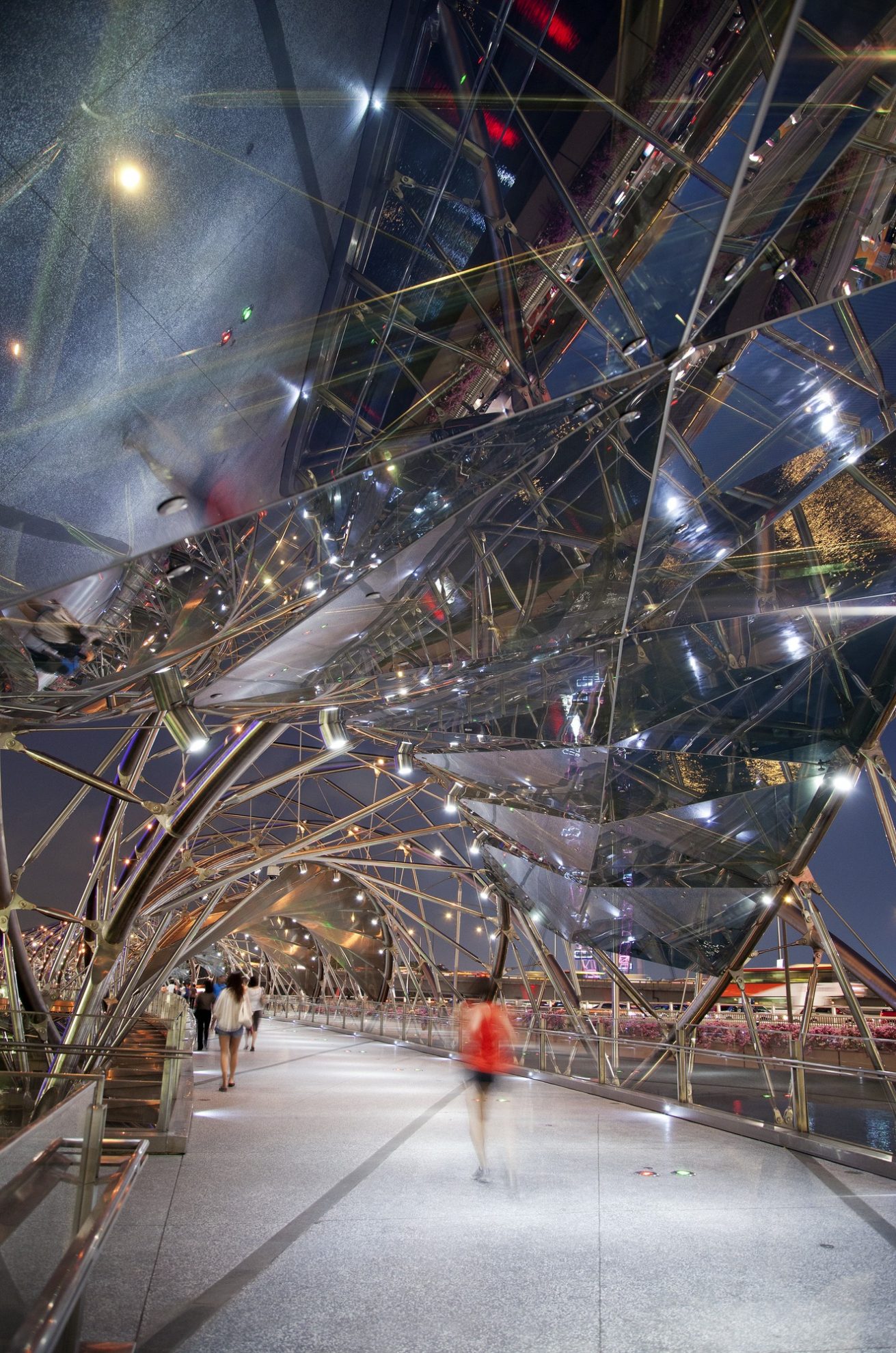 The bridge connects with attractions including the Marina Bay Sands complex and the National Performing Arts Centre. You can also gain sweeping views of other landmarks and the bay on the four viewing platforms that cantilever out from the bridge.
Ribbons of LED lights illuminate the bridge by night, emphasising the two twisting helix tubes. Canopies made of fritted glass and perforated steel mesh offer shade from the tropical sun.
The bridge is 285-metres long, made up of three 65-metre spans and two 45-metre end spans.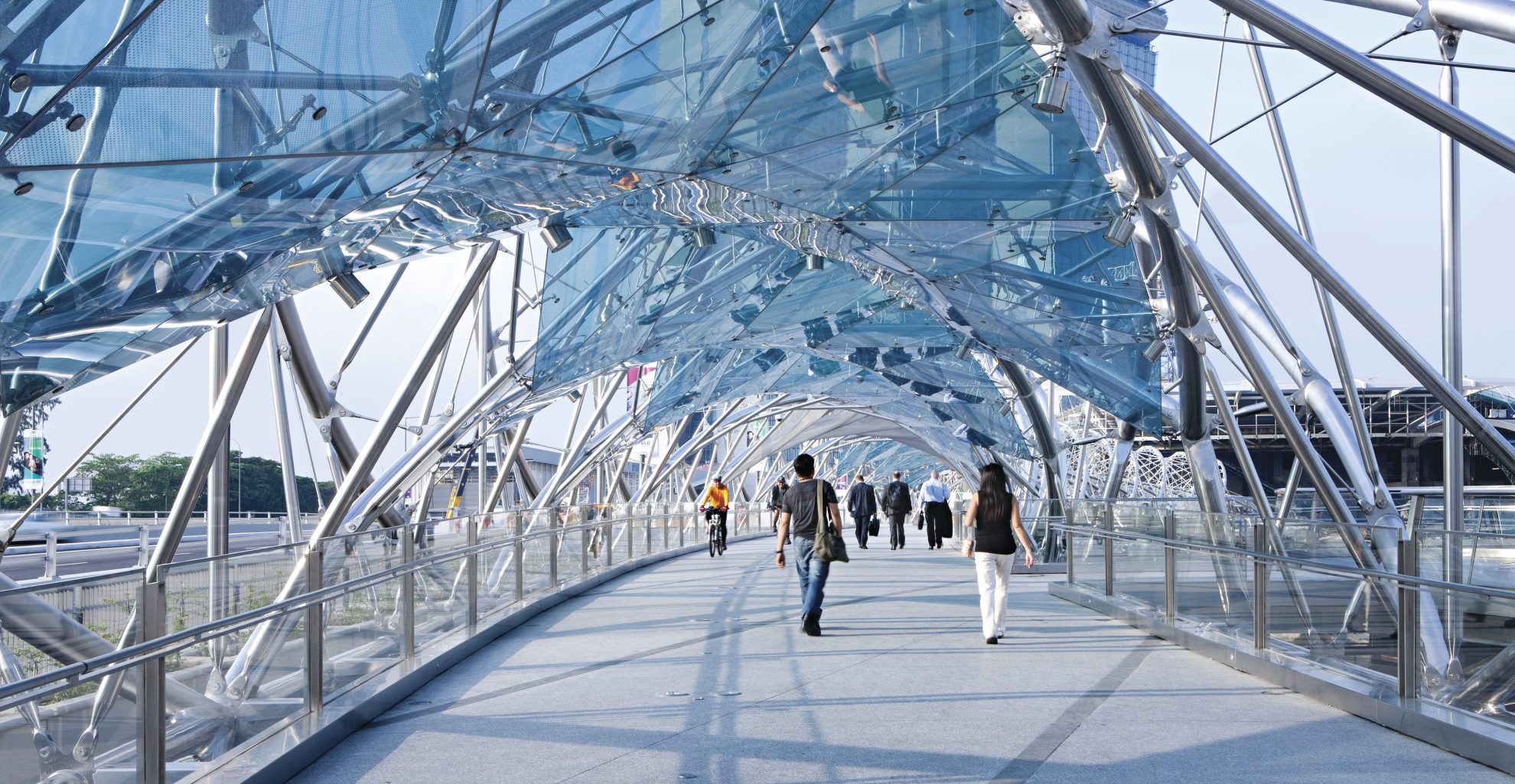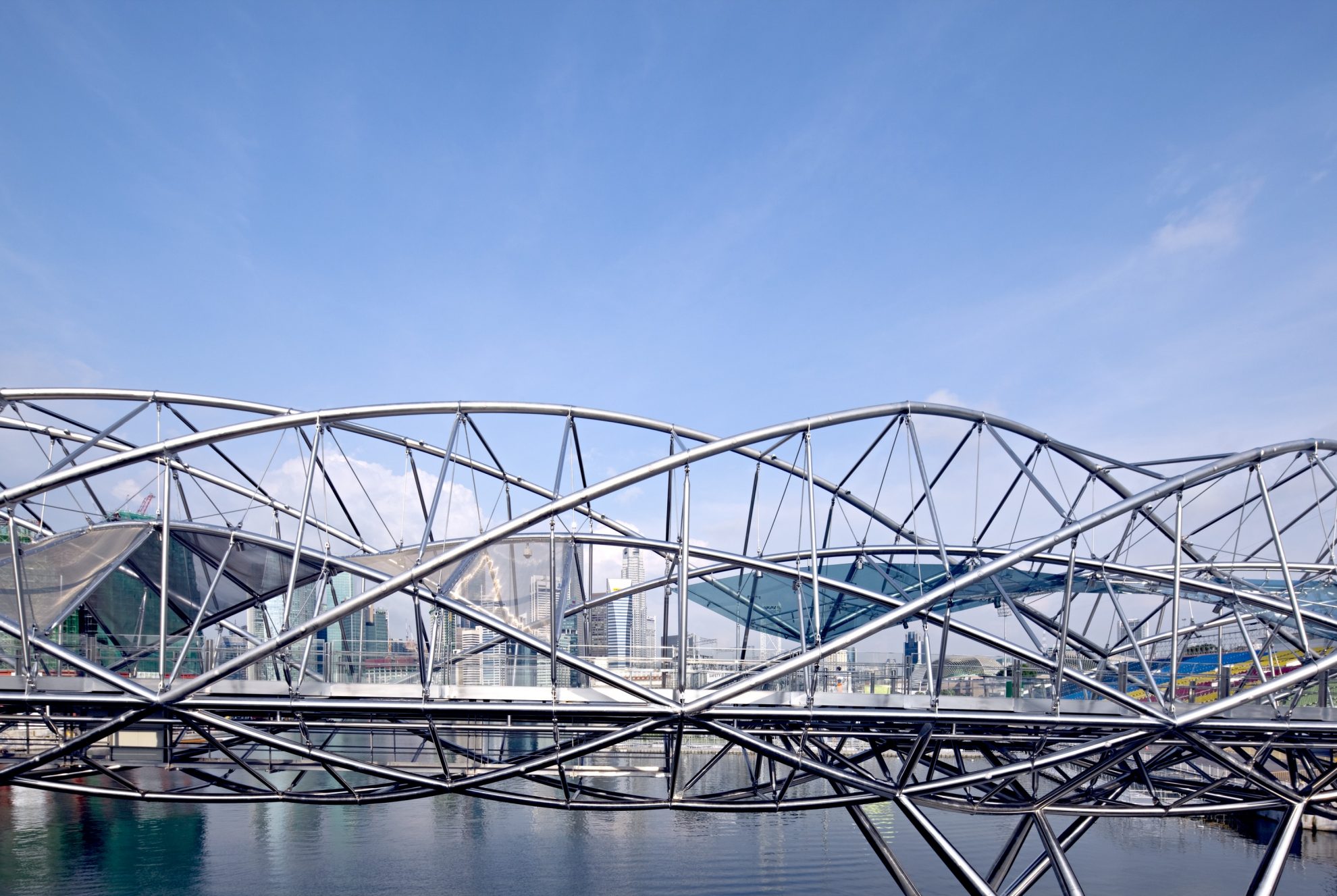 The economy of material facilitated prompted the Singapore Urban Development Authority to have the bridge fabricated in duplex stainless steel. This decision ensured members were crafted in minimal dimensions with tubes only 273mm in diameter.
The delicate tracery of the bridge's double spiral has created a foil to the massive buildings that flank the Marina Bay Shoreline. The bridge acts as both a crossing and a place of relief, with many residents and visitors coming to simply stroll and enjoy the Helix Bridge experience.