The Valley of Tomorrow – Cox Architecture Design new Moonee Valley Precinct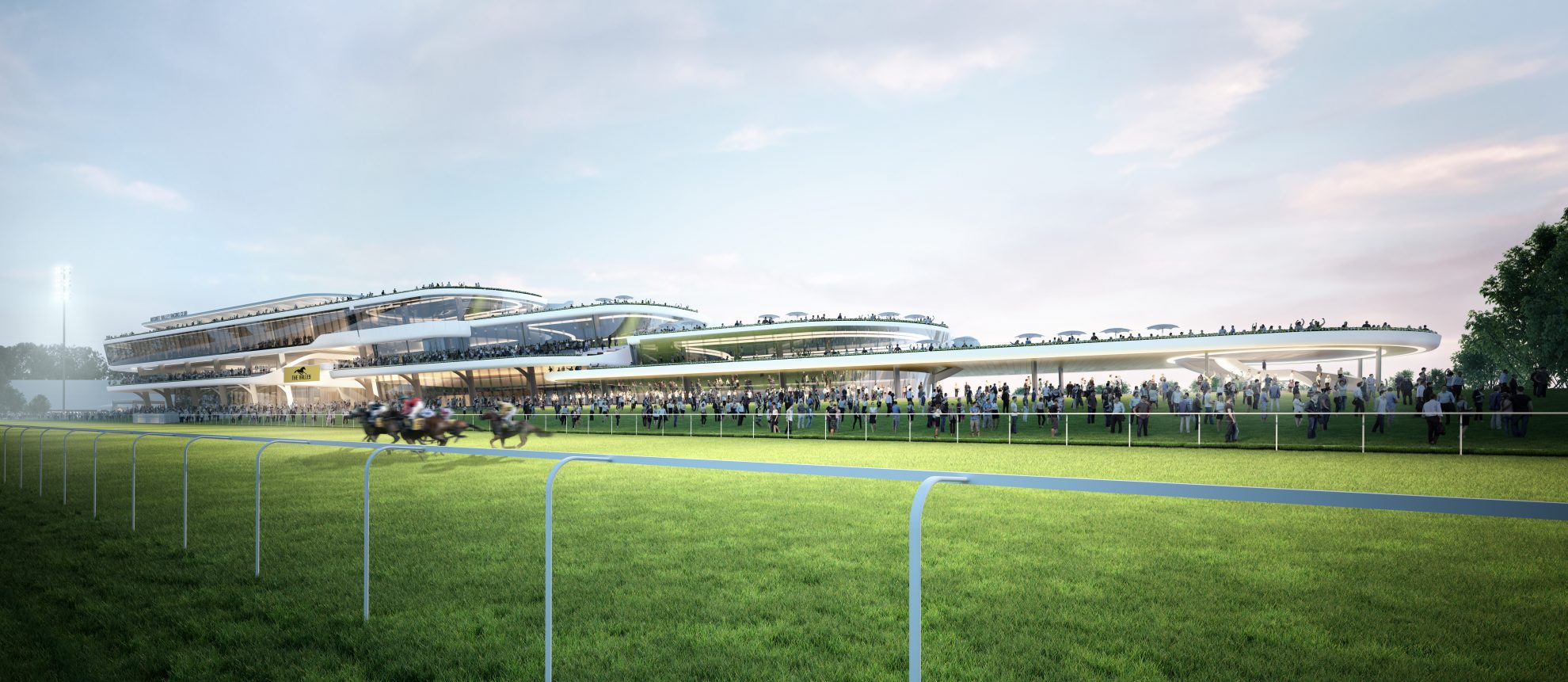 For this project we were challenged to reconcile competing and seemingly opposing objectives; to create an exceptional, singular racing destination which would also provide for a more diverse range of audiences and an expanded array of facilities and platforms.
For Cox, it is on such challenges that our reputation is built; the ability to synthesise and blend competing ideas within a coherent whole – and not merely opt for easy compromise or the convenience of precedent. This synthesis comprised three elements;
The Grandstand embraces the purity of the racing experience by providing more, better and closer trackside engagement than any other track in Australia. We celebrate the heartbeat of the destination which is the track and recognise that it is both the physical and emotional proximity which provides the magic of atmosphere and the identity of place.
The next key element is the recognition that the new stand and track do not exist in isolation, that they are interwoven in the history, landscape and most important, the community of this unique suburb of Melbourne. As such, the landscape has been designed to enhance the track's parkland setting which in turn will benefit the Moonee Valley's growth in new businesses and new homes.
The final aspect is that for this venue to thrive as a destination it would need to broaden its appeal – to provide more, better and different opportunities for meaningful and complimentary services. Phrases like 'revenue based design' can sometimes be viewed as negatives, as taking the soul from our traditional sporting venues. When done well the opposite is actually true – a vibrant, 7-day a week destination with continued investment and a diverse range of constituents invariably produces a more well-rounded place.
These three factors are given elegant life through the 'fast' form of cascading terraces which are actually a series of stepped platforms which physically extend the atmosphere and compliment the gently undulating parkland. The outcome successfully provides equally for a superior race day experience and an extended array of event and sponsorship opportunities.
Racing remains at the heart of this Melbourne gem and Cox has simply added new facets and increased its lustre to deliver what is a singularly exceptional destination.