Sustainability
At COX, sustainable design is integrated into everything we do, with our projects focusing on improving both the built and natural environment.
Our approach to design is underpinned by in-depth knowledge of site and surroundings in order to incorporate sustainable principles, passive design and the use of long-lasting and locally sourced sustainable materials.

COX cares deeply about our planet, its ecology, and habitats
Sustainability has always been a key consideration in our approach to design.
From the beginning, Philip Cox championed environmentally sensitive design inspired by the natural landscape. This is something we continue today – emphasising respect for the land on which we build.
Our holistic design approach is underpinned by an in-depth understanding of the site, its climate, and surrounding context. We incorporate passive design principles and use long-lasting and locally sourced materials.
COX acknowledges the global climate and biodiversity emergency
In the face of significant challenges and risks posed by the global climate crisis, biodiversity loss and finite resource depletion, protecting and regenerating the natural environment is now more important than ever before.
With about 40% of carbon emissions attributable to buildings and cities, transforming the way we design our built environment is fundamental to combatting the climate emergency.
COX is a signatory to Architects Declare and supports the United Nations Sustainable Development Goals and the Australian Government target to reach net zero carbon emissions by 2050 to limit global heating to 1.5° above preindustrial levels.
We recognise achieving carbon neutral projects by 2050 requires immediate action.
This is why COX has set ambitious short-term goals for ourselves and our projects.
In 2021, COX appointed Dr Matthias Irger as our new Head of Sustainability to further our focus on sustainable design and planning. In this role, Matthias creates national strategies, objectives and actions that reduce and mitigate the embodied and operational carbon emissions across our service – ensuring best-practice design.
We also have a wider team of dedicated professionals who drive our sustainability strategy.
Guiding Sustainable Outcomes: Meet the Team
COX is a carbon neutral business
COX maintains carbon neutrality in its operations and is Climate Active certified. We will continue to measure, reduce, and offset our operating emissions with the intention of reaching carbon positive targets across all our studios in Australia.

By 2030, COX aims for all our new projects to be carbon neutral in their operations and achieve a 50% reduction in embodied carbon emissions compared to traditional construction processes.
In addition to carbon focused commitments, COX is pursuing broader environmental goals such as achieving zero water and zero waste amid a circular economy, increasing resiliency and enhancing native biodiversity.
Read more about our targets and commitments in the Cox Sustainability Strategy.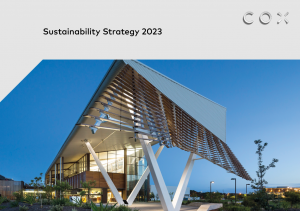 To achieve our goals, we regularly review and improve our design processes to ensure that regenerative design principles become seamlessly embedded in all project phases.
COX invests in in-house research and training to equip our designers with the knowledge, skills, and tools to gradually reduce the environmental footprint of all our projects to zero.
We collaborate closely with leading industry consultants, research partners, suppliers, and stakeholders to drive innovation and raise the bar across the building sector.
COX has a wealth of experience in delivering highly sustainable projects
COX is committed to provide the best possible service to our diverse range of clients and support them in achieving their ambitious targets.
Over the decades, COX has completed numerous projects noted for their highly innovative approach to sustainability, often setting new precedents for their performance at the time.
For example, COX designed the first off-grid resort in the desert town of Yulara in 1984, and the first Certified Living Building Challenge project in Australia, the Sustainable Buildings Research Centre (SBRC) at the University of Wollongong, in 2013.
COX seeks to build on the successes of prior work by evolving and integrating previously highly effective sustainability initiatives into new contexts.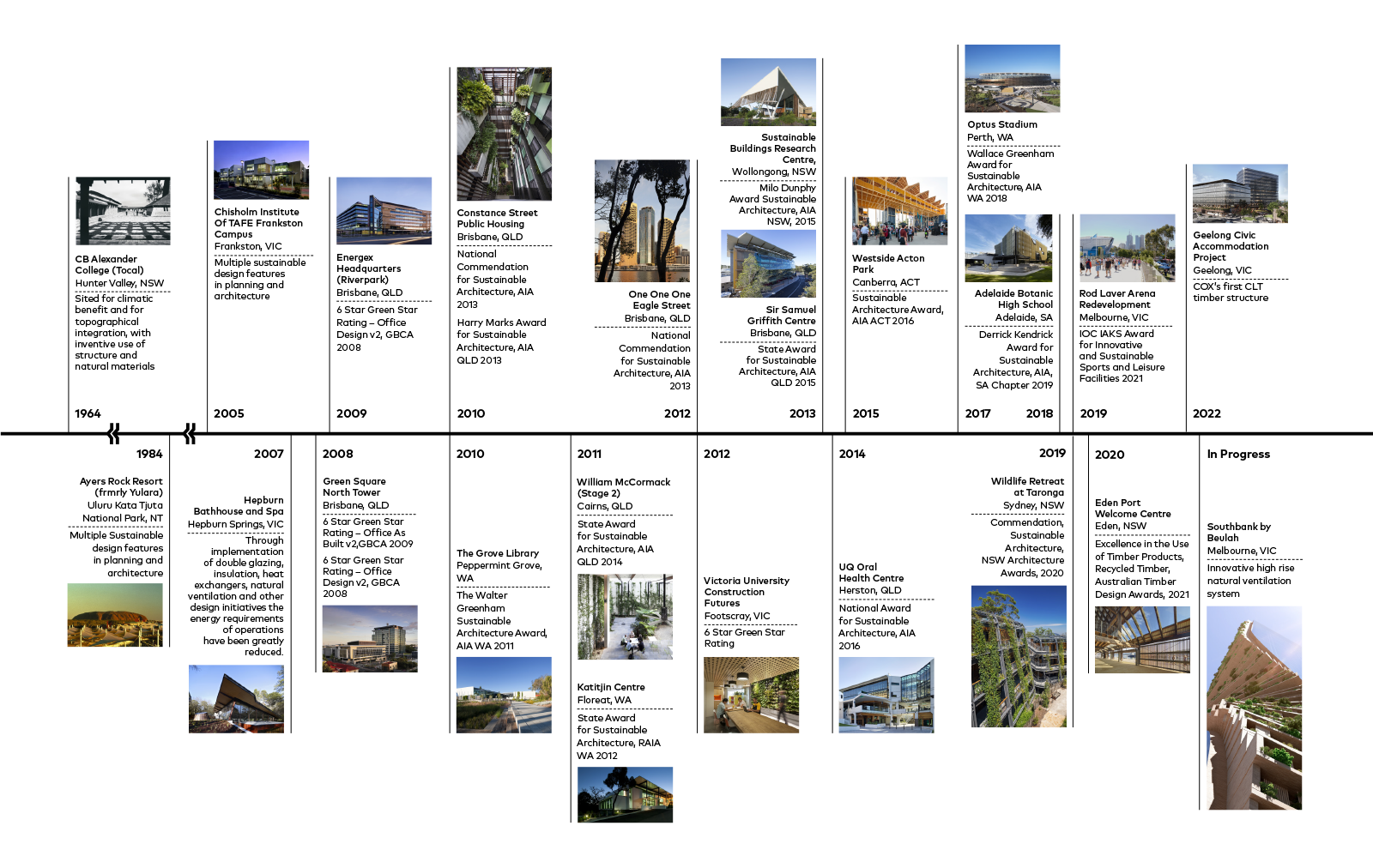 COX Director and Managing Partner, Russell Lee
In our view sustainability is simply good architectural design – it is not technical or new – but indeed ancient and intuitive. Our approach to sustainability follows three core principles – firstly the fundamentals of good passive design should be achieved to the degree possible on any given site, secondly the amount of embodied energy within the proposed fabric of a design minimised, and thirdly any active systems appropriate to the site and brief explored.
Embedded Sustainability: COX Projects