2020 Esports Venue Summit with COX Directors Matthew Batchelor and Alastair Richardson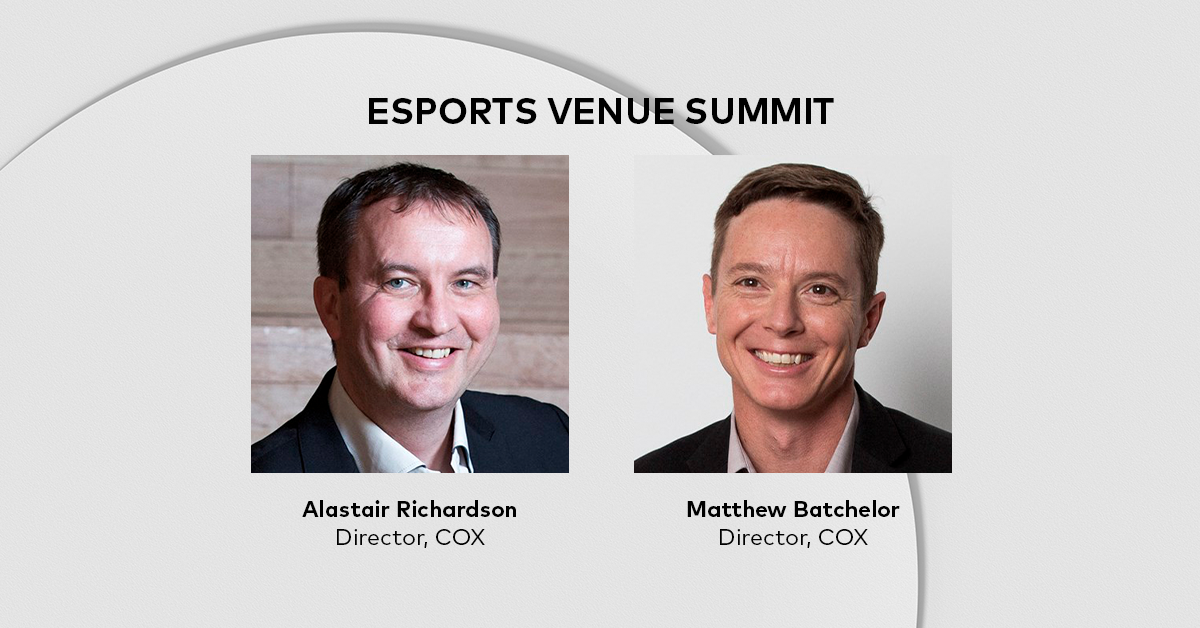 The 2020 Esports Venue Summit wrapped up last week, bringing together professionals across disciplines, borders and expertise to talk all things esports. The only forum dedicated solely to esports venues and spaces, the virtual summit aimed to help shape the future of esports hosting, venue design, technology and operations.
The four-day event featured 11 sessions, live Q&A's and 50+ key speakers, including COX Director's Alastair Richardson and Matthew Batchelor.
Alastair Richardson participated in Live Debate Session 8: The Merger of Esports and Traditional Sports. Matthew Batchelor participated in Session 10: Evolving Trends in Esports Venue Design.
Session 8: The Merger of Esports and Traditional Sports | Alastair Richardson
With the current coronavirus pandemic decimating the sporting and events calendar, traditional sports are increasingly using virtual simulations to engage with their fans, further integrating esports into the mainstream sports industry. Many existing Stadium and Arenas are also examining how they can repurpose their spaces to accommodate live esports events.
During this session a panel of industry experts, including COX Director Alastair Richardson, discussed how traditional sports and stadia are now integrating esports into their fan experiences, examining synergies and differences between them as well as sharing their opinions on how this will develop further in the future.
COX Director, Alastair Richardson
A very insightful conference that explored the e-sport landscape and its influence on both traditional sports and sport facility development.  The panel discussion explores how e-sports uniqueness can bring about a catalyst for urban development and re-purposing existing buildings from cinemas to the high street.  The confluence of new technology and the pandemic may well lead to new building typologies that focus on e-sports as a harbinger to reunite communities
Session 10: Evolving Trends in Esports Venue Design
Senior executives from 5 of the most successful sports venue design practices in the world, including COX Director Matthew Batchelor, shared their opinions on both current and future approaches to esports venue design.
Covering everything from large scale purpose-built esports Arenas through to fully immersive multi-purpose 'digital venues' and how traditional sports venues can repurpose their space to include esports events, this session is a must-watch for those in both the esports and traditional sports sectors.
COX Director, Matthew Batchelor
A great collection of speakers that provided their experience and insights into the continually evolving esport facilities that foster a wide range of engagement at a variety of levels.  An engagement that is fostering a community that connects through shared experiences that cross both the digital and physical realms, offering a challenge to architects and game designers alike to collaborate and level up, to create a flexible, adaptive yet immersive environment