Tempus Turner Townhouses
Canberra, Australian Capital Territory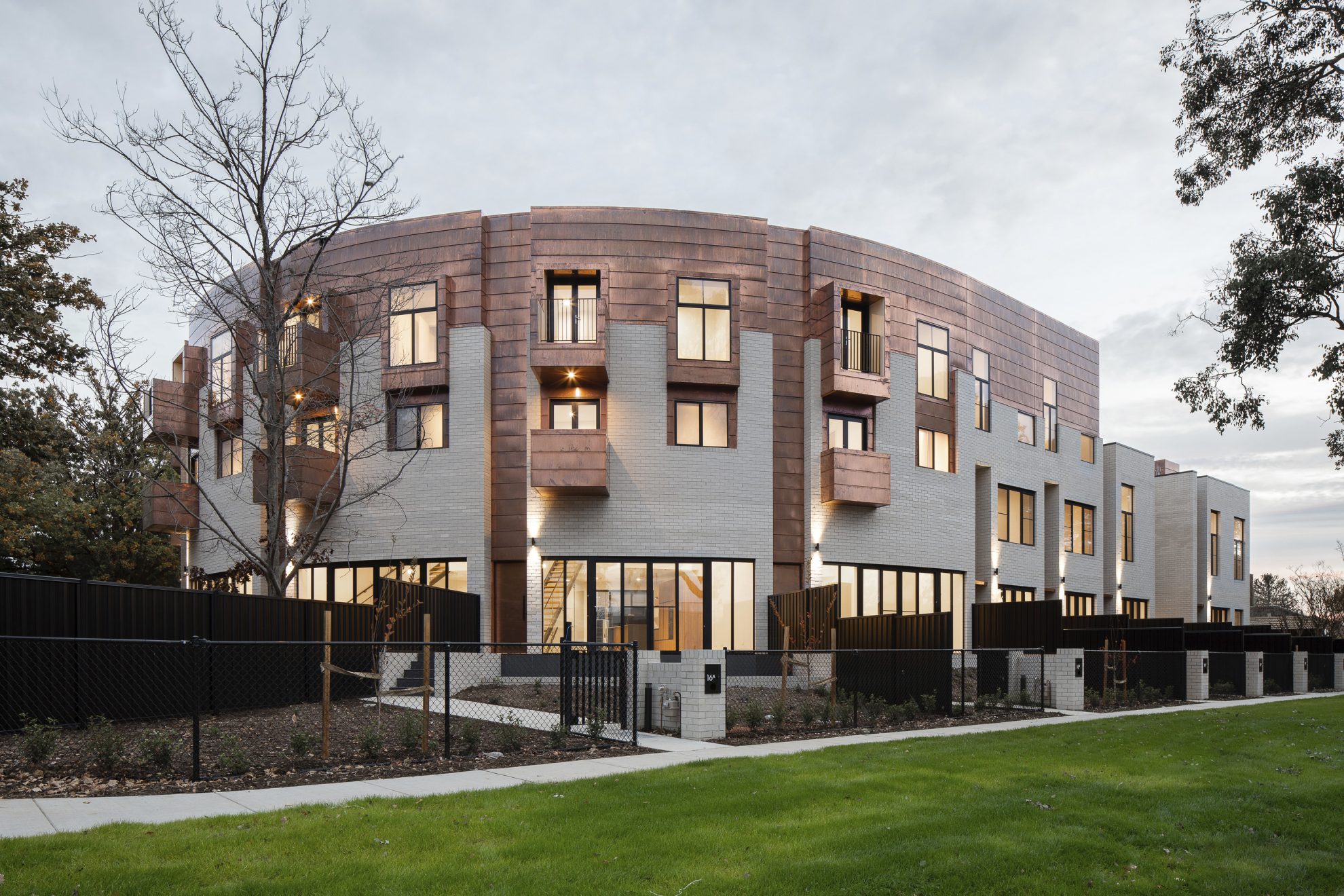 The Tempus project represents the introduction of a terrace typology to the Canberra housing market akin to iconic terrace housing in major cities like London and New York. The philosophy underpinning the design was to create a single cohesive form, opposed to a collection of individual dwellings. Each part of the façade design is linked to create cohesiveness through consistent proportionality and materiality.
The façades are purposefully understated, without ornamentation or decorative features. Instead, they are classically proportioned and feature enduring materials such as face-brick and copper cladding. These dwellings are light-filled, cross ventilated and have a generosity of space and amenity throughout.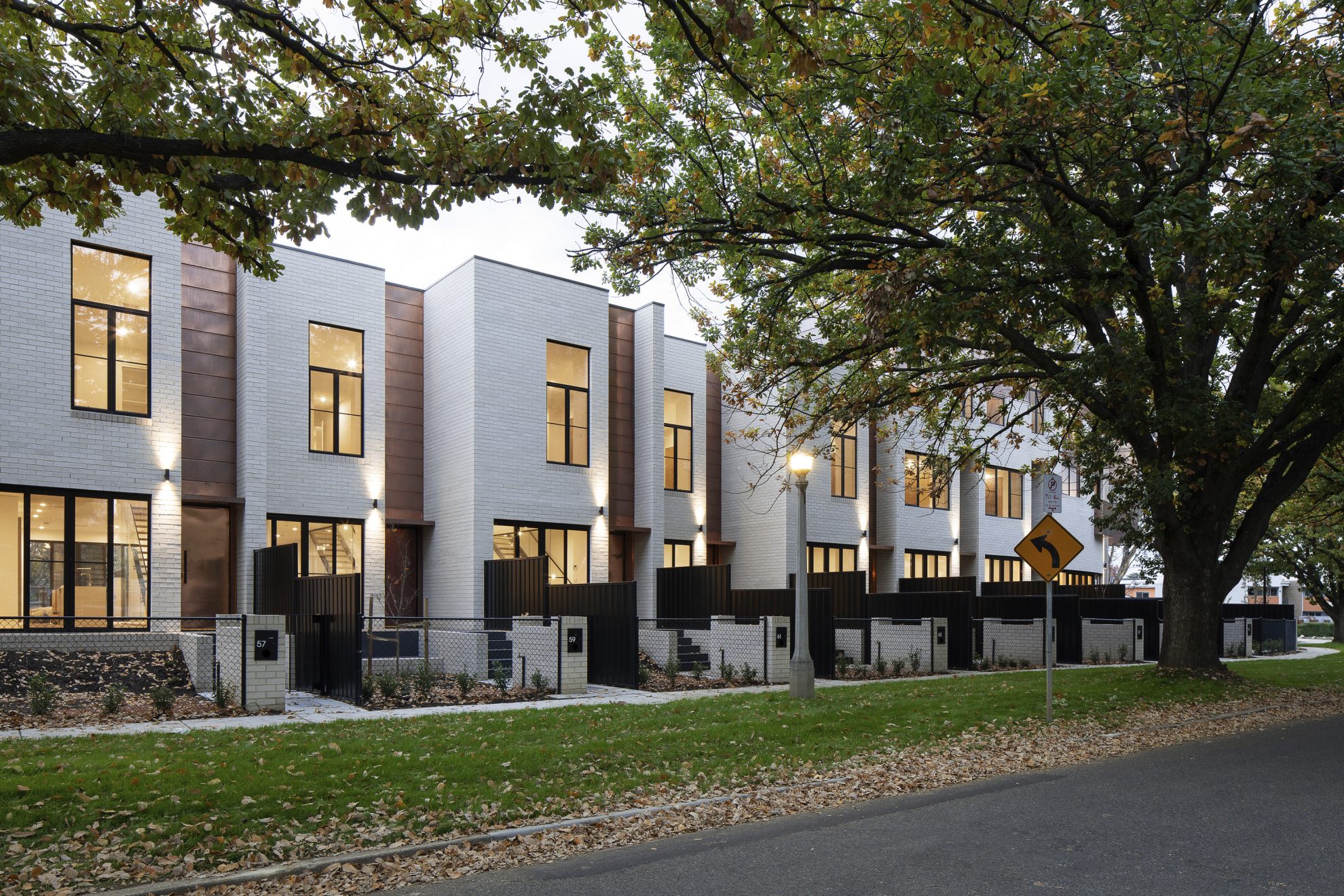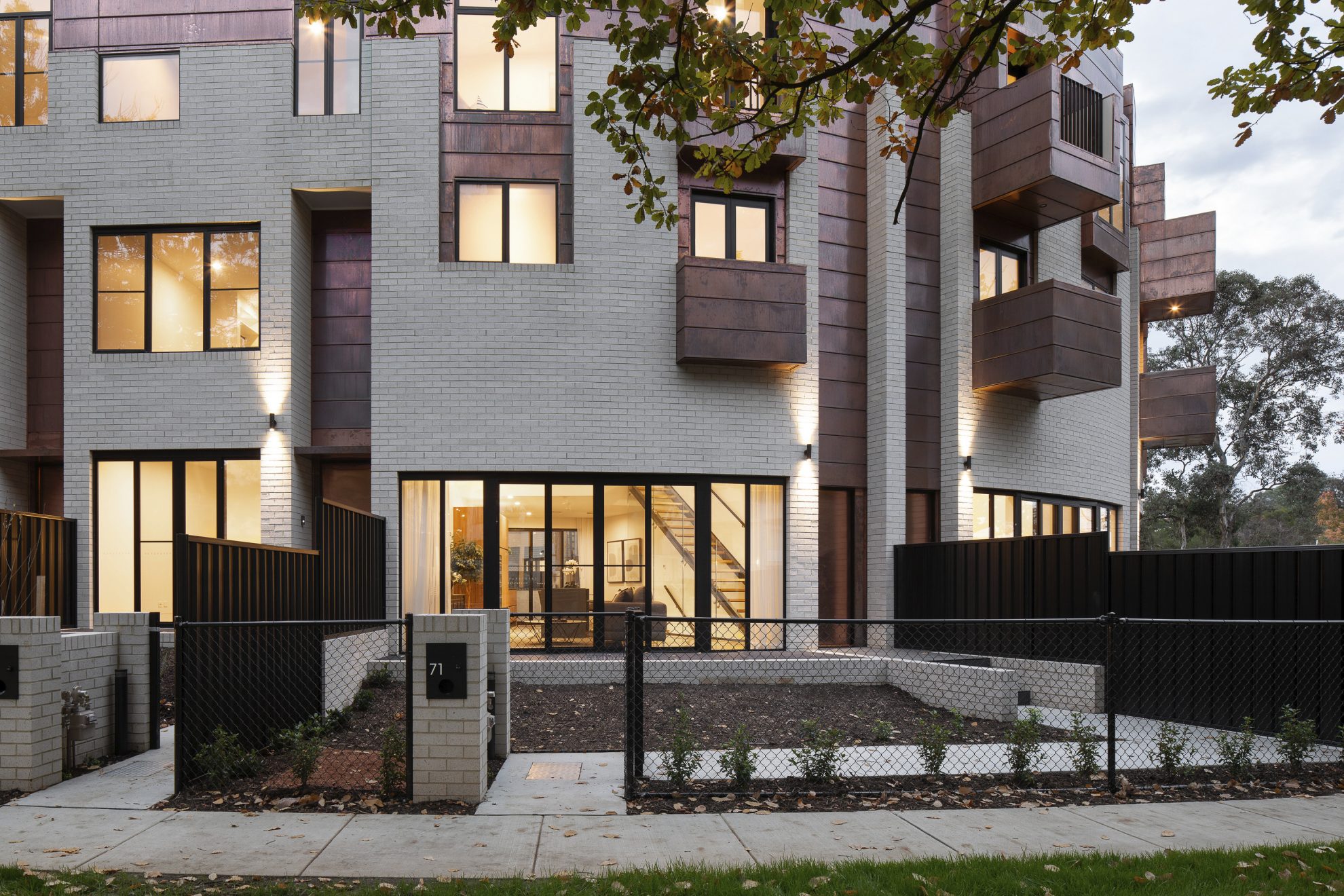 With a more sustainable approach to transport, and a desire to emphasise work/life balance for Canberrans, the option to walk, cycle, and use public transport is ideal. The project is sited in an established inner-city suburb with local shops, cafes, and businesses all in walking distance. The newly developed Canberra tramline has several stops local conveniently to residents, with wider transport links to the CBD and beyond available.
The intention for Tempus is for the buildings to age gracefully, with their copper exteriors evolving to a more muted tone and settling into the surround natural environment. They are designed to set a new benchtop for housing in the ACT, where all the benefits of proximity to the CBD are balanced with a leafy suburban atmosphere.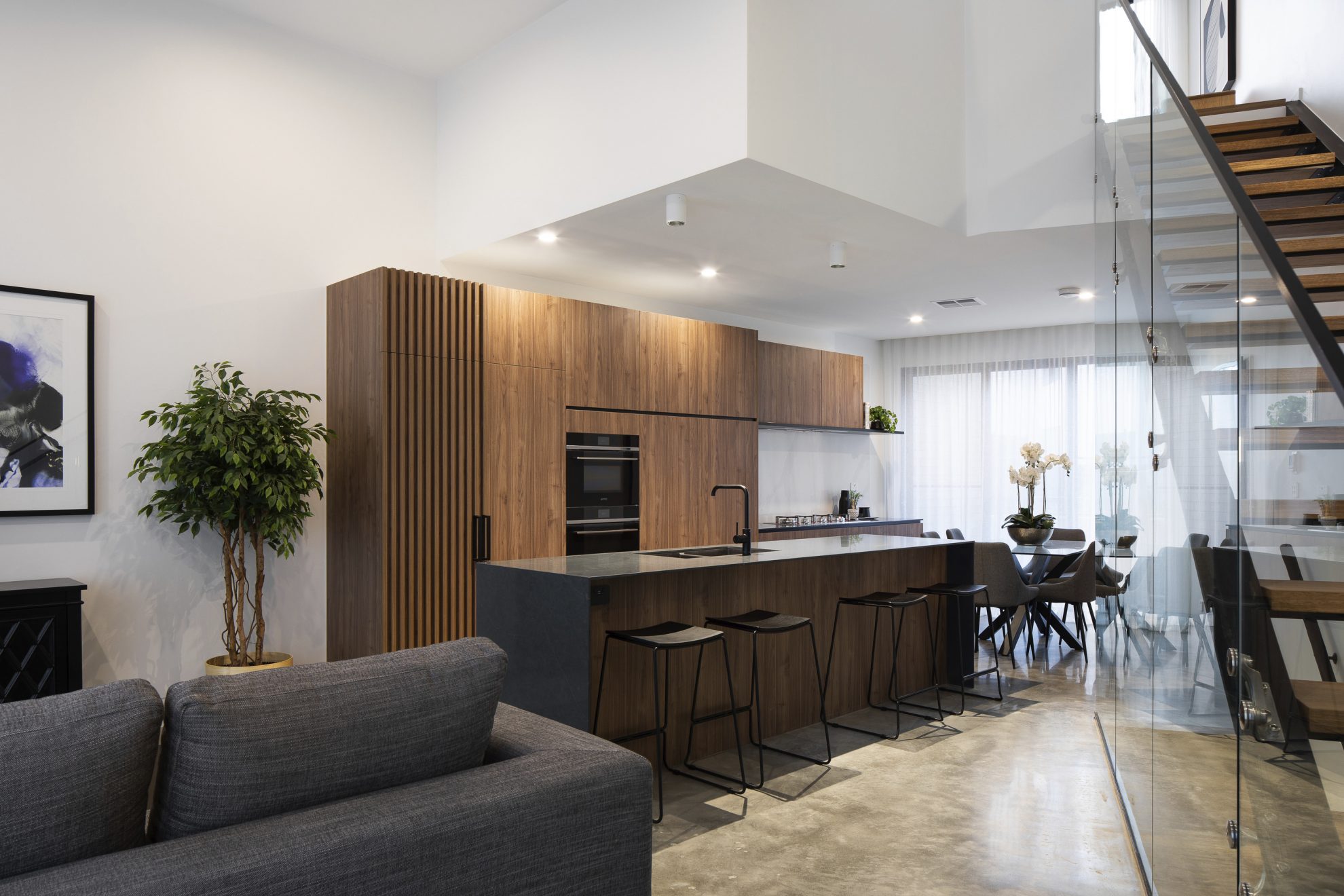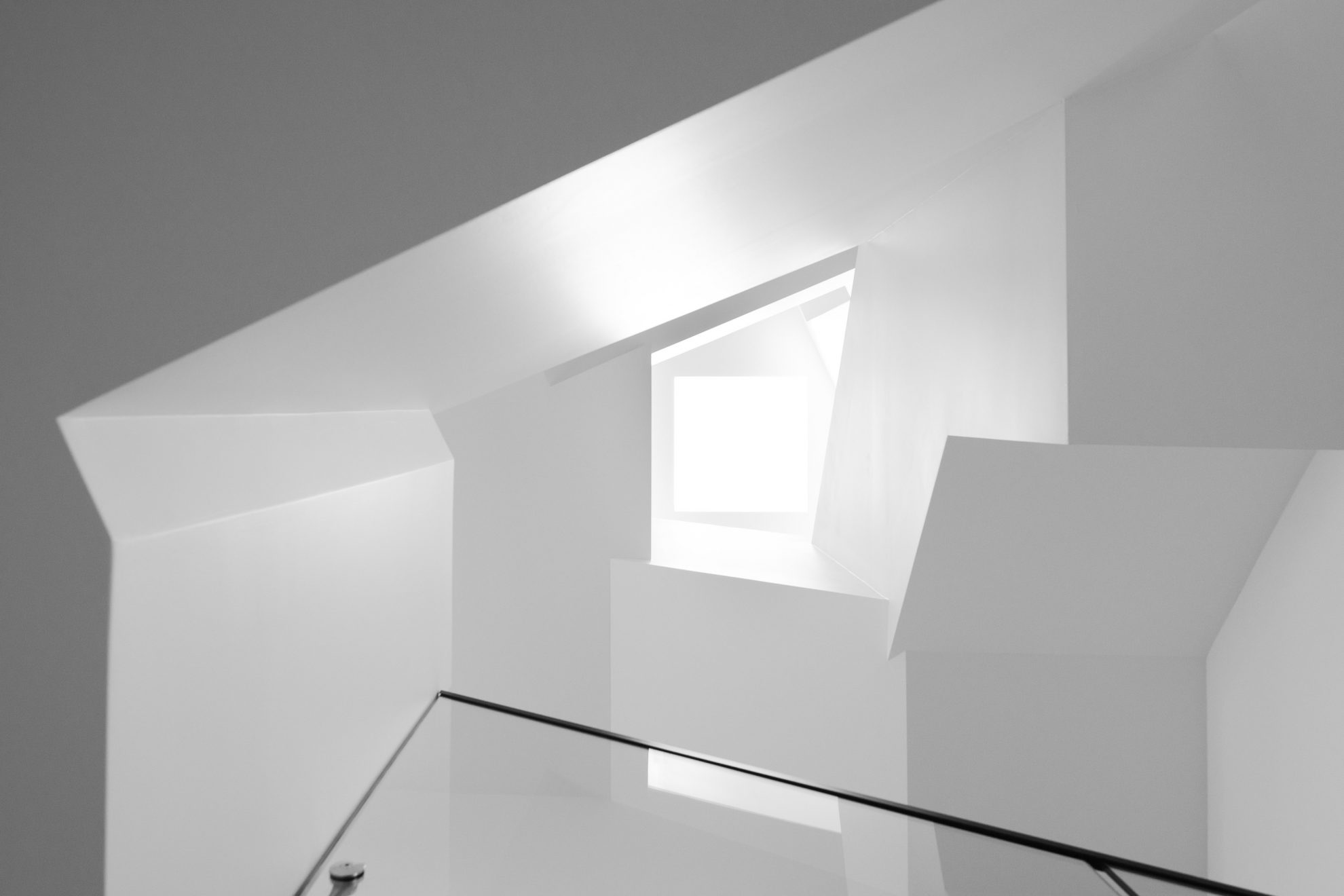 Existing mature trees and boundary hedges have been retained on site, contributing to views of the established natural setting. As an expansive corner development, Tempus is an important entry point into the suburb of Turner. When entering the suburb from MacArthur Avenue, the third story of the building becomes visible. Capped in copper sheeting, the structure bends around to face both David and Forbes streets – making it a recognisable landmark for the area and a unique typology for terraced housing. The terraces that comprise this bend consist of a flat ground floor and four additional split levels working their way up around a central void and staircase. The staircase is topped with a skylight that washes down the entire terrace from roof top to ground floor.
The apartments incorporate cross flow design for natural ventilation, and high ceilings with expansive windows creating a light airy feel. Internally, the layouts and materiality are consistent with the timeless, understated approach to the design. A light and dark scheme offer a choice between bold or minimal styles for residents. The bathrooms in each residence are highly functional, with family living in mind however the warmth and drama of the finishes create a hint of luxury.