Apps and Architecture: Exploring the National Maritime Museum of China Through Digital Technology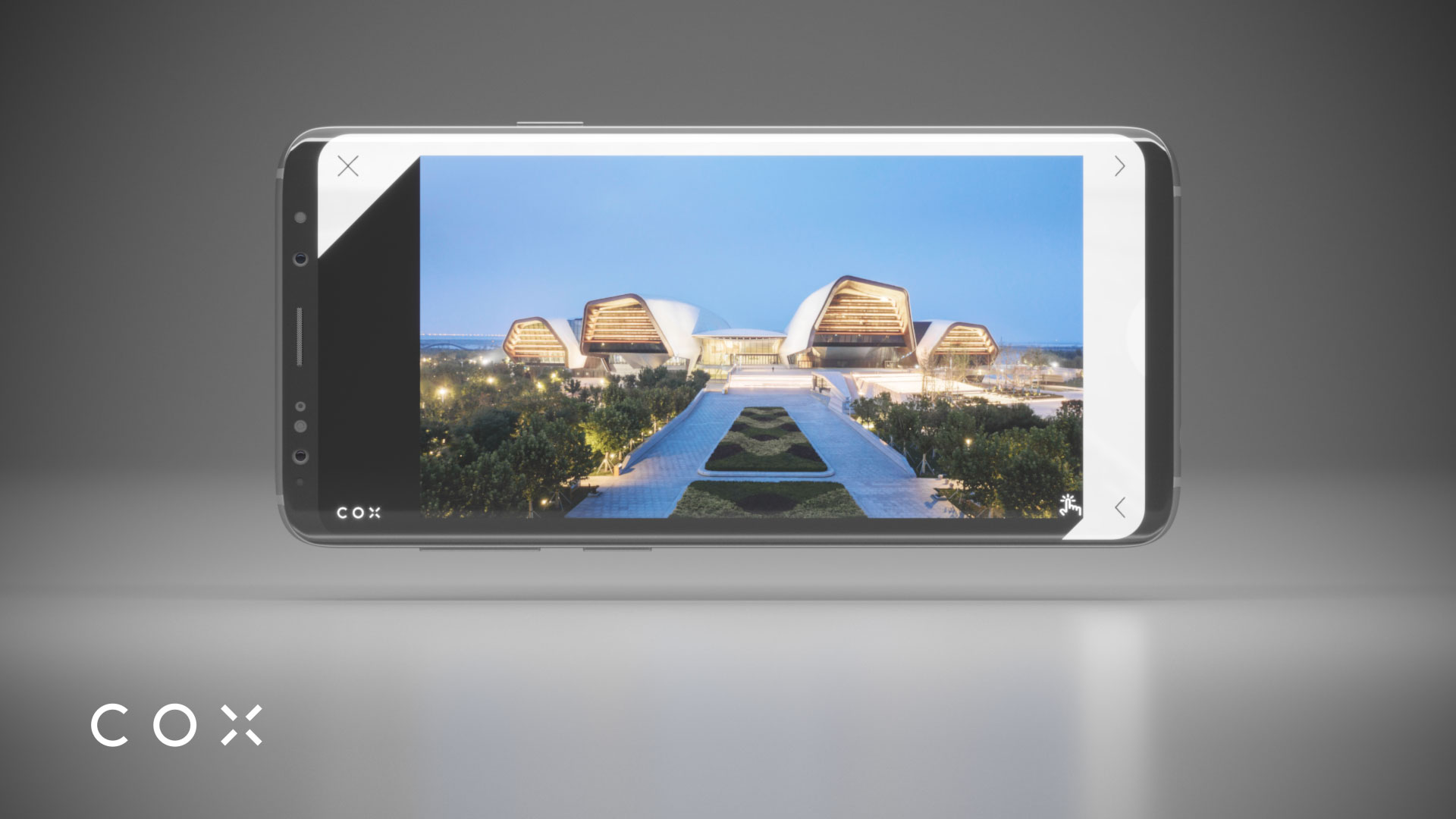 We spoke to Senior 3D Visual Artist, Leon McBride, about App development and the production of an immersive digital experience for the recently completed COX landmark building, the National Maritime Museum of China in Tianjin.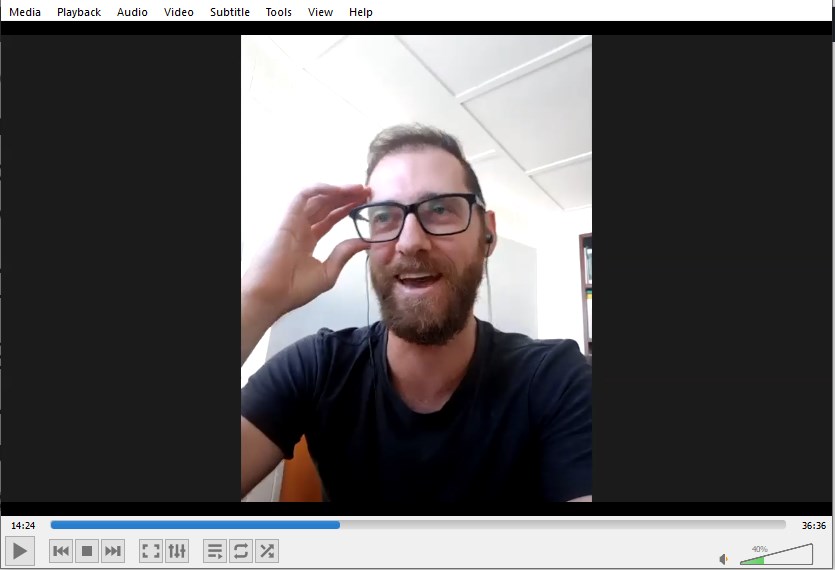 Apps and Architecture
"I have a big interest in using interactive technology for telling Architectural stories"
Leon has a background in video game production. In his 10 years with COX he's used this experience designing both real-time VR experiences for internal design development purposes and in the production of pre-prepared client submissions and presentations.
Our intention has always been to explore how technology can help, it's never about technology for technology's sake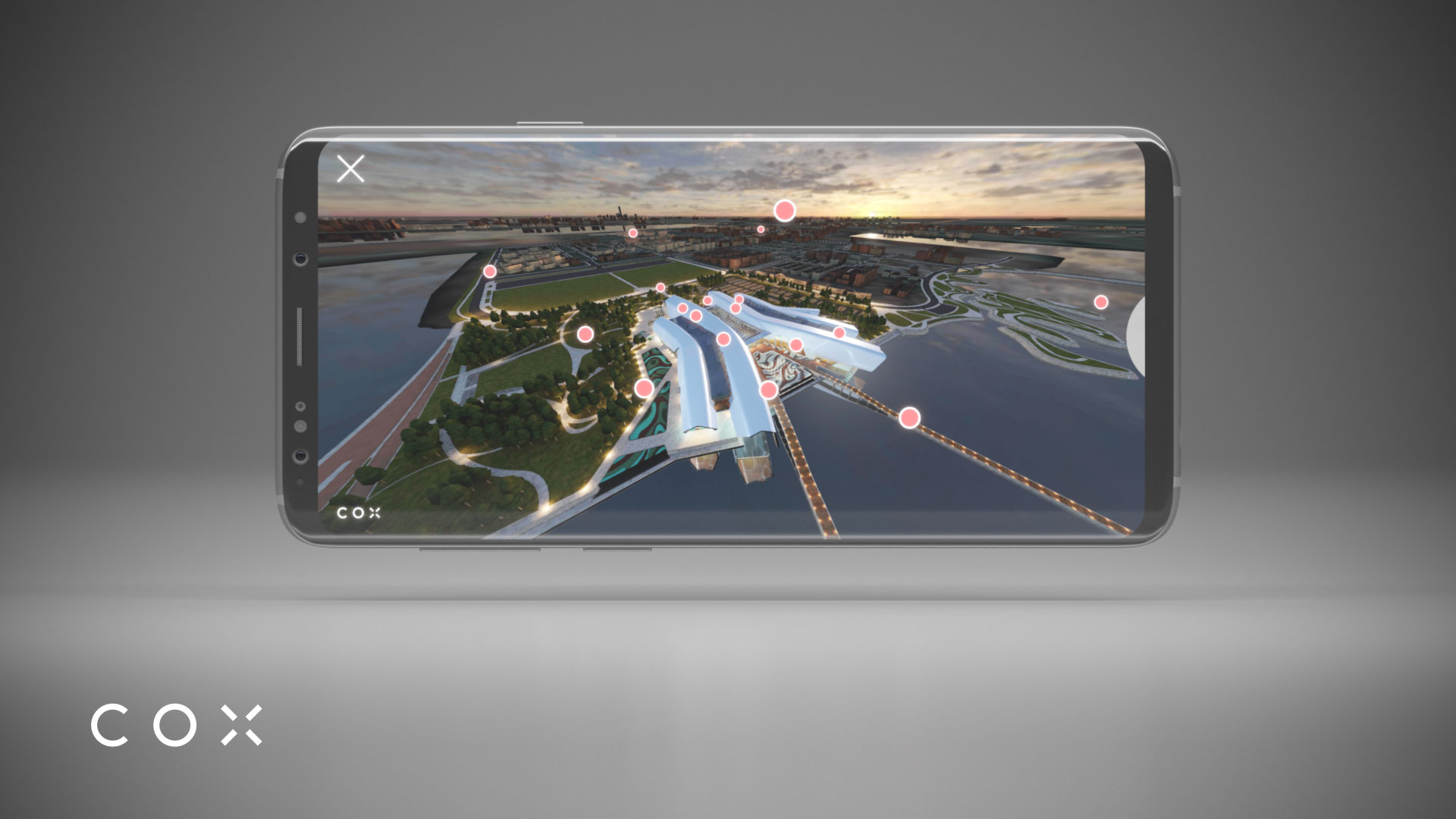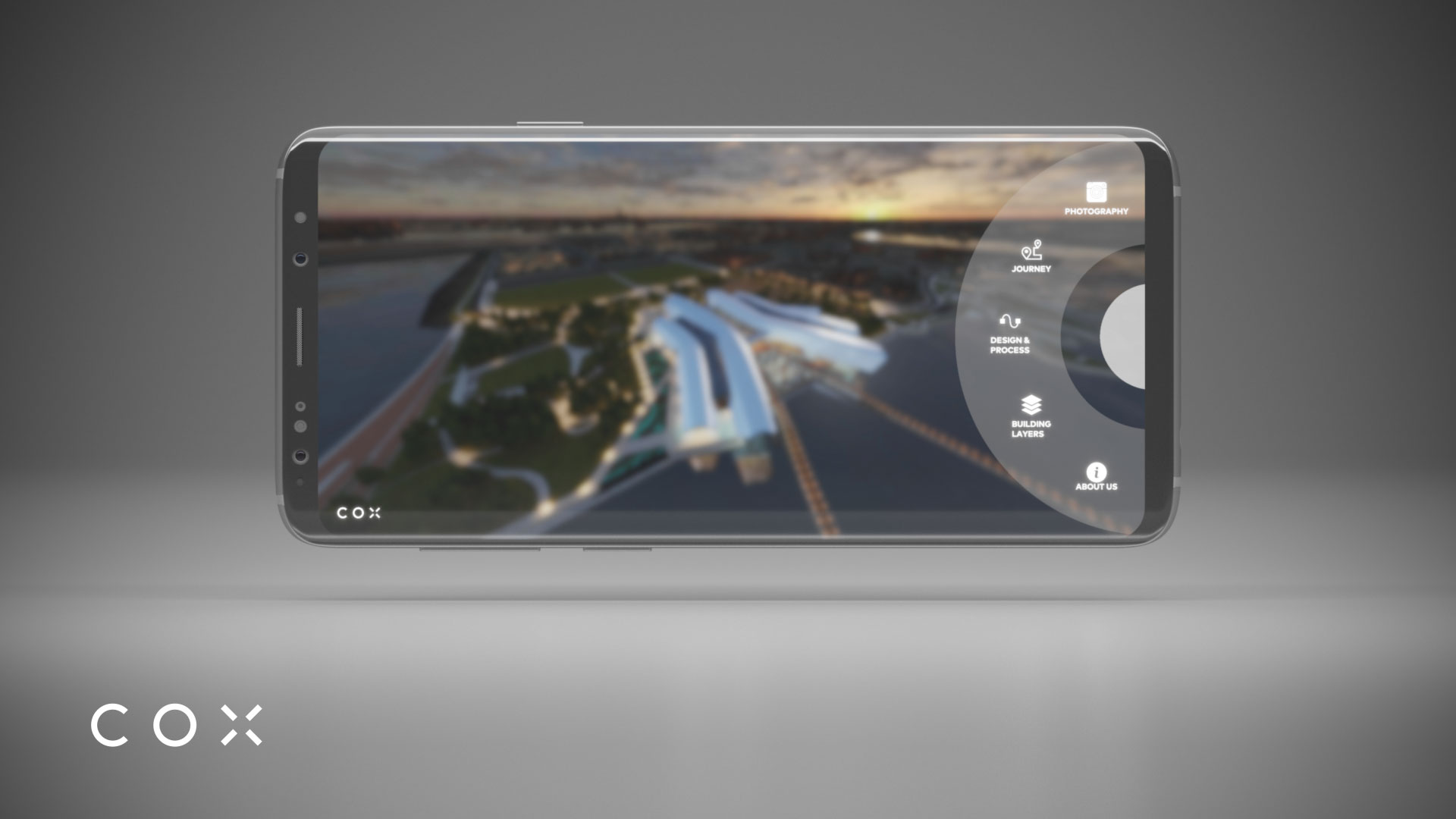 When Leon started at COX, the practice was already unique among its peers in its strong emphasis on visualisations. Nationally, studios had in-house teams engaging at competition and bid stages to express COX concepts and the principles and ideas behind them.
"In a 2-week timeframe, it's very difficult to outsource to an external rendering company and get the result you want…we became quite efficient in our approach, and then it seemed natural to extend this approach to VR."
This efficiency was made apparent with the competition for North Queensland Stadium (now Queensland Country Bank Stadium). For our submission, we included a VR experience – completed in-house in 2 weeks where we included VR headsets and an app with our entry.
This is a proof-positive expression of COX's 'By the many, For the many' approach, clearly showcasing the practice's desire to engage as broadly as possible and to develop the best outcomes for our communities.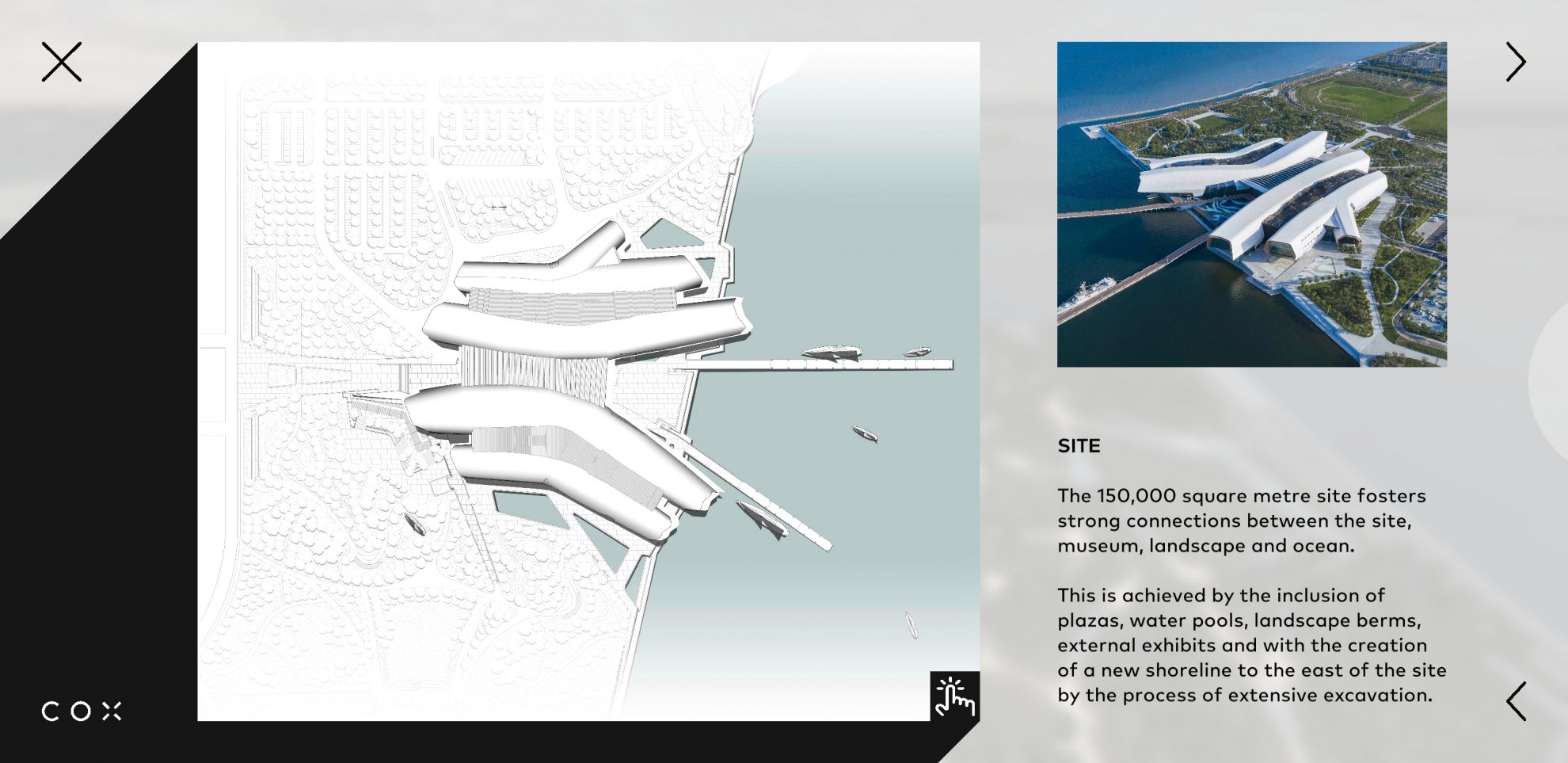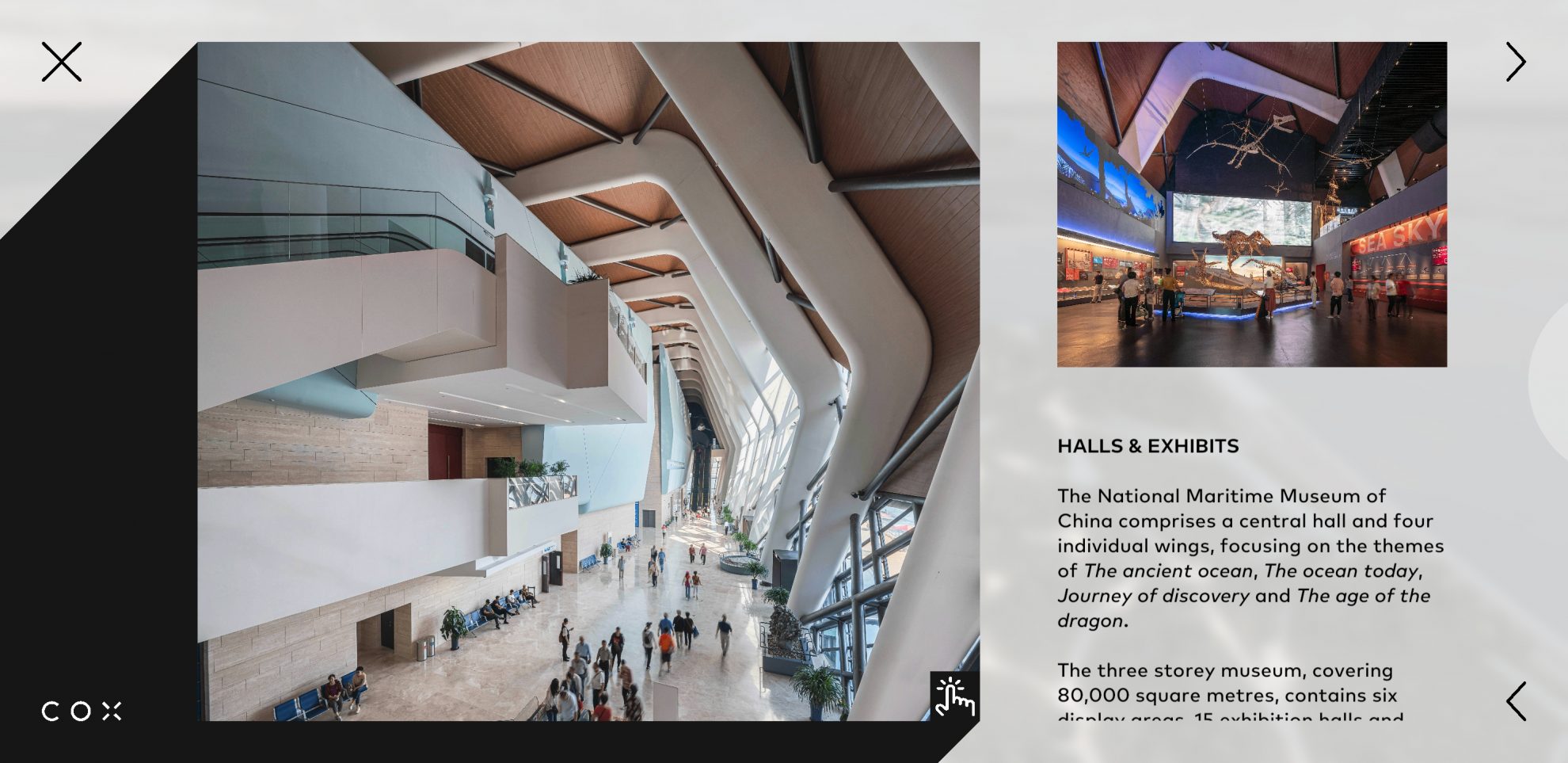 Formative NQS experience
After our competition submission, the government immediately saw the potential community benefit of VR and the App. For any fiercely loyal and parochial sports team seeking 'home ground advantage,' early engagement is always important, and this goes double for the denizens of North Queensland and their beloved Cowboys.
Our App was polished and expanded with new content for public use in addition to a voice-over being added. The outcome allowed everyone to get excited about the new venue and its improvements from season ticket holders selecting seats, to reviewing the extensive selection of F&B kiosks to local companies choosing from a world-class set of hospitality packages, the app performed an important role in both commercial and community engagement.
The NMMC App
Modelling the Model
"Trying to get a Revit model on a phone is one seriously tricky task. And then to make it run smoothly is another massive challenge"
This translation piece was the biggest time sink in the App's development, taking to-construct level documentation as 3D content and then optimising it for mobile devices. There are various new pieces of translation software to assist in the process, but none are the 'click-a-button' automation that they sometimes claim to be,
"Enscape is good but no panacea. It uses game technology for forms and textures and underlying geometry but on most projects, the real-time interactivity isn't very satisfying, you need quite a lot of 'human interference' before you get it to do what you want it to do"
This is the reason computer game companies have hundreds of staff working for years developing a single game.
If you need everything to work nicely then the translation piece is time-intensive.  For the NMMC the app model is a direct decedent of the Revit model, specifically in terms of the form;
"(the NMMC App) it's a manually optimised Revit model and that's what elevates it from simple digital mimicry and what provides the authenticity of experience in the user's journey"
Living up to reality
Accuracy is critical, but a commensurate amount of effort also needs to be put into the presentation of the app. This includes both the visual impact of the app's content and its conformity to COX's visual brand guidelines.
The app contains a full suite of professional photographs of the completed building, taken by the Award-winning photographer Terrence Zhang.
The presence of these photographs provided both a benchmark and challenge for how we approached the presentation of the interactive 3D model, from lighting to saturation of colour and reflections.
"One of the first challenges we had is that we discovered we didn't have a 3D model of the landscape to place the building in, so we needed to create one from an extrusion of CAD files and then refining the image using aerial photos"
The importance of storytelling
Leon is justifiably pleased with the outcome but must reassert the primacy of authenticity and storytelling over pure style and cheap wows.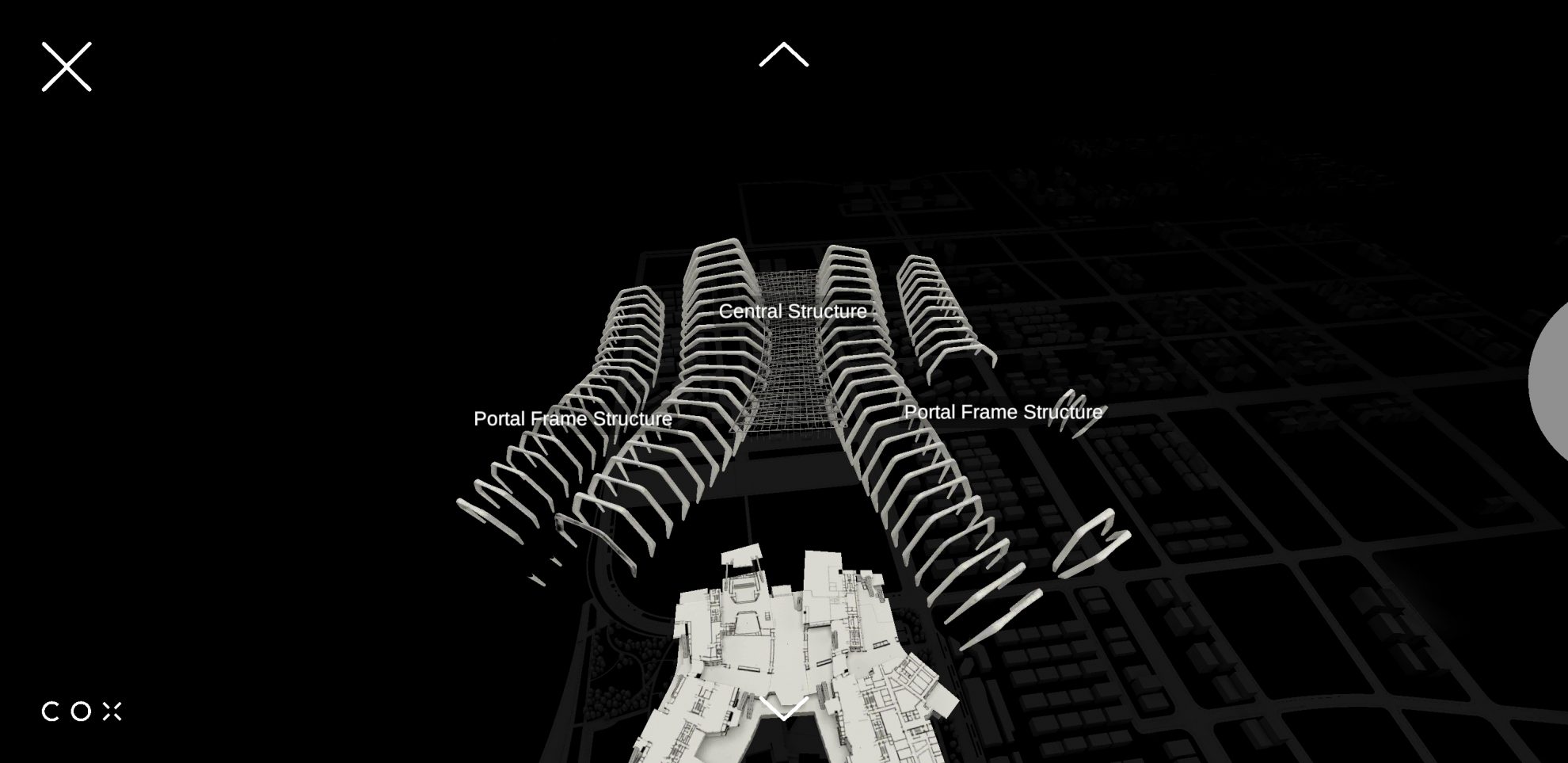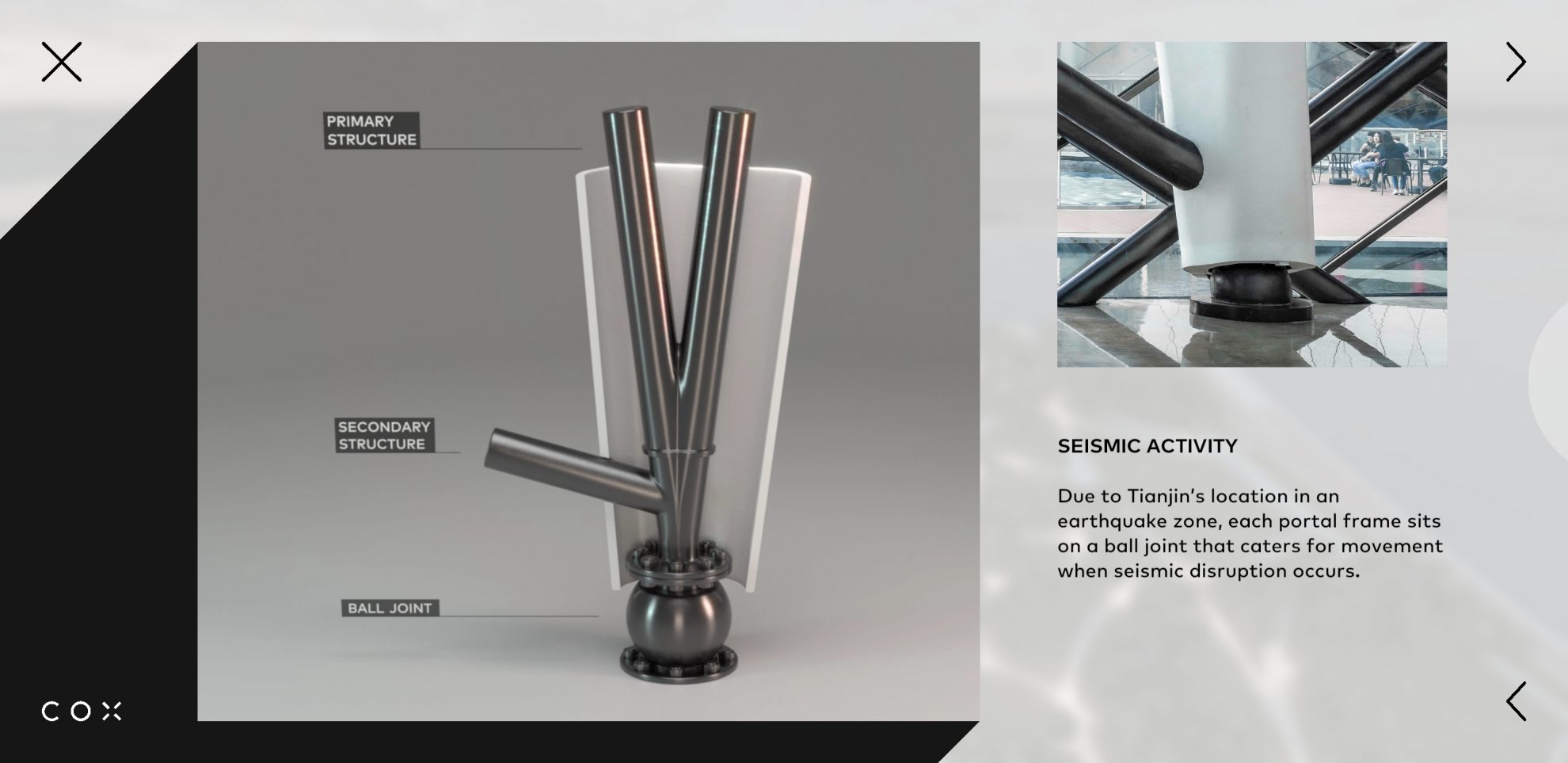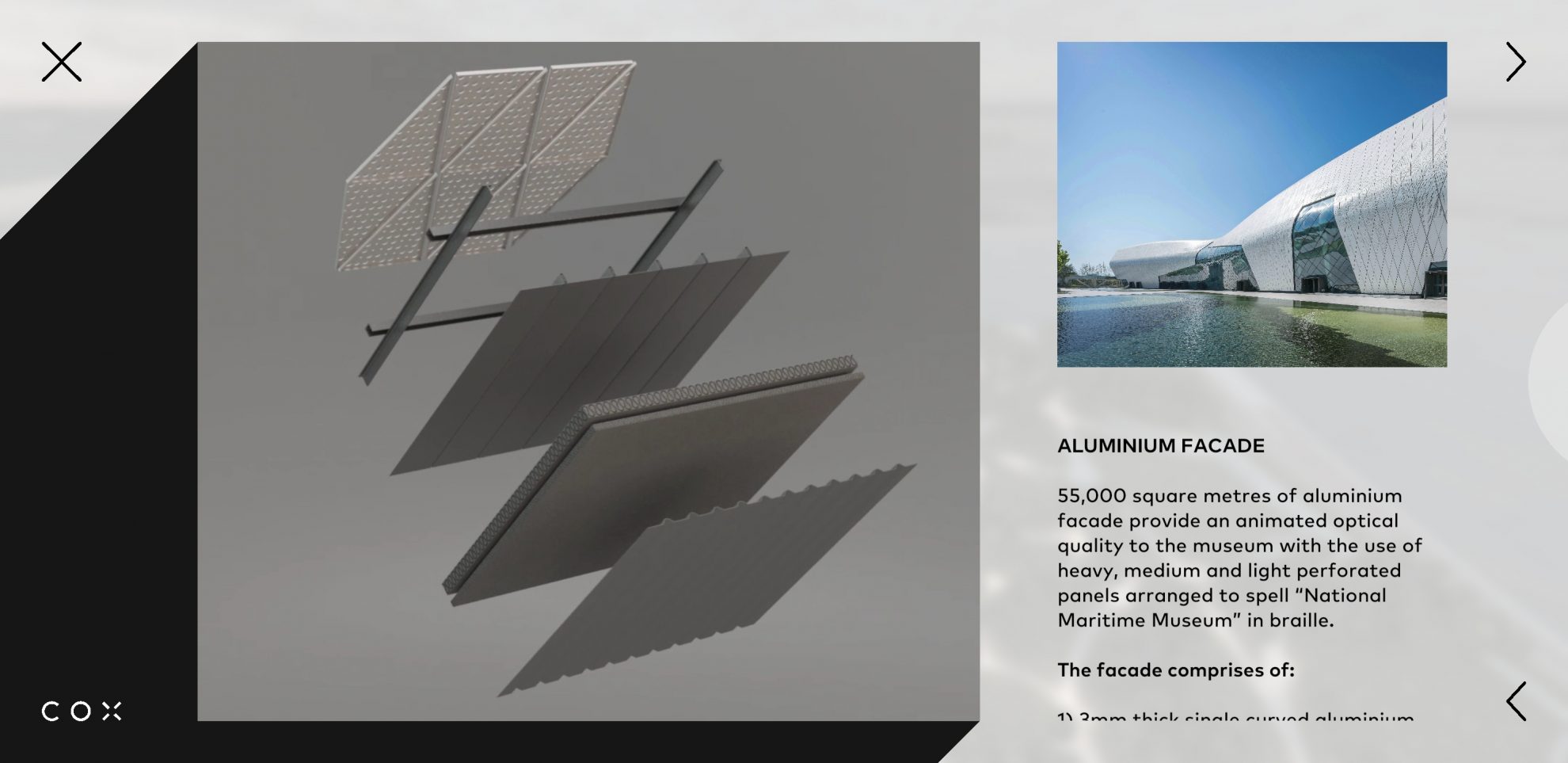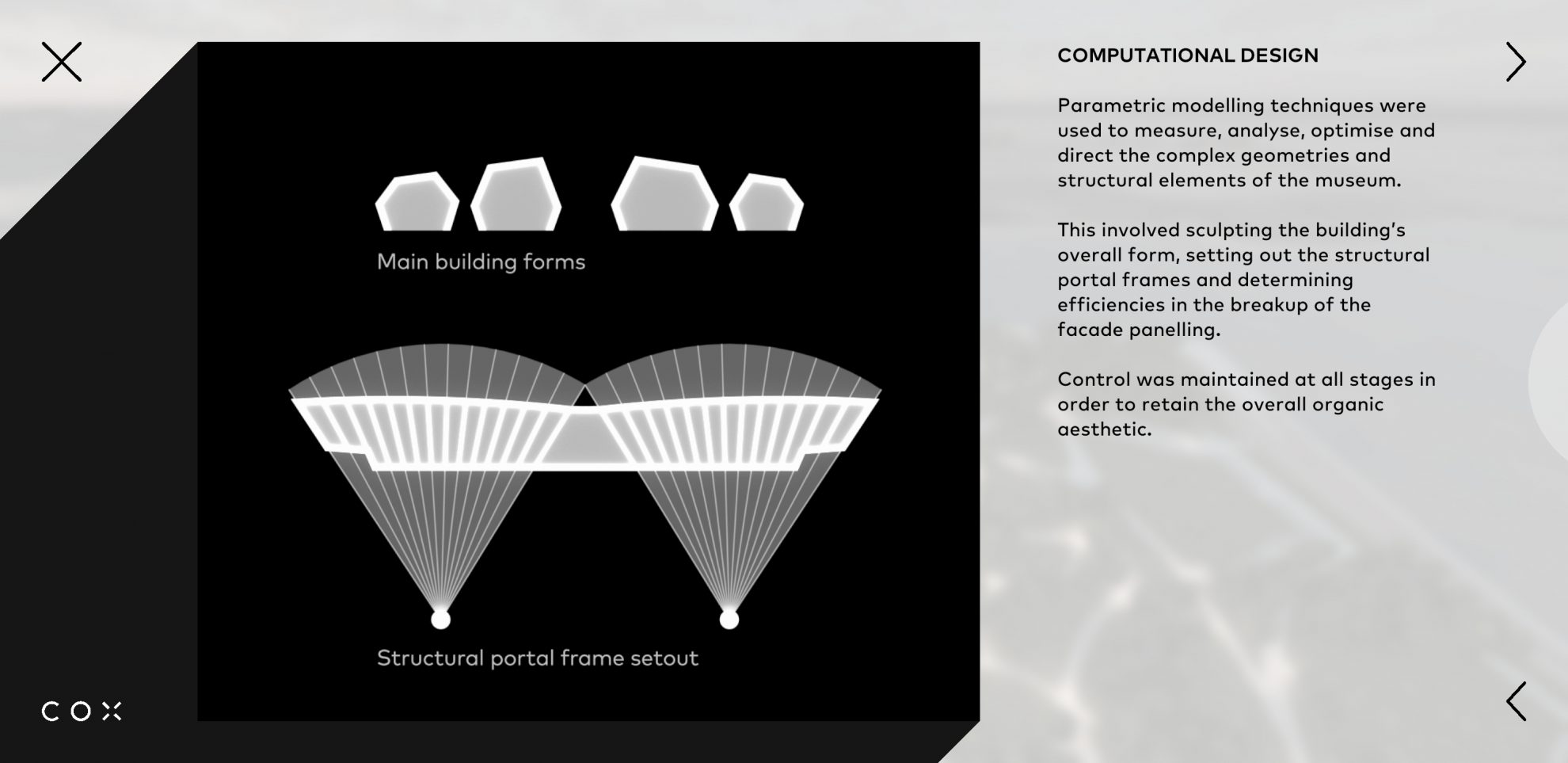 We didn't want it to be gimmicky or superficial…it would be easy to just produce a model to spin around. The substance in the App is all from the Architectural design… all the dramatised details from the façade to the seismic ball joint are all key design features of the building with stories of their own.
"You only use a feature or technology if it helps communicate the story, not just because you have it. Having the insight into the story through Philip [Cox], Anya [Meng] and Brendan [Gaffney] ensured the substance came first and that drove what went into the app"
Authenticity, however, didn't only mean remaining faithful to the drawings;
"It's not just Architects viewing this, the beauty of an 'App' is in its universal accessibility…so we wanted to make it accessible to a wider audience, to make some of the really complex problem-solving we employed in the project understandable to the lay-person"
Future application
Many clients – even before recent COVID-19 related disruptions – have challenges when securing finance, content, exhibitions, bookings and other stakeholder requirements well in advance of completing a building. The provision of these digital experiences is invaluable for these tasks.
"Variations of this (app) technology can easily be deployed for this process of 'selling-in'…it's not just a question of 'App development'…a phrase that can be scary for some people.  It's about bringing people to the place before they go to the place"
Similar approaches can be deployed at Competition stages- although Leon is at pains to point out that these won't be to the same level of polish! but he says;
"We can work pretty quickly in the same framework. Using a massing model to access content can be done quite easily. The interactivity elevates it so much from a standard powerpoint. And we can easily include a cheap Android tablet in a submission with the relevant assets and design commentary pre-loaded…it can be cheaper than the cost of the courier that gets the submission to the client"
Download the apps here:
NMMC:
https://play.google.com/store/apps/details?id=au.com.cox.nmmc&hl=en
https://apps.apple.com/au/app/nmmc/id1489281507
NQS/QCBS:
https://play.google.com/store/apps/details?id=au.gov.qld.hpw.nqs3d&hl=en