Remaining Resilient: Staff to Work from Home Amid Covid-19 Each day brings new data, directives and challenges. Each of these must then be considered and our response agreed, communicated and implemented.
From the outset of this unprecedented event, we resolved that it was imperative to be honest and authentic with our audiences – and especially our own people – as we navigate our way through. We don't and won't have all the answers, as quickly as we might want but we do want to demonstrate the seriousness with which we take our responsibilities; for our people first and then our client commitments second.
Yesterday we had a first COVID related event in Melbourne. Specifically, a 'second-degree' risk based on a colleague from a partner firm in a shared project office being informed he had been exposed to a confirmed COVID carrier over the weekend. This project office, the COX element of which comprised 12 staff, was immediately shut down and the team sent home for isolating and testing. We have tracked any potential additional exposure risks and are in daily contact with our people. The project office itself is being professionally sanitised by our client. We will update you on any relevant, additional information as we have it.
This incident is currently contained and the swift and calm reaction of our leaders, HR and IT have provided a good model for response.
This type of event will happen again and despite the significant mitigation measures we already employ our Exec team spent yesterday modelling options for when an infection is reported in one of our own studio spaces. With our two guiding principles in mind, our people and our clients, we have determined that the risk in staffing our spaces in any significant way, while already remaining objectively low, is too great.
The silver-lining here is that thanks to the hard work undertaken in preparing, training, and implementing remote working, as of yesterday we have 85% staff WFH readiness with confidence that this can be boosted to 95% by Friday. Our thanks on behalf of us all must go to our IT and HR teams specifically for making this possible and giving COX the platform from which to prove our resilience. I suspect it will be in months hence, once this crisis has passed, that we will fully understand the degree to which we're indebted to this group.
As such, we have asked all staff who can work from home to do so, regardless of any a personal preference for working in the studio. Nationally, our studios pivot to work-from-home by COB on the 27/03/2020 until advised otherwise.
The studio spaces will remain nominally open (until Government directives dictate otherwise), skeleton-staffed solely for the purposes of ensuring efficiency of transition, vital infrastructure is maintained, and any essential, non-remote tasks can be performed. This will affect very few of our people and they will be given extra assistance – in sanitisation, transport etc – to keep them safe.
HR, Operations and IT will be issuing WfH guidance and tools across a range of factors over the coming days; mental health, self-discipline, software platform tutorials and our local management will be working their studio staff to determine on an individual level where, if possible, we can offer assistance with remote set-ups. The situation is fluid and resources are limited but we are examining where screens, PCs and even chairs might be loaned out to assist our people.
No business will emerge from this the same as they went in. Our objective is to remain a great employer for our people and the highly reputable partner for our clients – a reputation we've worked so hard to establish. But this won't be 'business as usual' and it's not just a question of 'hunker down and hold on'. We need to change and adapt. And by 'we' I mean all of us, as regardless of discipline or seniority we're all responsible for the shape in which we will collectively emerge from this crisis. Our outputs may look the same, but the way our work is developed will be very different. With the speed of change we face this adaptability cannot be spoon-fed from the 'top'. This is a true test of resilience through personal responsibility, adaptability and the preservation of community despite the new barriers we face. We may be 'remote', but the spotlight is on us all, our successes and failings even more obvious as we strive to remain connected and collectively effective.
I'm now 59 years old. I wouldn't be here if I still didn't enjoy what we do and respect the privilege to do it. And I wouldn't have accepted the role of Managing Partner if I didn't believe in this organisation and its potential. We have a long and uncertain road ahead, but I'm committed to seeing us through. I ask no more or less from each of you, because it is our best chance to overcome this unprecedented challenge and emerge an evolved, nimbler and even more dynamic design practice.
Best Regards,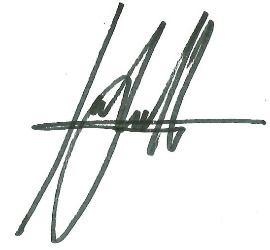 Ian Sutter, 
Managing Partner