What does South Australia's Desert, Riverland and CBD have in Common?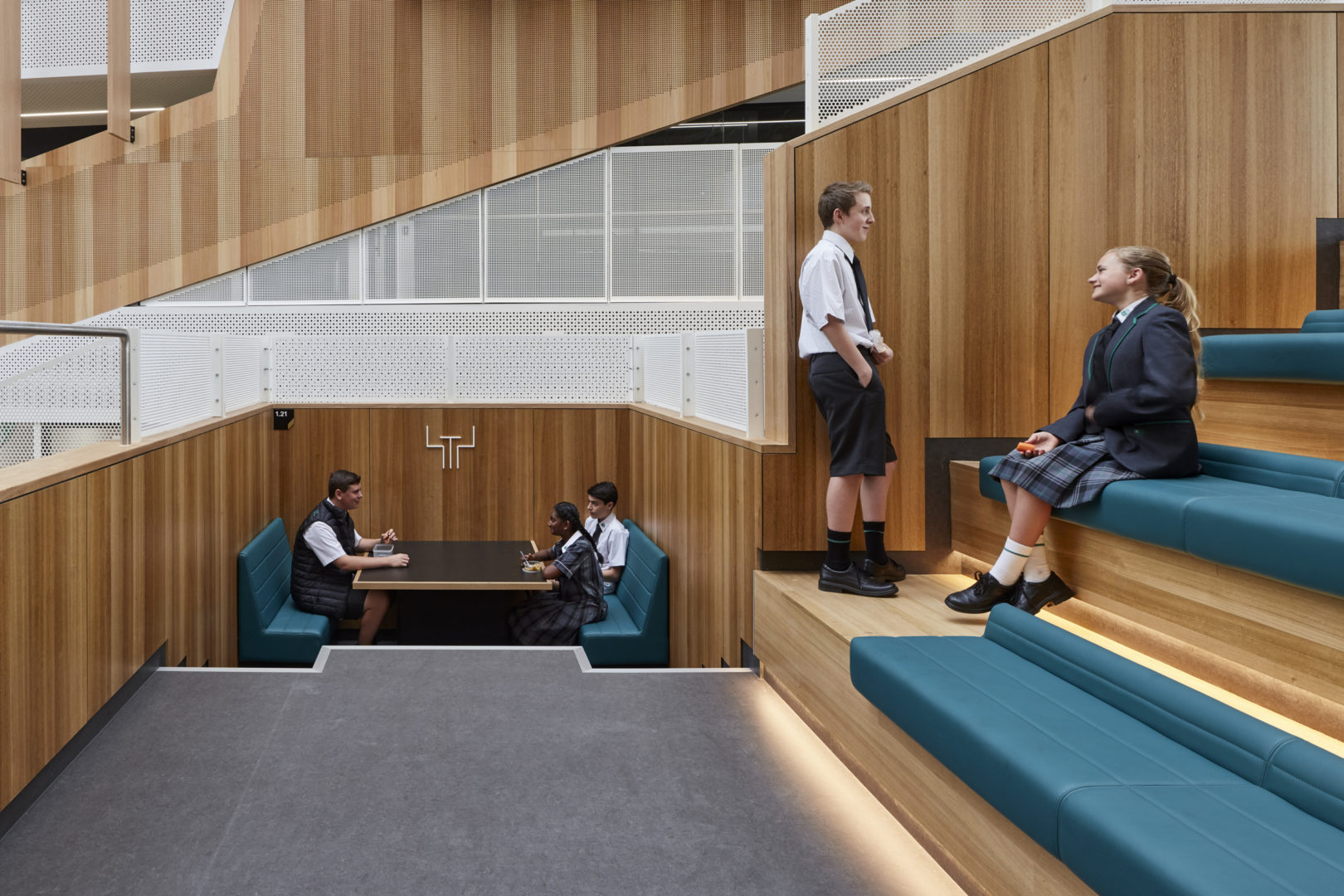 Three schools – three distinctly different landscapes – yet all quintessentially COX.
Dotted across South Australia are three high schools, that although have hundreds of kilometres separating them, share the same aspirations. Regardless of their locations, these COX learning environments sustain engagement and curiosity – seen as places of optimism, excitement, and challenge.
These schools – Adelaide Botanic High School (ABHS), Whyalla Secondary College (WSC), and Murray Bridge High School (MBHS) – are successful because they not only offer a variety of learning spaces, but a strong sense of identity. Whether a student is attending school in the city, the desert, or the Riverland, they will have a connected experience where they feel at home – a place they want to spend their time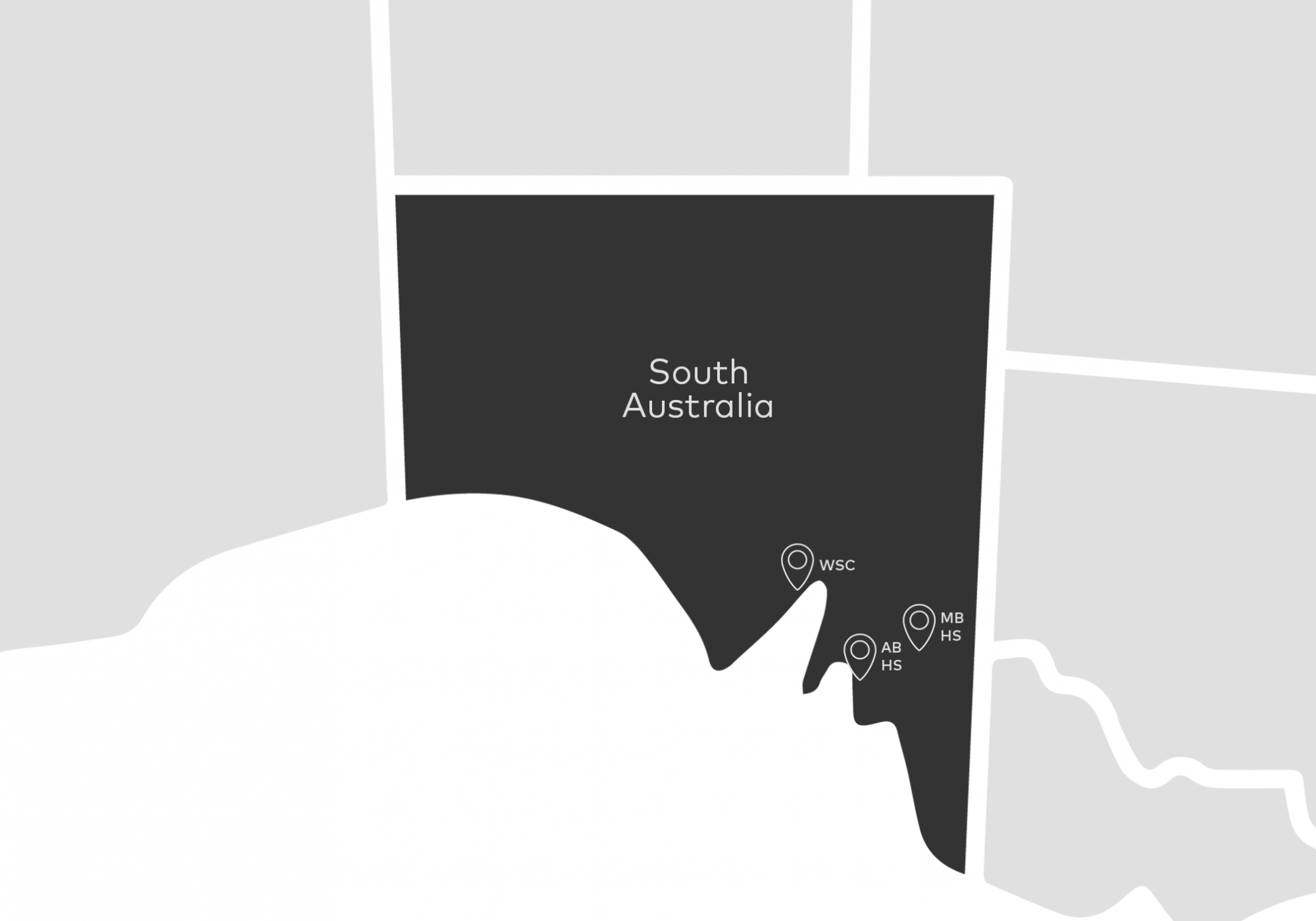 Adelaide Botanic High School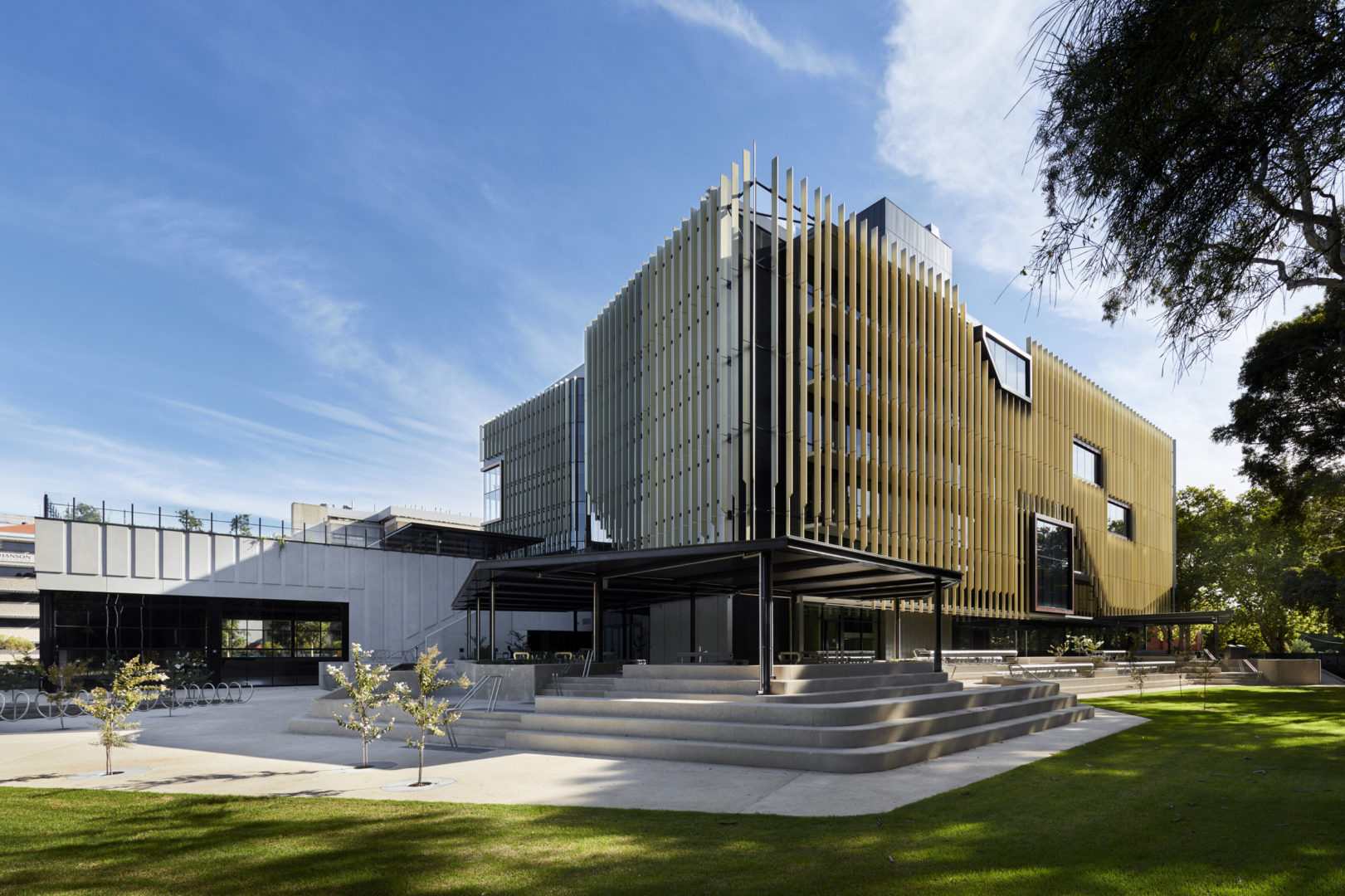 Located at the edge of the CBD and Adelaide's beloved parklands, the school was designed to make a positive contribution to Adelaide's life and identity. It is as much a 'school of the city' as it is a 'school in the city'. Its location within the central precinct provides learning opportunities infused by city-life and transformational experiences.
COX in collaboration with DesignInc, retained the structural frame of the existing Reid Building but transformed interior spaces and exterior facades. A new façade system of anodized aluminium blades married the existing structure to the new.
COX Director, Adam Hannon
Our desire was to create a contemporary and innovative learning environment that has a strong connection to the surrounding landscape. The internal space is conceived as a continuation of the external landscape and parkland setting, creating vital indoor and outdoor connectivity to enhance the student learning experience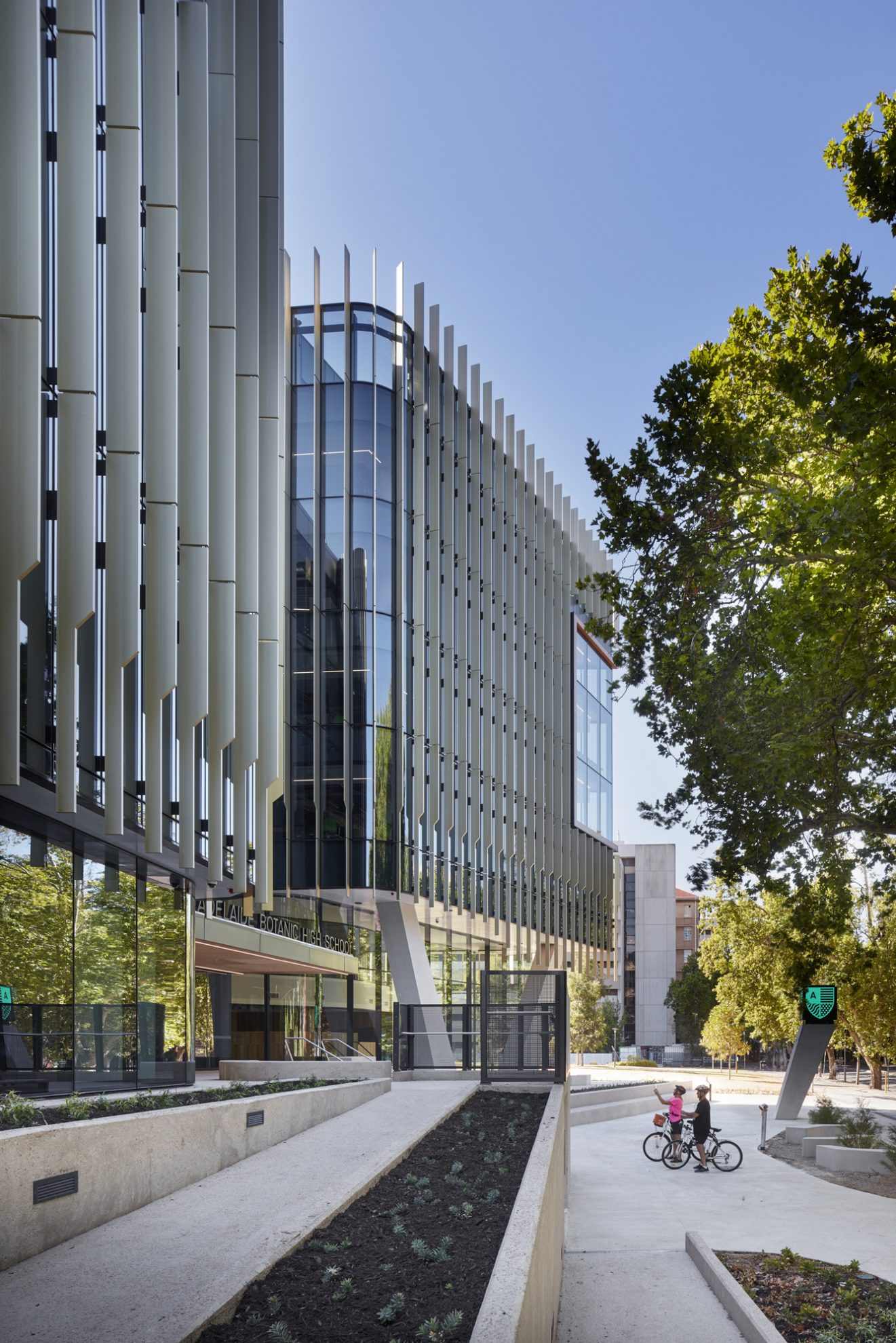 Whyalla Secondary College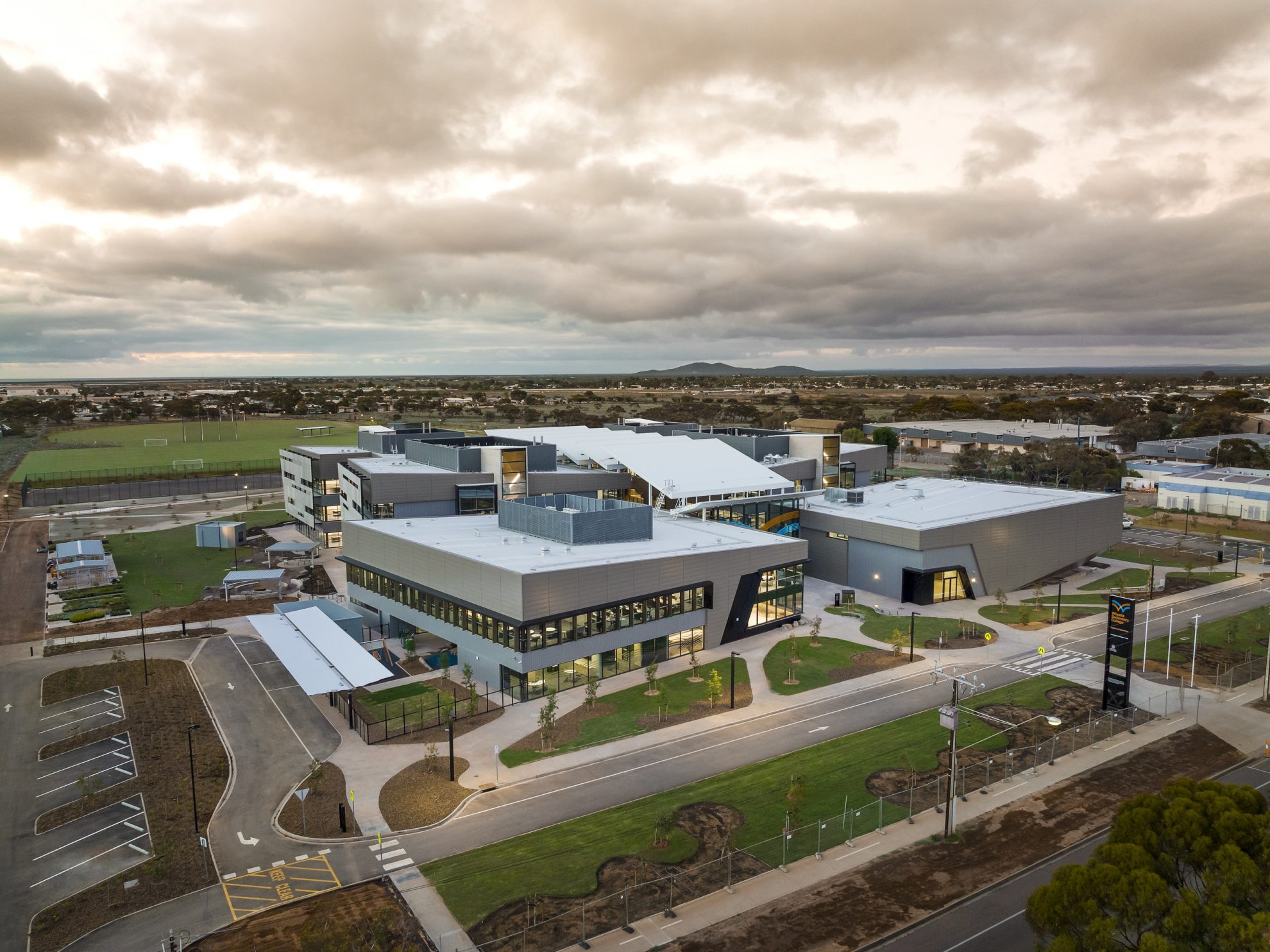 Designed by COX in collaboration with Thomson Rossi, the new Whyalla Secondary School combines three existing government schools in the region; Edward John Eyre, Stuart and Whyalla High Schools. Located on one of the city's main thoroughfares, and in between the UniSA and TAFE campuses, the new school forms an integral part of and education precinct striving to provide students with local, national, and global pathways.
Key to the design process was input from community stakeholders, students and educators who contributed valuable ideas and feedback. In response, the design embraces the history of the existing schools, simultaneously creating an exciting and educational contemporary facility with a strong sense of place and identity.
Our vision was to create a school that seamlessly integrated into its town and connected to its people. Our key design principles were developed with all three school communities, the educators, and students. From a dynamic learning community to honouring a sense of place, we sought to create settings that spoke to a contemporary pedagogy, allowing for impromptu collaboration and promoting inclusion
Sustainability is built into the design from the ground up – the courtyard canopy, provides shelter, shade and natural ventilation, responding to Whyalla's unique environment and natural landscape. Connectivity to nature is encouraged through considered physical and visual connections thereby providing opportunities for students and educators to learn and engage in formal and informal learning settings.
A rich array of specialist facilities will allow engagement with all facets of the Whyalla community, creating an important community heart for the City of Whyalla, now and into the future.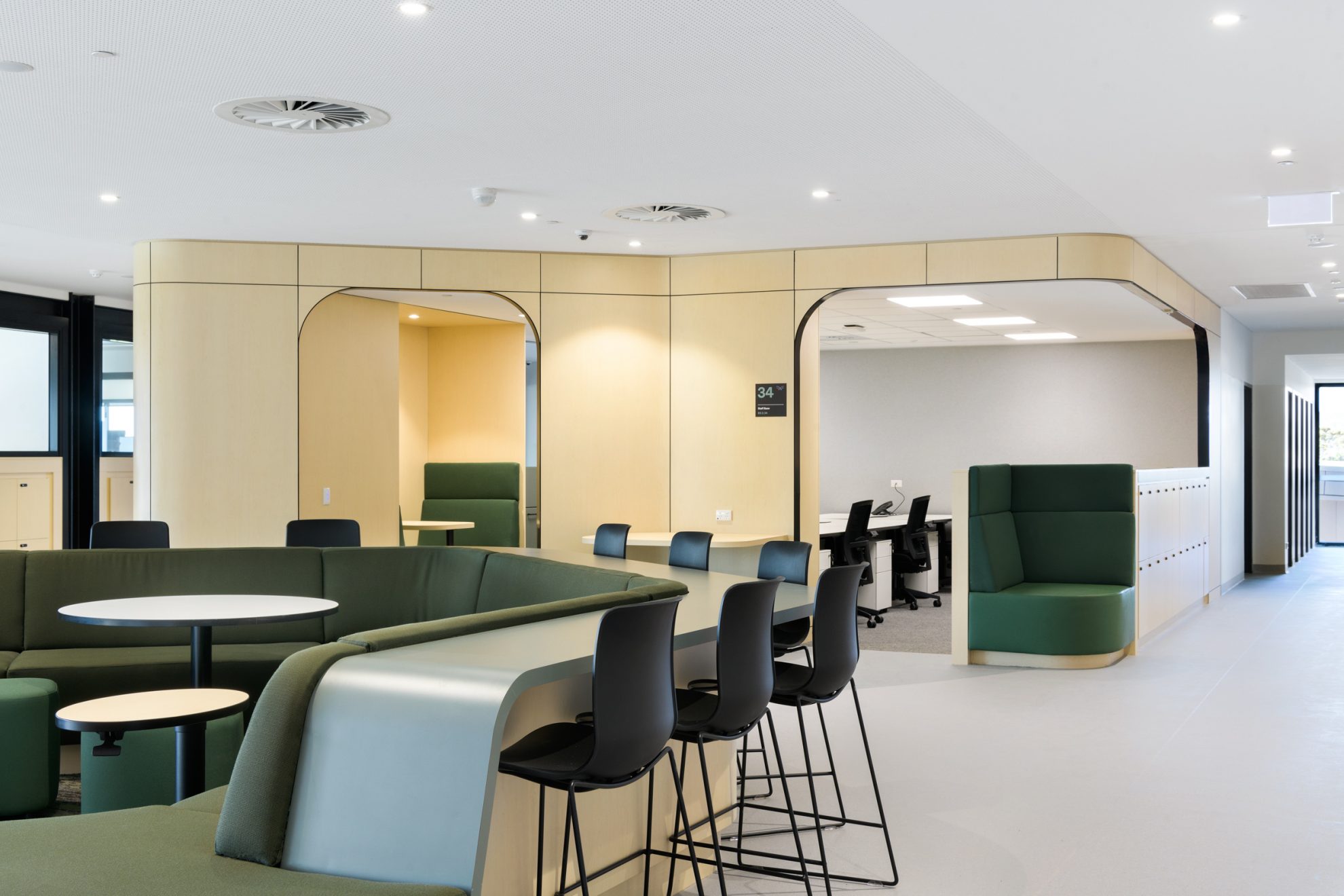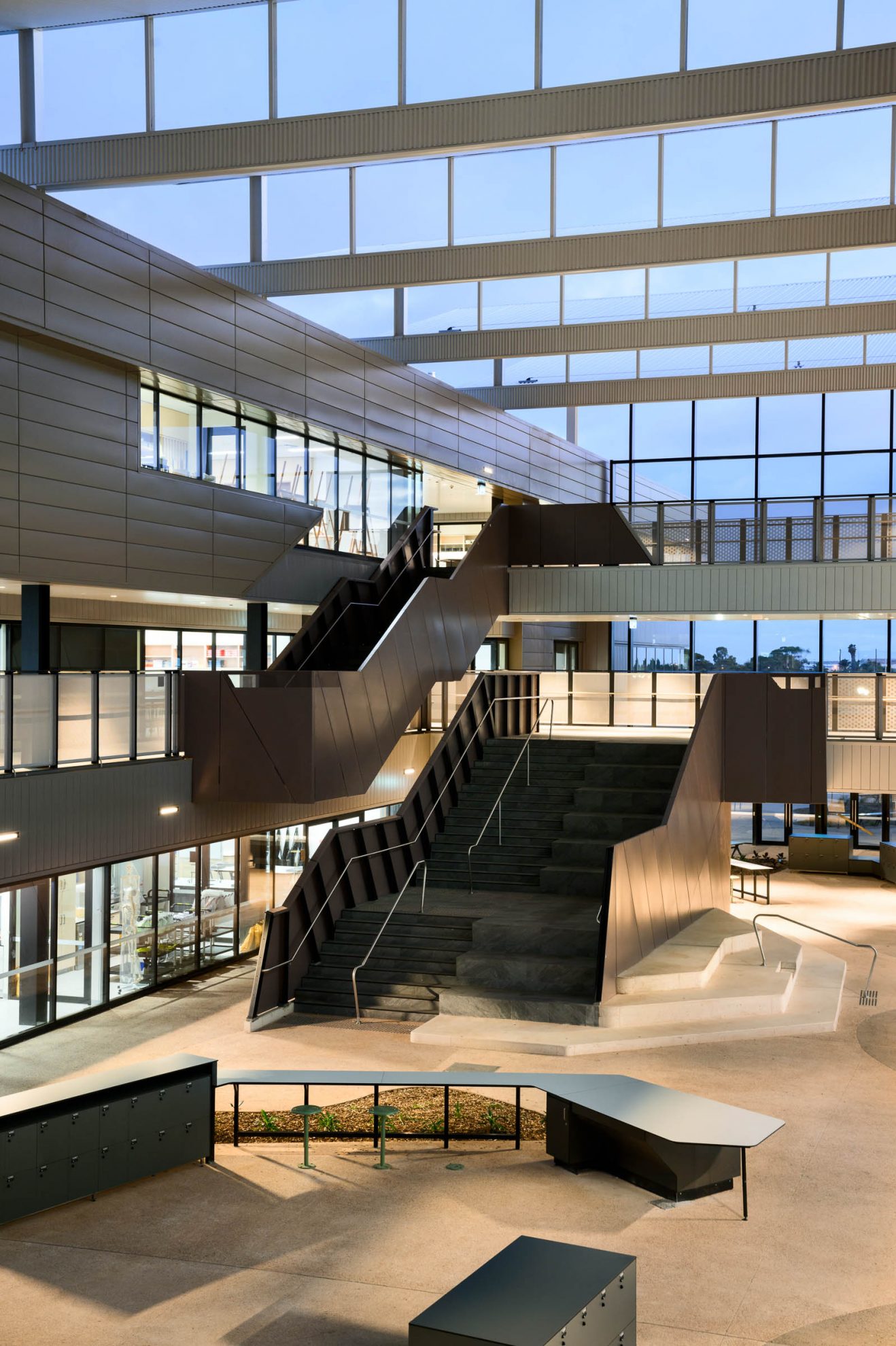 Murray Bridge High School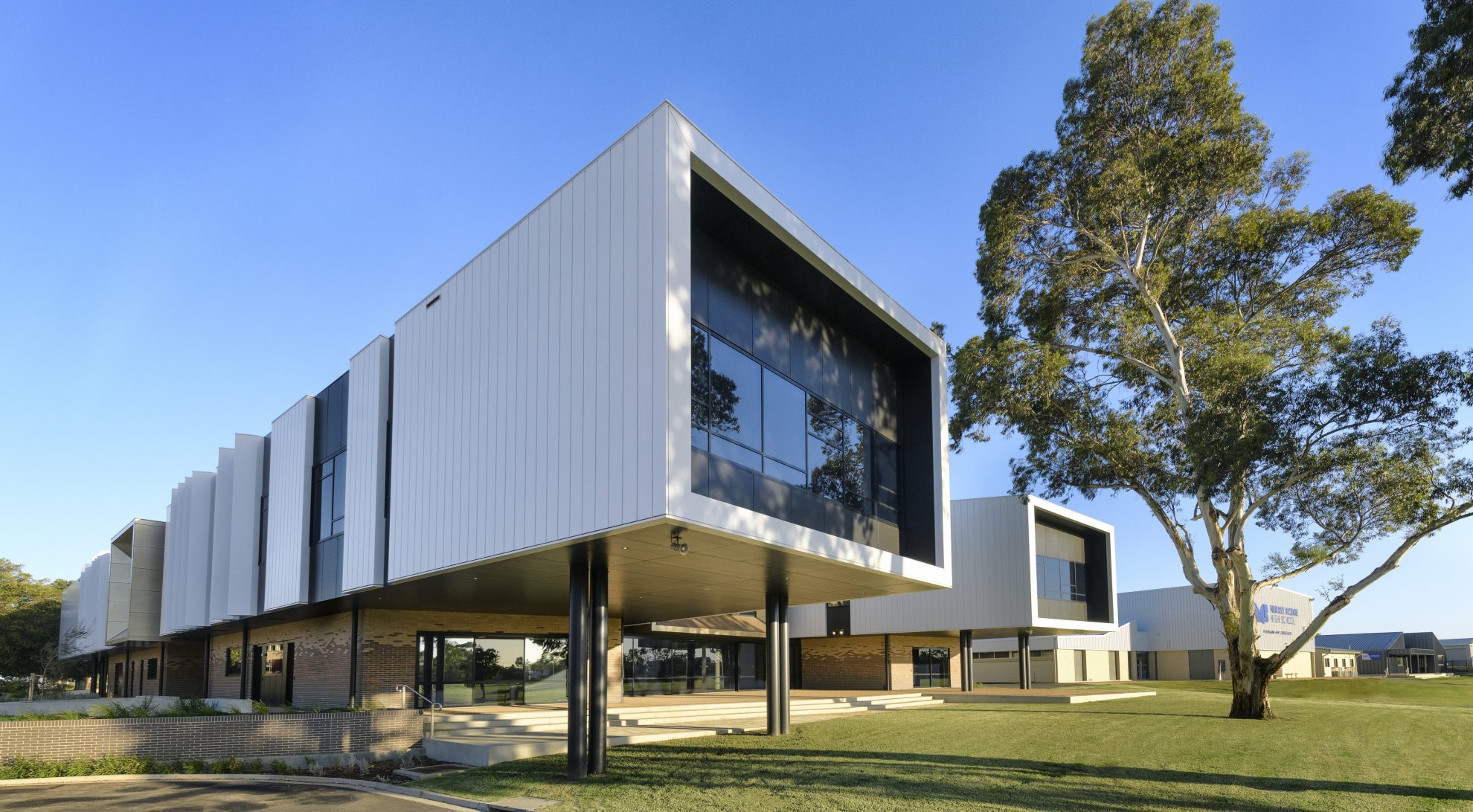 MBHS is directly visible upon entry into Murray Bridge, so creating a streetscape that not only embodied the town's essence, but complemented existing features, was carefully considered and achieved through engagement with the community and stakeholders.
The interior built form was inspired by the Murray River and its power in shaping the town and land around it. The river's escarpments, perches and edges inspired formal and tactile design decisions while internal features and material choices were derived from the interaction between earth and water along the river's edge; the striations and forms that are created.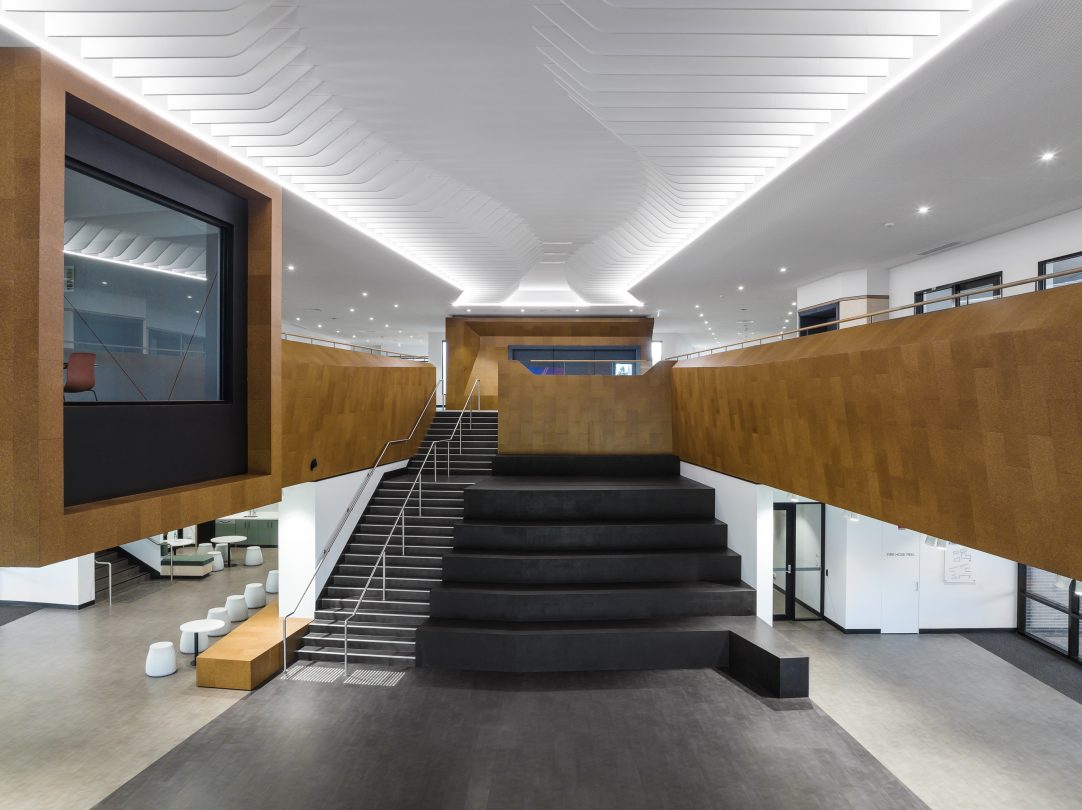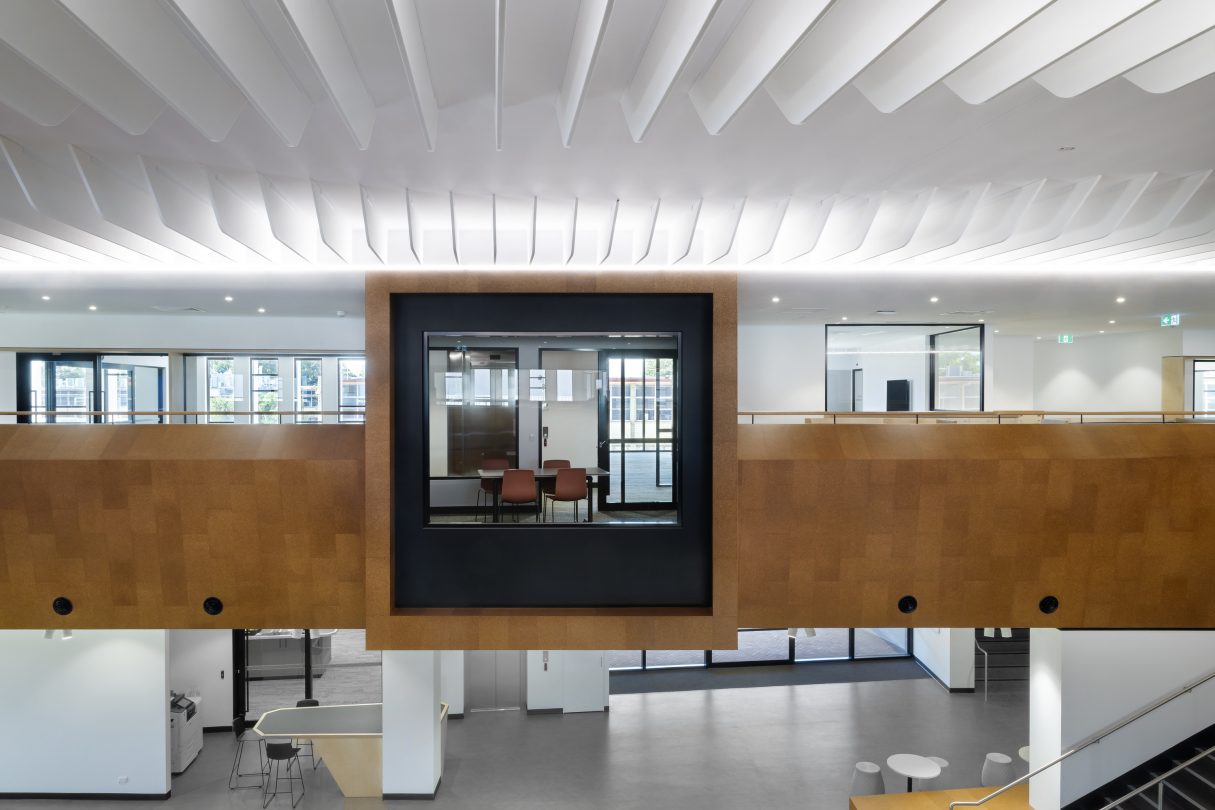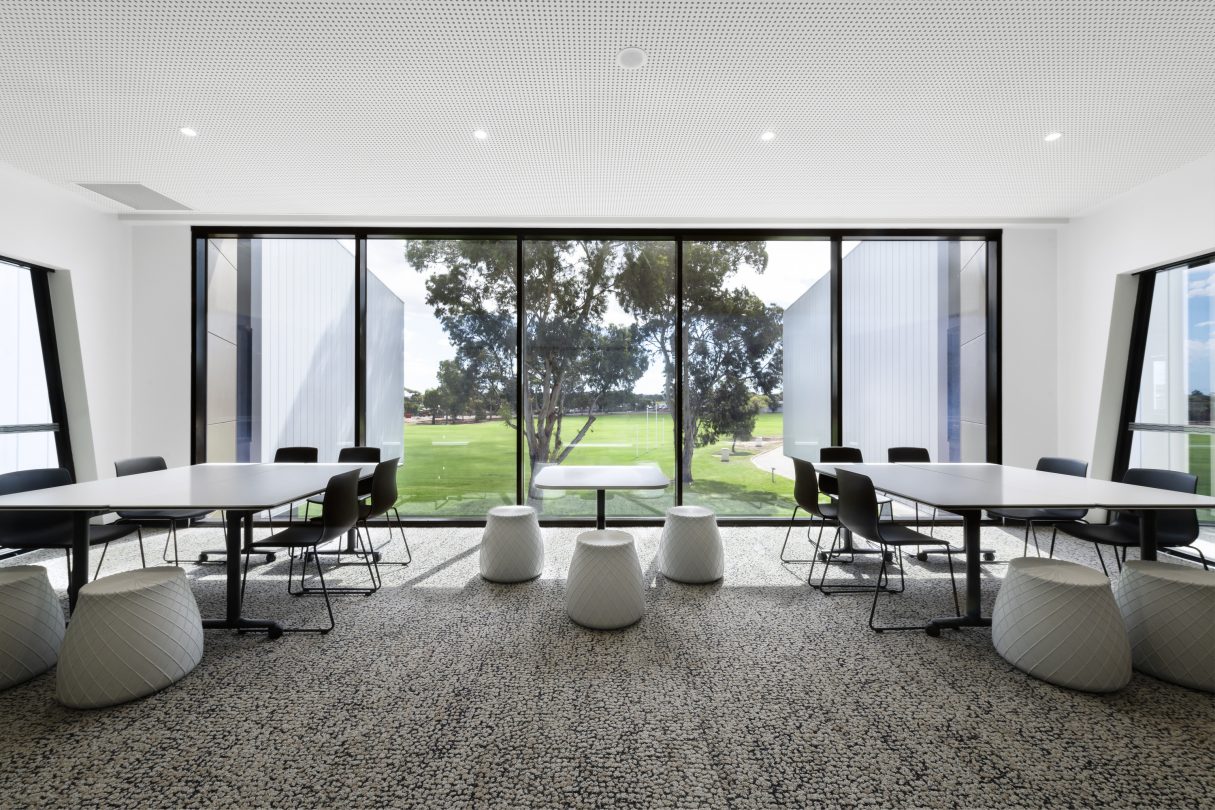 Due to the challenging climatic conditions of Murray Bridge, design elements were incorporated to enable use of facilities year-round. The building predominately faces north-south for passive sun control while east-west extents are positioned to utilise the shade from existing trees. The use of natural and sustainable materials was a key consideration, leading to the use of cork as flooring and internal linings.
COX Project Architect, Cameron Keene
We worked closely with our client, user groups and stakeholders to deliver a conscientious project. With a large aboriginal community, consideration of the Ngarrindjeri people ensured a connection to land and informed design elements throughout the project