Project Contact
Adam Hannon
Chin Tan
Colin Wilson
Kerrie Russell
Orr Niv Shallev
Patrick Scott
Rawshan Farooque
Oaklands Station
Adelaide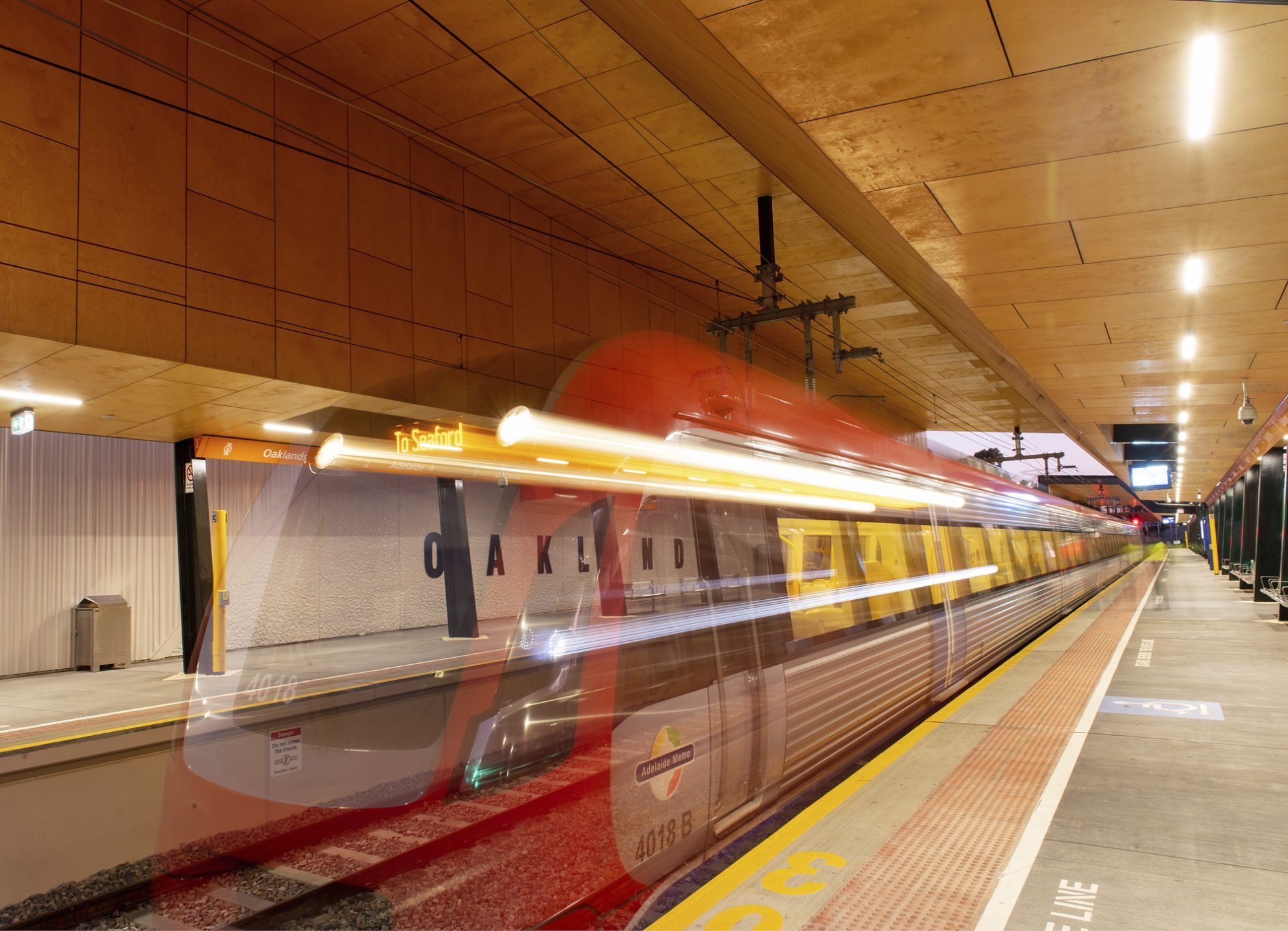 The Oaklands Crossing Grade Separation Project was jointly funded by the Australian Government, State Government and the City of Marion and puts community at the forefront of its design. Delivered by the Public Transport Projects Alliance (PTPA), the new station greatly improves pedestrian and bicycle connectivity, along with high-quality facilities that support the State Government and the City of Marion's aims to increase public transport patronage and amenity.
The Oaklands Station canopy was designed to create a high-performance piece of public architecture with a strong identity and presence, both in the lowered corridor and at-grade. The expressive roof form responds to the safety requirements of an active rail line, provides human-scale shelter, and its eight-metre cantilever provides a striking local landmark.
2020 SA Architecture Award Jury Citation
This is an excellent demonstration of how the technical requirements of an infrastructure project are enhanced through the engagement of architects, landscape architects and urban designers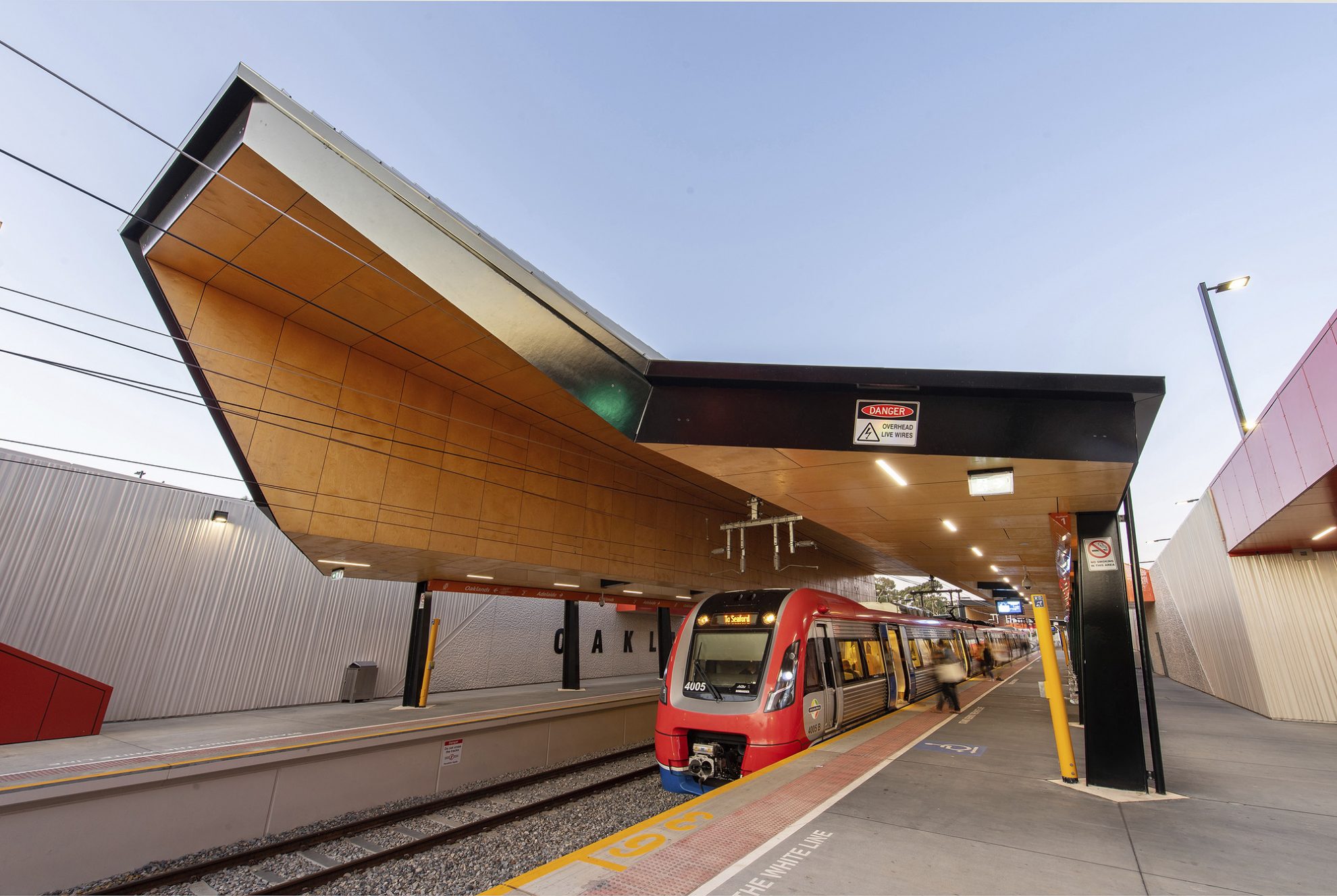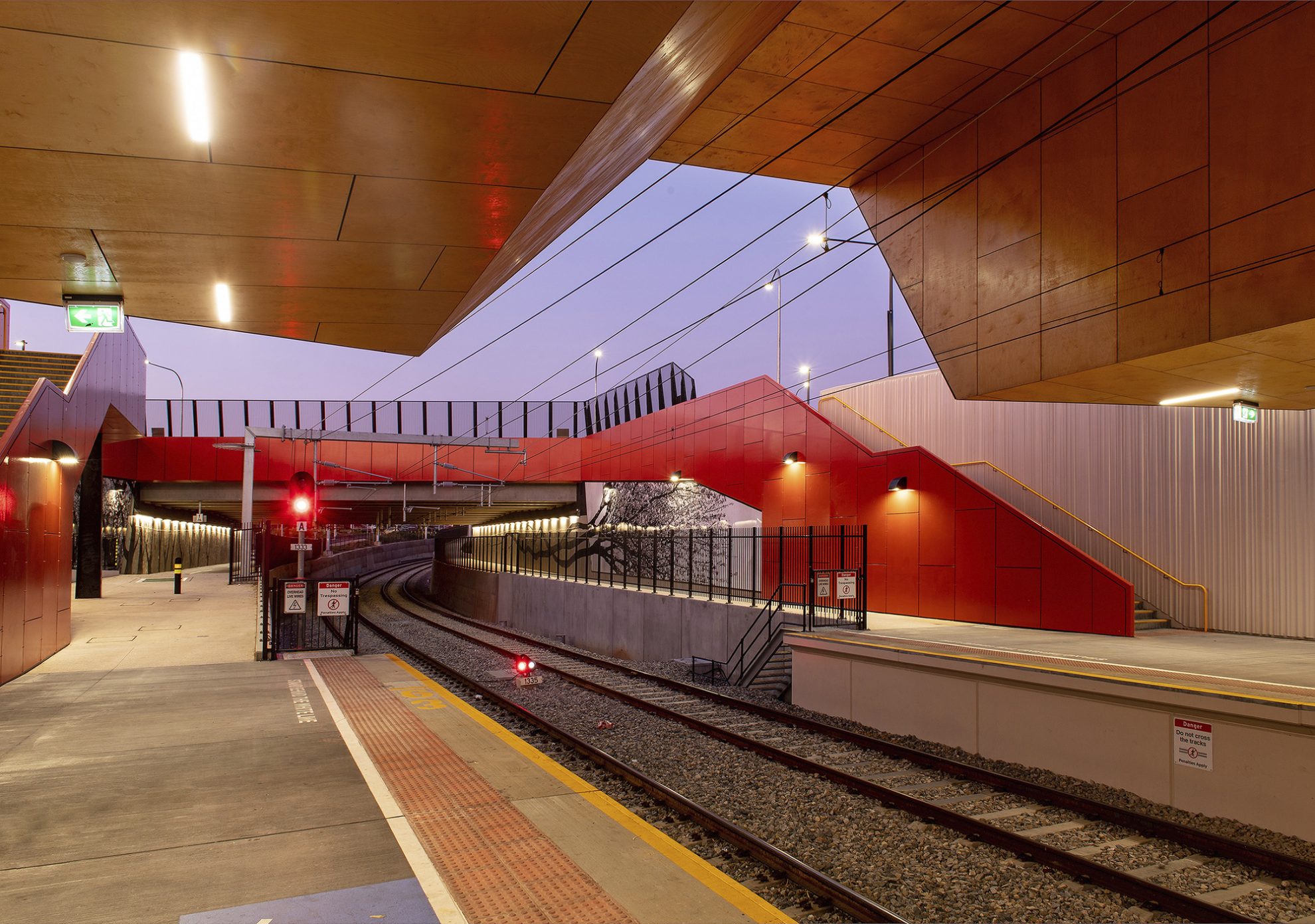 Complementary to the station, the public realm and surrounding landscape features extensive native planting, high quality paved areas, public art, urban furniture and strong pathway and cycling connections.
The station is low maintenance without compromising aesthetics or amenity. Material choices such as textured concrete panels and steel plate cladding discourage graffiti and facilitate its removal. Integrated public art also discourages vandalism and creates pride and interest. Local artists Jess Loughlin and Rachel Harris (project-2-project) created a piece that reflects the history of the City of Marion, as well as highlights the strong connections between the people of the area and the surrounding landscape.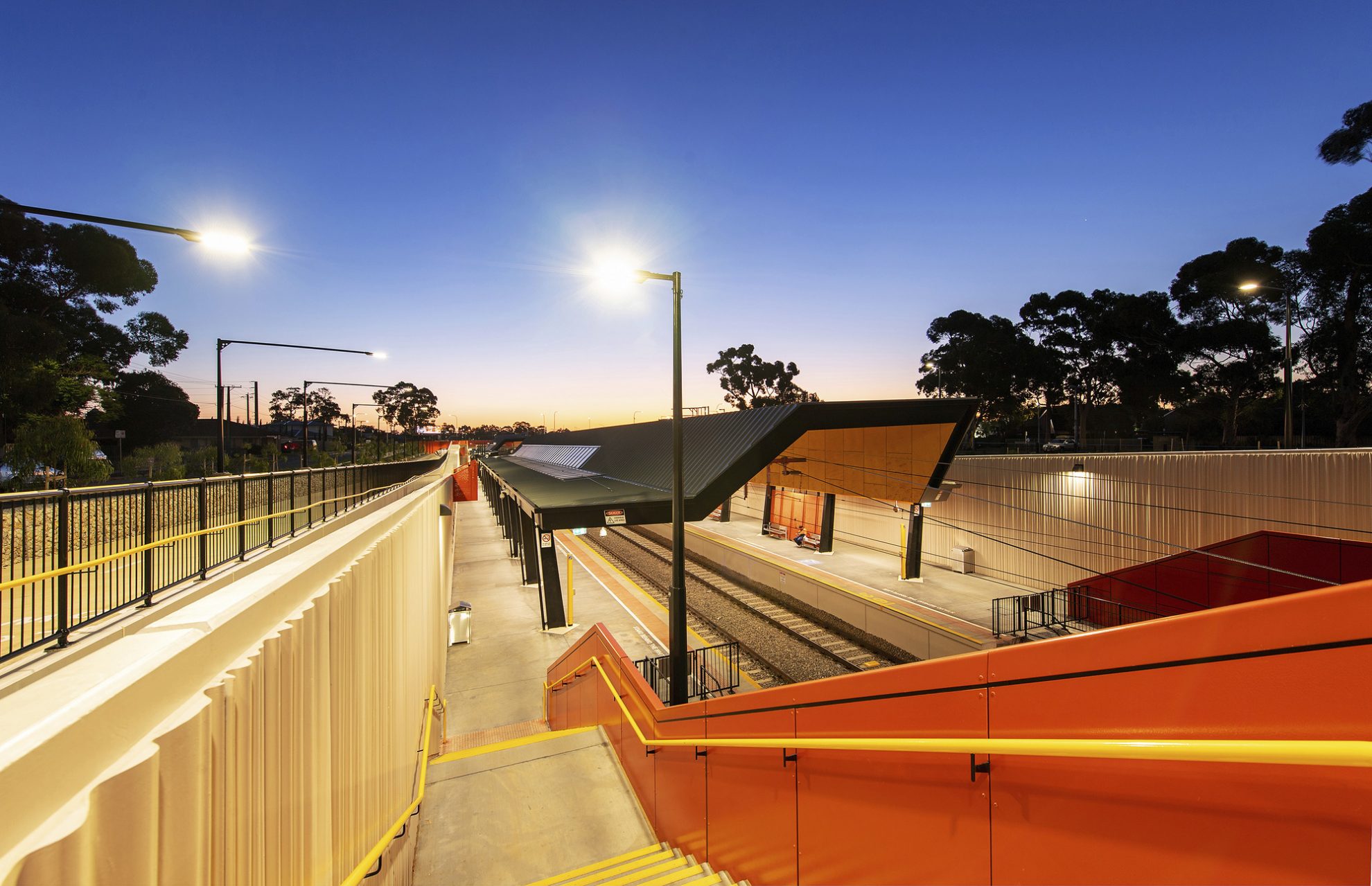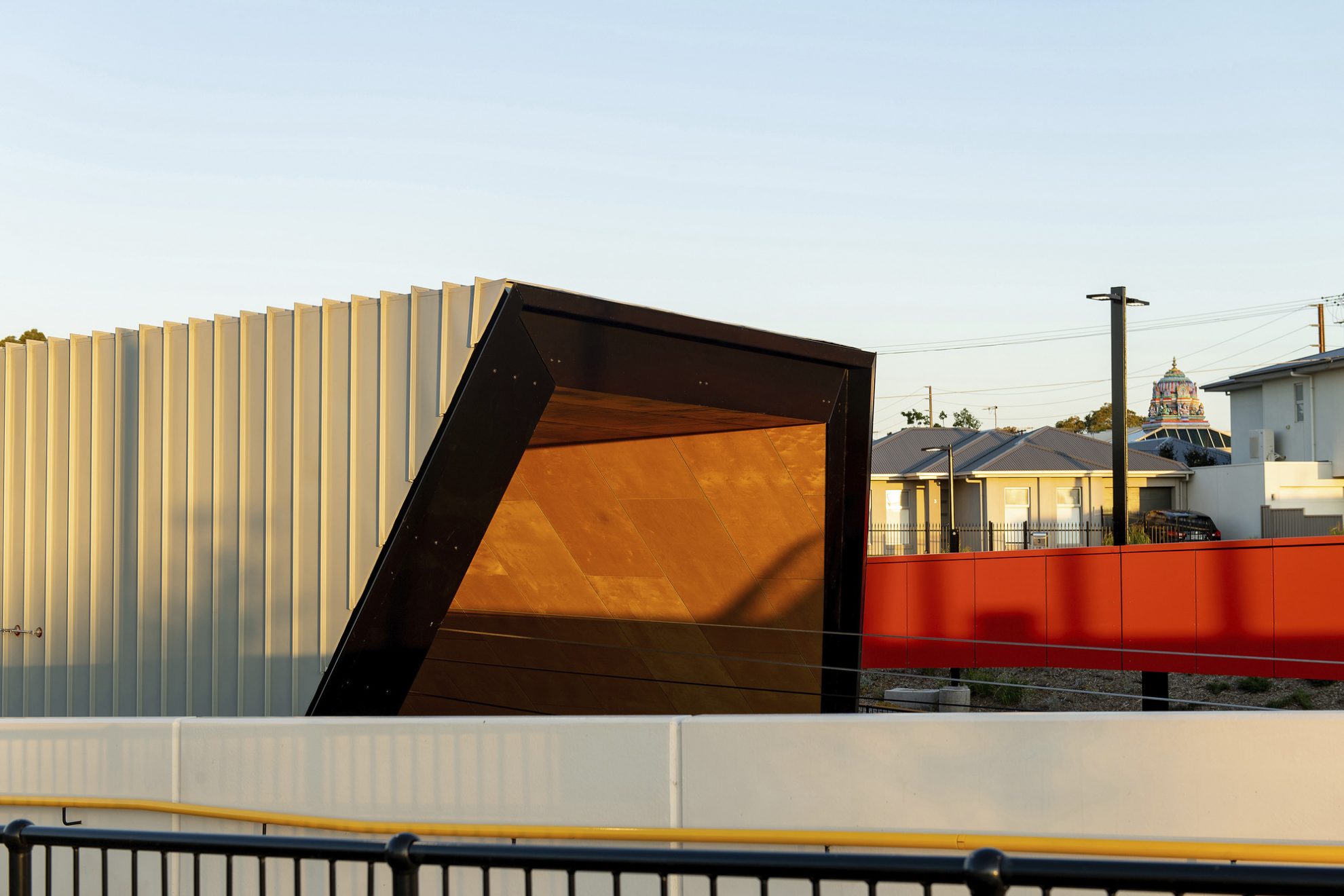 COX Architecture and ASPECT Studios worked jointly on the urban design with each focusing on and documenting architecture and landscape elements respectively. In a highly collaborative environment, all engineering disciplines worked together to balance the project outcomes with public space, passenger amenity and community outcomes in mind, along with safety, technical and operational requirements.
The project delivered on its sustainability objectives, with pedestrian and cycle path upgrades encouraging walking, cycling, and the use of public transport in a previously vehicle focused precinct. Material choices have been made with longevity in mind, and the collaborative nature of the project between the design and construction team has maximised efficiency in construction and minimised waste and delay. Vegetation choices reflect the flora and microclimate of the area.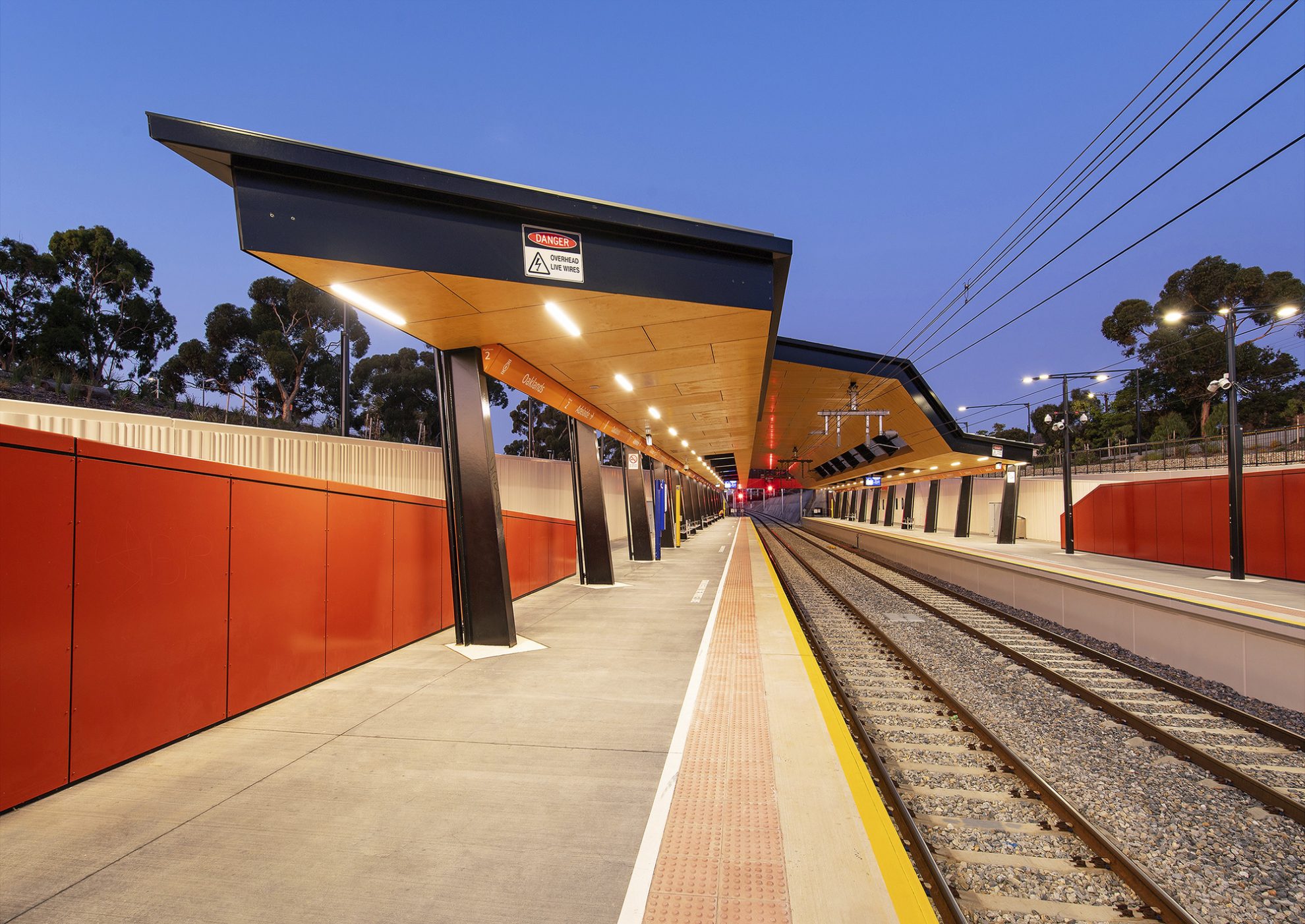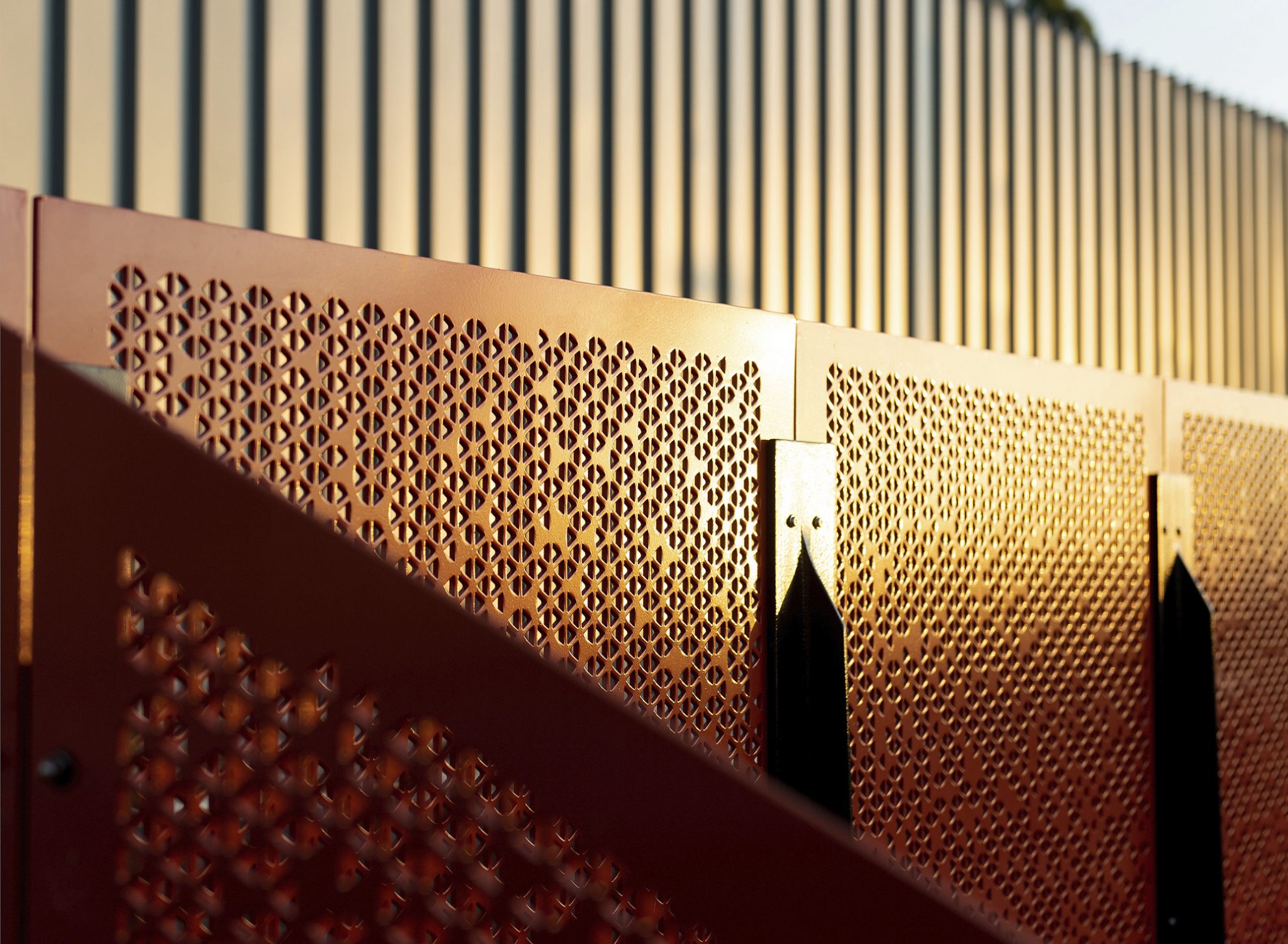 The partnership between the Department for Infrastructure and Transport, Australian Government and PTPA ensured the on-time and within budget delivery of the Oaklands Crossing Grade Separation Project. The Department and PTPA also worked closely with the City of Marion, which contributed to the project and has since engaged with the designers to further develop the surrounding precinct urban realm.
This project delivers a striking and lasting response to its main three facets; technical and operational requirements, public amenity and connectivity, and design excellence.