Project Contact
Adam Hannon
Anna Bamber
Anna Morgan
Bernita Edwards
Brian Renehan
Ciaran Grogan
Danielle Ohlson
David Shultis
David Yeow
Davina Shinewell
Dominique Ng
Fred Chaney
Gary Hart
Geraldine Koh
Gil Caspi
Hannah Bridgman-Smith
Hideto Chijiwa
James Stewart
John Lucy
Julia Xu
Karen Liew
Karen Unkles
Linda Valentic
Line Rahbek
Melanie Pok
Natalie French
Rutger Pasman
Thomas Morgan
Thomas Williams
Troy Thirlwell
North Melbourne Rail Station
Melbourne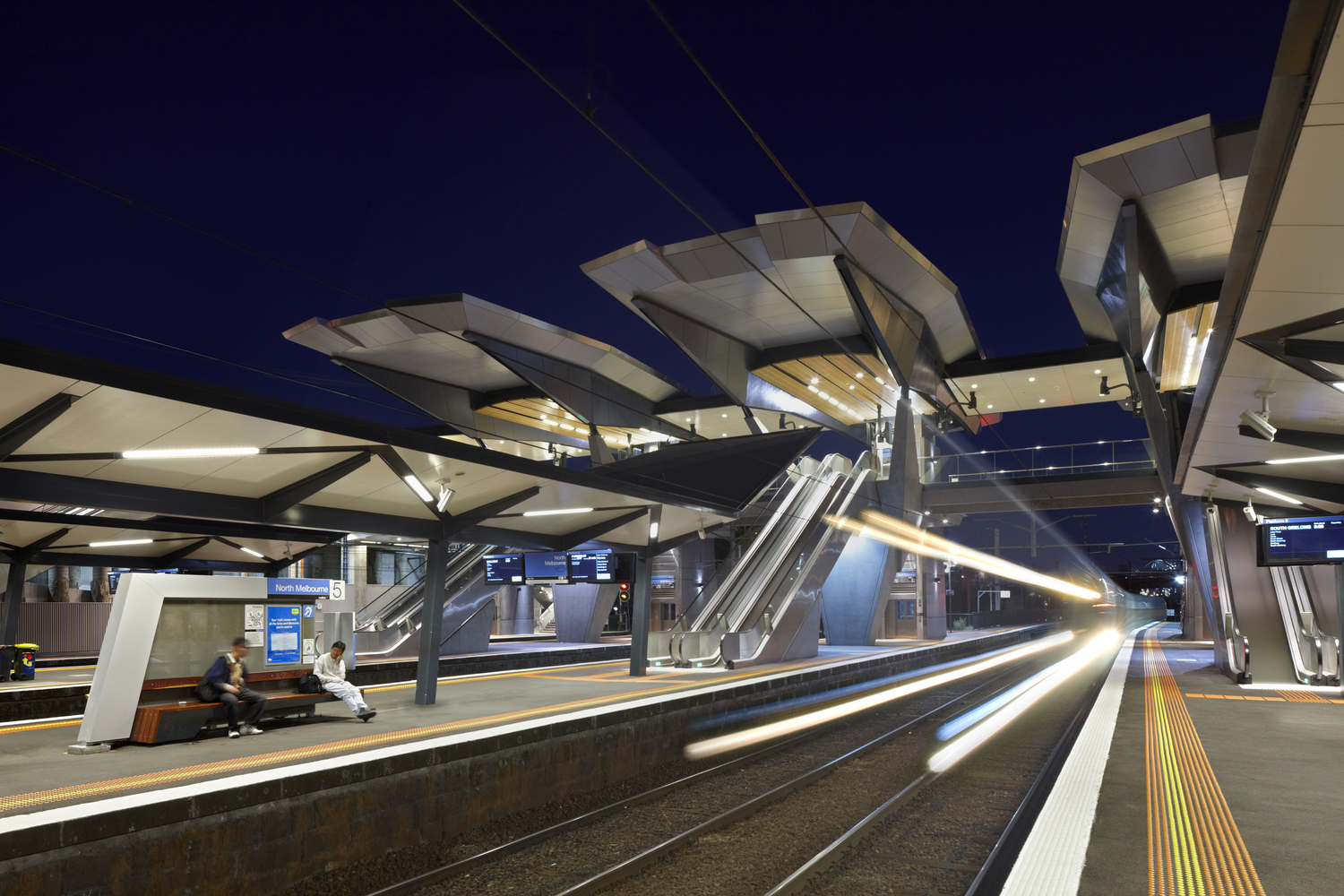 North Melbourne Station embodies the ideals and captures the spirit of contemporary transportation design. A premium passenger interchange, it provides patrons with equitable access, enhanced passenger amenity and modern station facilities, drawing together a series of diverse and heritage elements into a coherent and prominent new station by completely rethinking the layout, use of height and spatial volumes.
The station's new identity was established by creating a street presence that activates the wider precinct, incorporating a forecourt and entry that provide direct physical and visual connections to the heart of North Melbourne, animating its presence by use of an expressed lift tower as a vertical marker and bold graphic signage integrated into the facade.
The station building itself saw the addition an elevated public concourse for platform interchange, integrating vertical transport elements with upgraded platform areas, expansive canopies, passenger seating and weather protection screens – all of which contribute to providing commuters with improved access within a safer and more secure environment.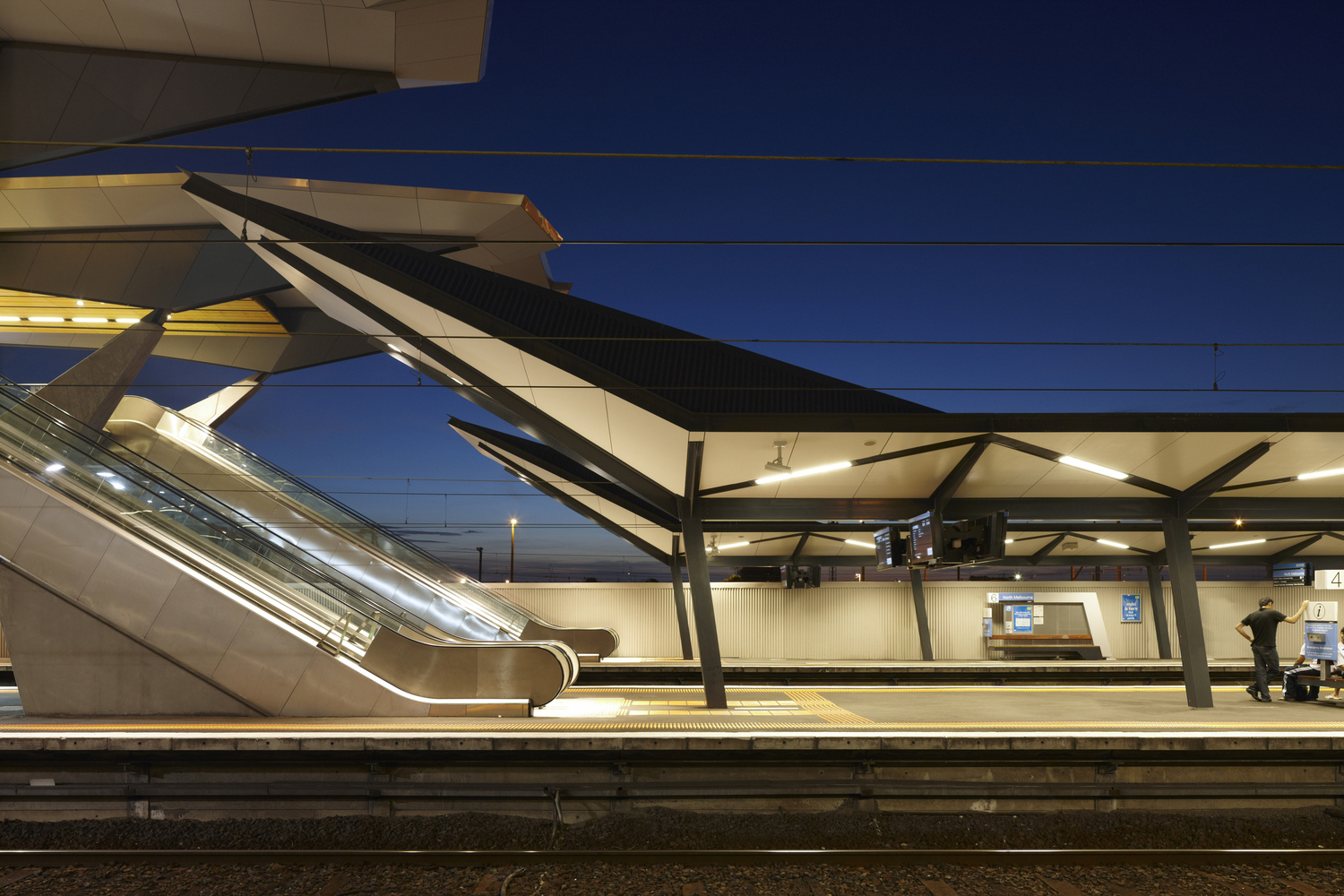 Jonathan Gardiner, Project Architect
It's possible to create something grand without being an edifice. If it's iconic, that's because we work hard on the processes to ensure all critical areas for the client and public are met.
Primary project components articulate a connection between concourse and platform, while vertical transport elements provide passenger links and floating roof canopies provide shelter and shade. The composition of these elements designed using a robust palette of materials to express the structural program and reinforce the idea of movement and journey.
The design celebrates robust and functional materials, allowing the station to reflect its surrounding industrial legacy while easily integrating into its inner-urban context and operating effectively to meet the rigours required of a station facility.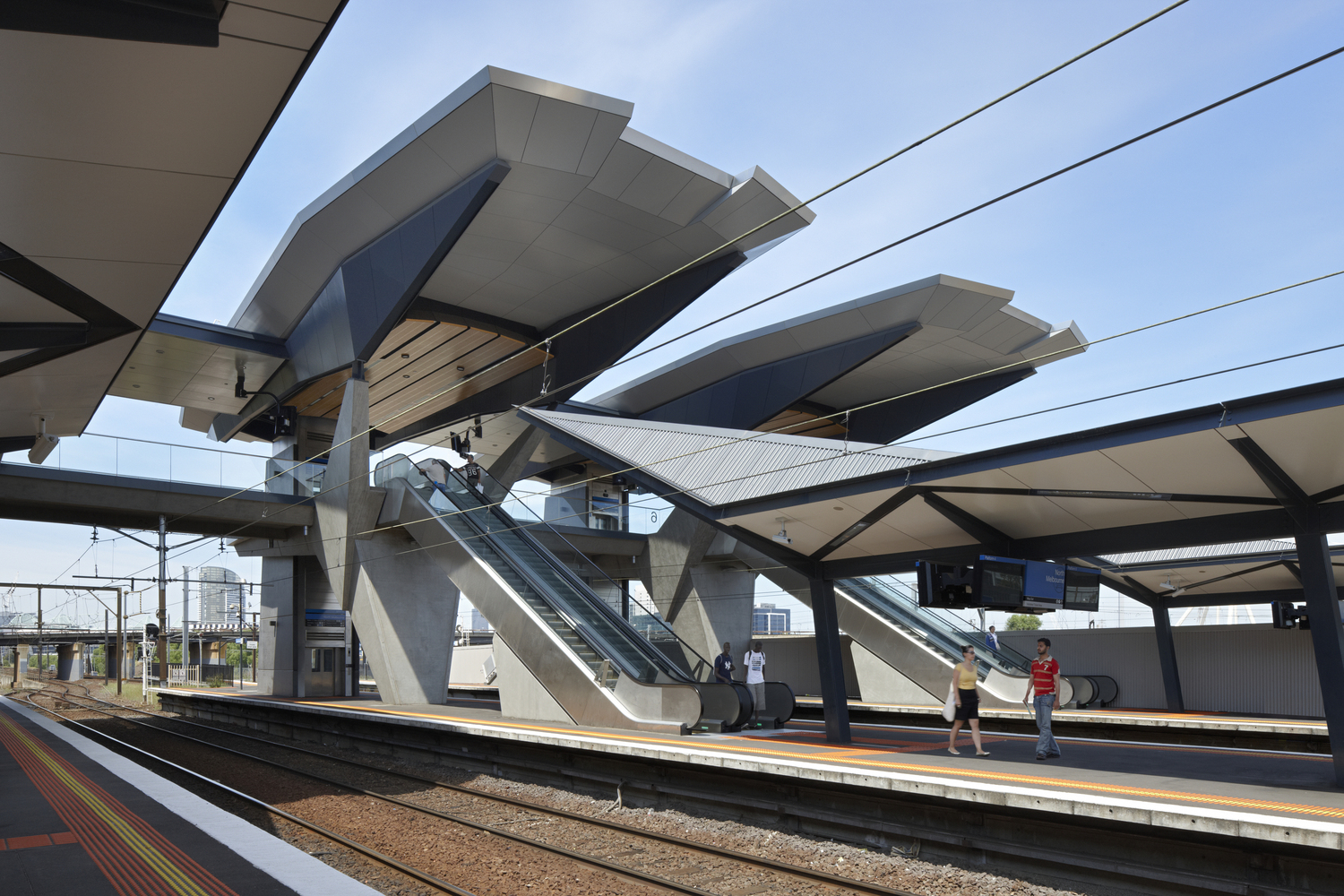 The redevelopment captured a new ethos, presenting a place designed for people, not just trains. The station forecourt, entry and public concourse have been carved from the existing urban fabric to reinvent the built form as a new public space.
The strong architectural features of the station provide a point of reference and focus within the surrounding context, creating a dynamic passenger hub for Melbourne's northern gateway. The station provides legibility in passenger movement and increased safety through the staff and passenger sight-lines it allows.
The station design utilised repetitive and prefabricated elements that allowed straightforward construction in a live rail environment and caused minimal inconvenience to commuters.