Project Contact
Ian Smith
Alexis Phillips
Ralf Detjen
Victoria Cotton
Smitton House
Canberra, Australian Capital Territory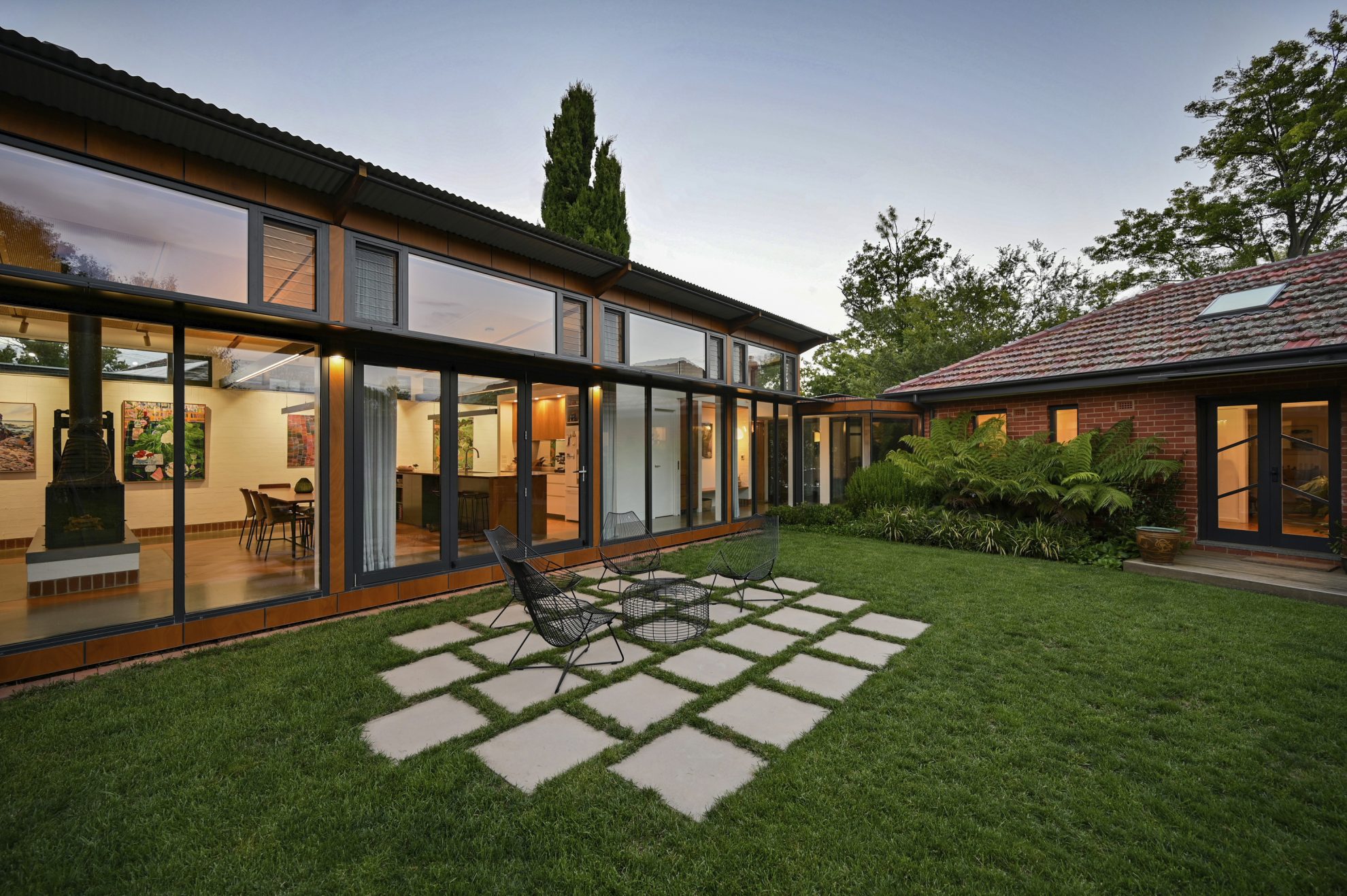 The overarching aim for Smitton House was to realise an elegant yet welcoming, functional, and sustainable family home. One that is polite to the context while still striking, contemporary and light-filled.
The project restored the existing 1940s cottage, with the addition of a pavilion extension and carport. While badly neglected and not formally heritage listed, there was no question that the cottage would be retained given its charm and 'good bones.' There was also a desire to respect and reinforce the streetscape character, and complete an addition that is unashamedly modern, yet sympathetic to its surrounding scale, siting, and materiality.
The planning of the home was shaped by the position of the cottage and optimising sustainable use of the site. The landscape was considered as an equal and integral contributor to the overall design. Lighting design was also key.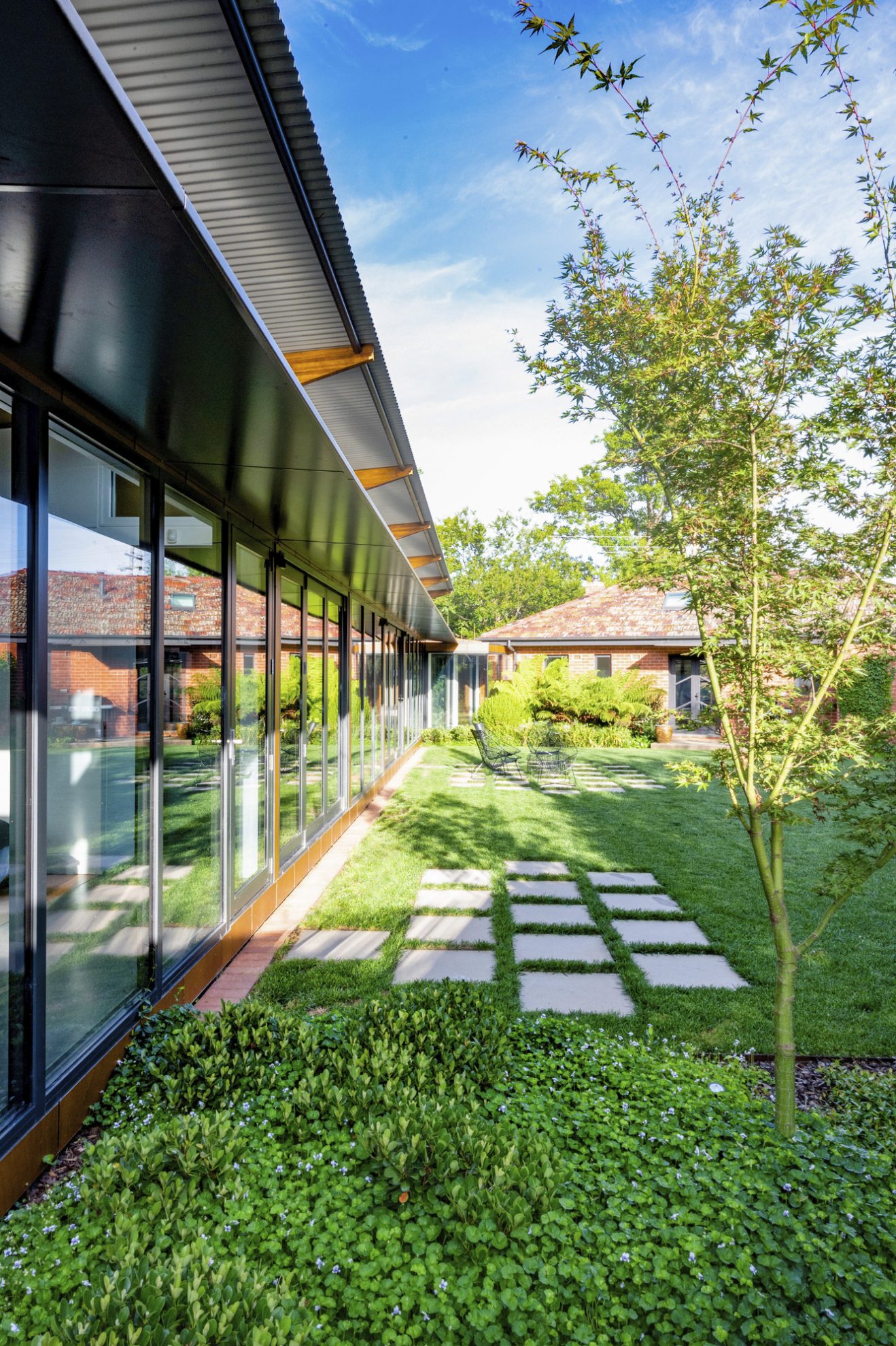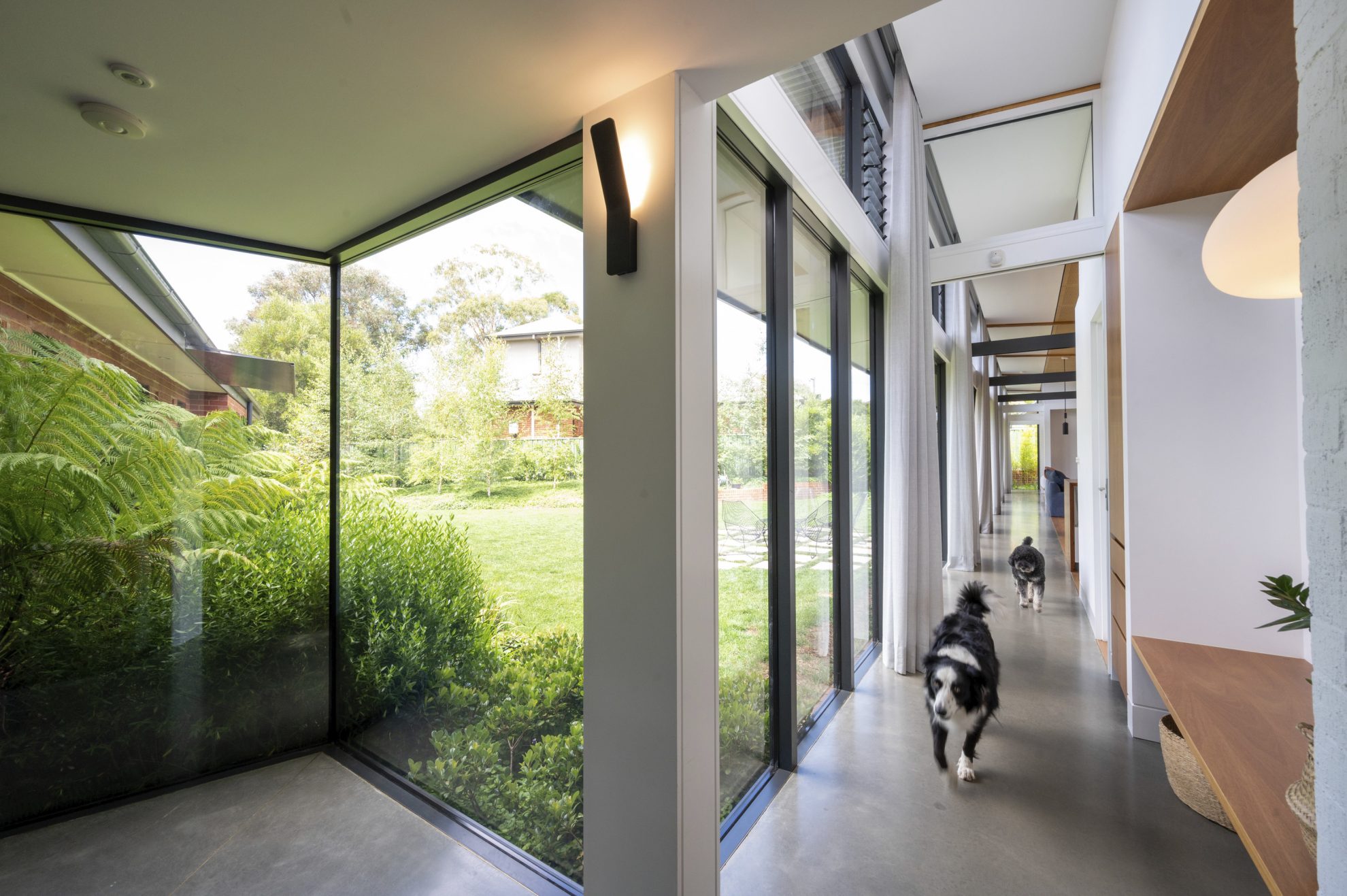 The pavilion was placed parallel to the southern boundary, orienting 20 degrees east of north, maximising passive solar and also solar access to the private yard and forming a discreet service yard to the south. Car parking is sited close to the driveway to minimise the impact of vehicles/hardstand on site. Service was also carefully considered to function optimally while being concealed.
The low-scale glazed link seamlessly connects the two structures while forming an entry lobby to the house. The connection into the cottage is formed through what was the original laundry and WC. The cottage layout is relatively unchanged, providing a secondary living space, guest bedroom, study/bedroom, art studio and expanded bathroom.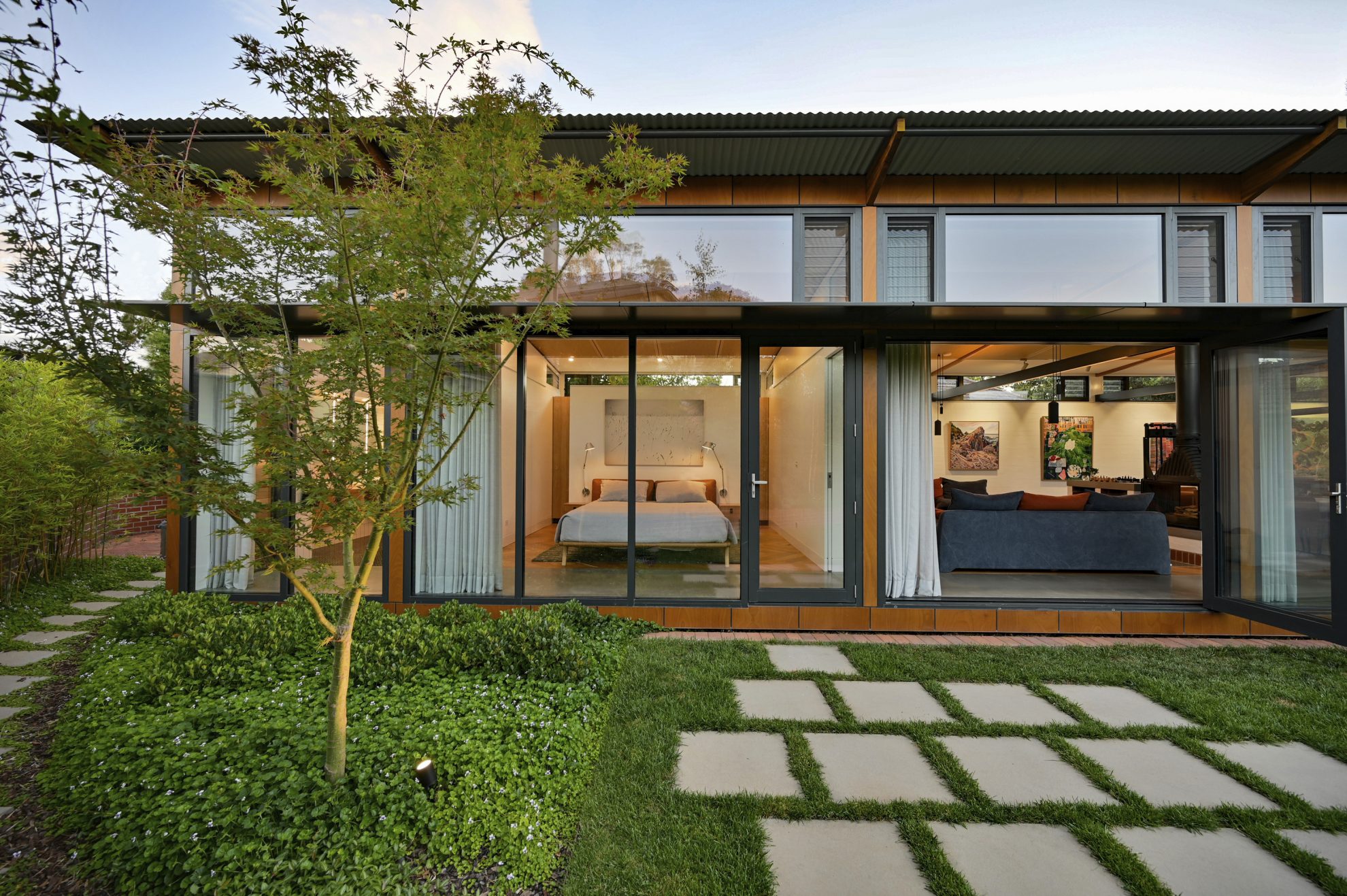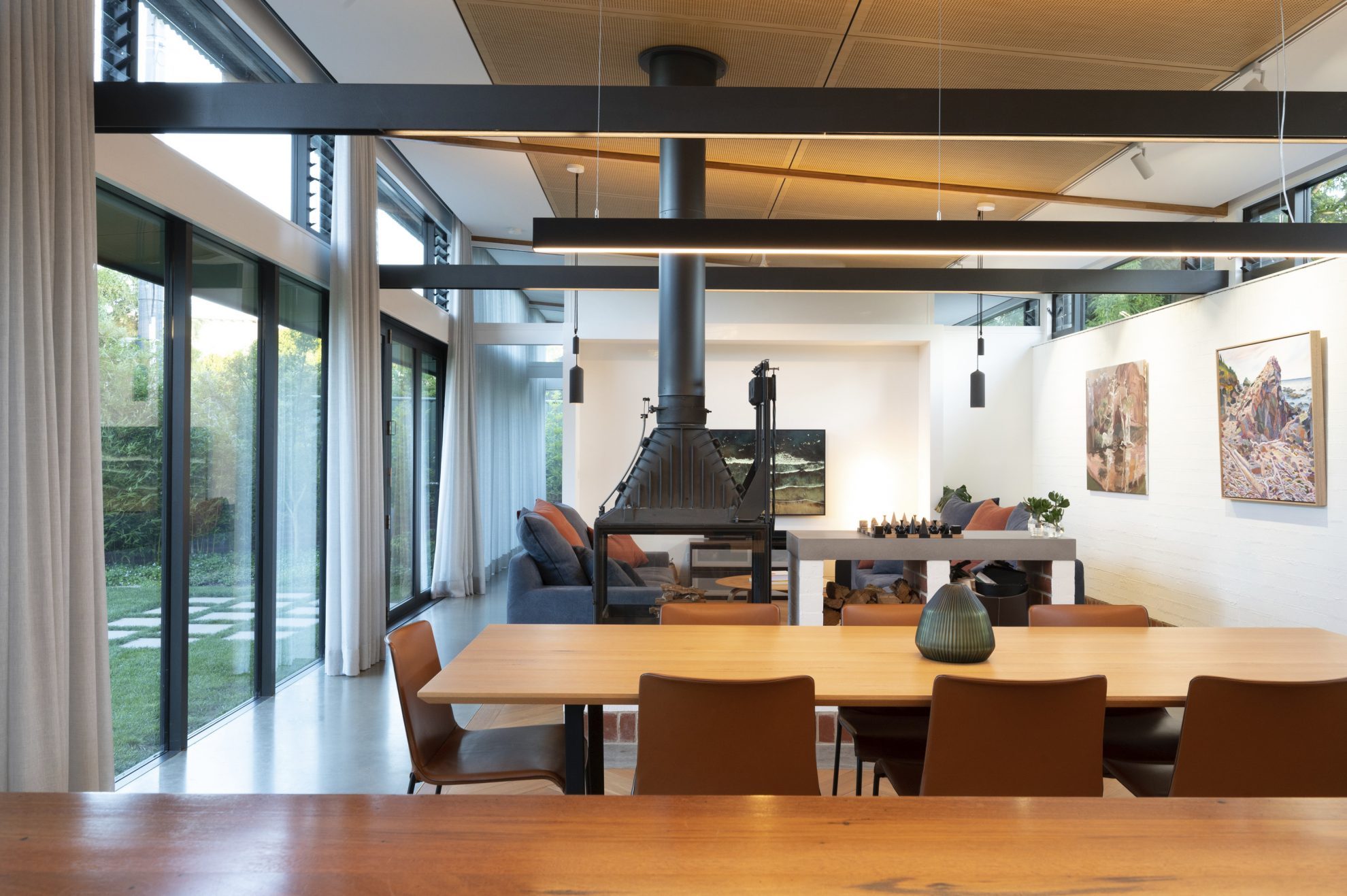 The pavilion adopts a linear plan generally organised with pods set within twin circulation, flanking the spaces. From the entry link a shoe area and powder room is passed, bringing visitors into the open plan kitchen (with laundry and pantry storage discreetly placed behind), dining and living area. Generously proportioned, the 5.6m x 13.5m space is warm and welcome with a combination of materiality, acoustic treatment and breaking the scale down with structure, joinery and feature fireplace. Beyond the living room is the master suite with bedroom that addresses the garden, walk in robe, and ensuite beyond.
The entry link and pavilion adopt brick bases and facades to the street frontage to compliment the original cottage and tie the historic and contemporary scheme together with materiality. Behind the pavilion front wall, the cladding contrasts with a more contemporary timber veneer that brings warmth.
The composition and finely crafted detail of the build was carefully considered to create the desired bespoke and minimalist outcome. The project delivers a refined and welcome home loved by the client and local community alike.