Kangaroo Point Green Bridge
Brisbane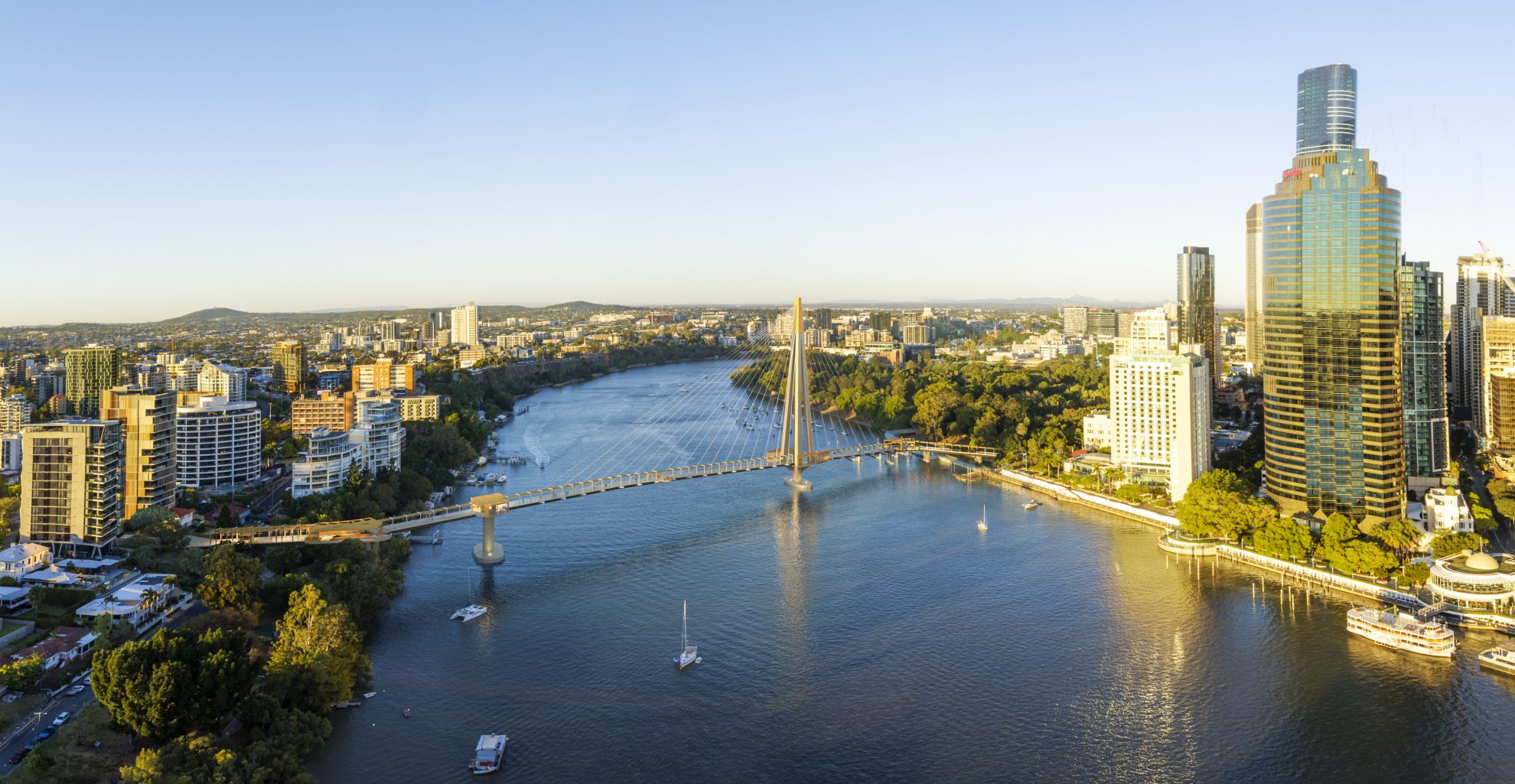 The Kangaroo Point Green Bridge (KPGB) introduces a vital new pedestrian and cycle link between the city centre and the Kangaroo Point peninsula, opening opportunities for locals and visitors to connect, commute and enjoy Brisbane's diverse riverside spaces and destinations. The KPGB will complete a tourism and recreation loop that includes South Bank, the Cultural Precinct, Roma Street Parklands, Queen Street Mall, the City Botanic Gardens Kangaroo Point Cliffs, City Reach Boardwalk and Riverwalk.
COX and Arup delivered the reference design for the Brisbane City Council, now being delivered by Managing Contractor Besix Watpac. Born from a need for more active transport in the area, COX and Arup evolved the Council's ambition for the bridge's city-making design, supporting events and engagement. The design focussed on amenity and connectivity, including generous plazas at each end of the bridge.

The elegant and sophisticated structure complements Brisbane's skyline and iconic cliffs with a design that is responsive to climate, location, context, and views. The KPGB will touch lightly on the river's edge, respecting the landscape and cultural heritage of the City Botanic Gardens to create a memorable arrival experience and connectivity including new tourism opportunities. The design also allows for the introduction of food and beverage offerings.
The defining characteristic of the KPGB, the four-legged single mast offset to the city side of the River, was developed in the reference design. The single mast form ensures the design is markedly different to that of the existing Story Bridge, allowing KPGB to create its own character, without encroaching on the iconic identity of Story Bridge.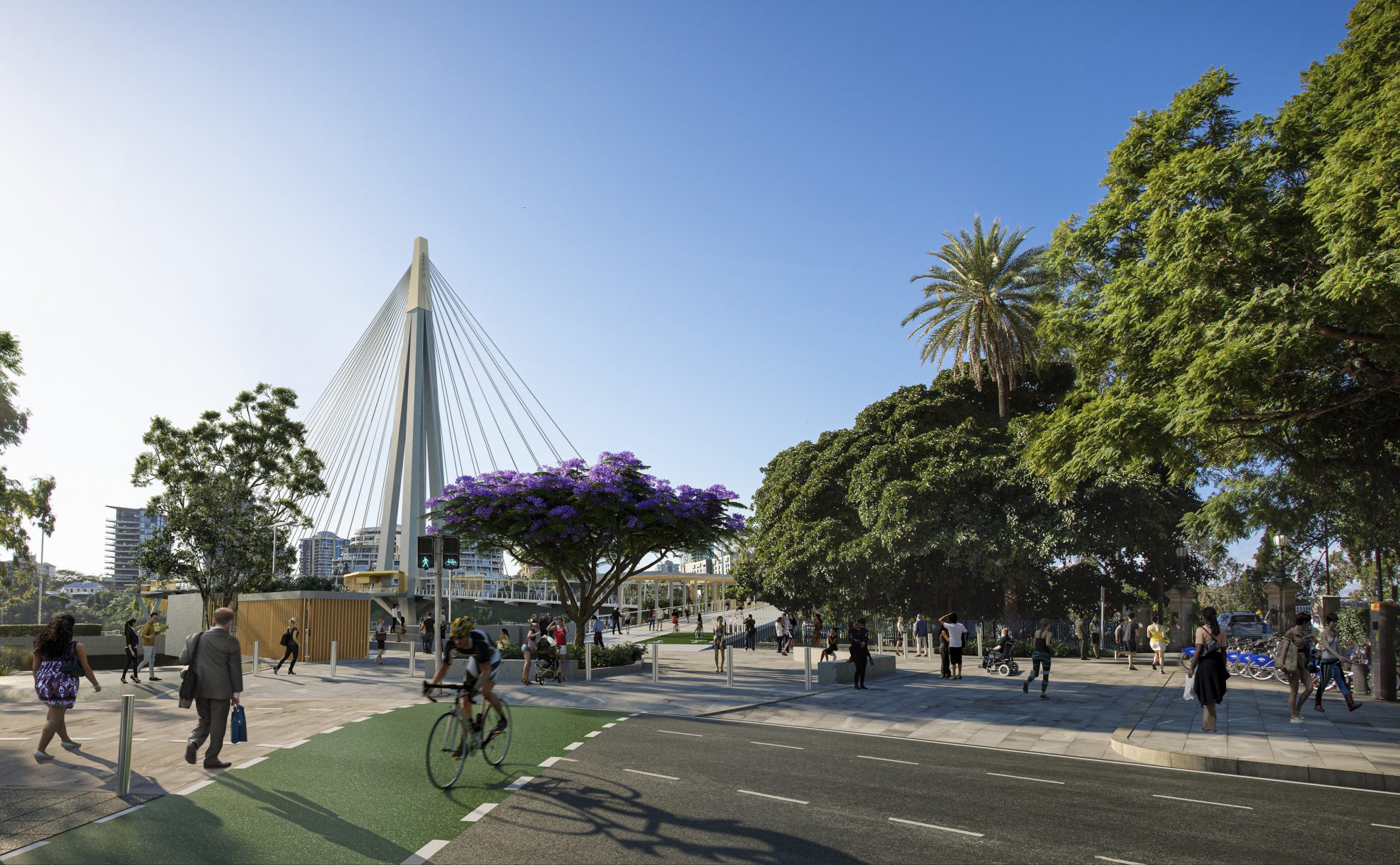 Two crossing options were explored, with COX ultimately determining that the best location for the KPGB was from the northern edge of the Botanic Gardens kinking to Scott Street at South Brisbane. Scott Street allows the Bridge landing to be at the same level as Main Street, supporting a new crossing under the Story Bridge structure connecting to the eastern suburbs. On the city side, analysis demonstrated that removing the old 'bus layover' produced a generous plaza arrangement that supports orientation, public offerings, and maintains the historic gates to the Gardens. The solution also supported connections planned for street bicycle lanes and signalised crossings at the corner.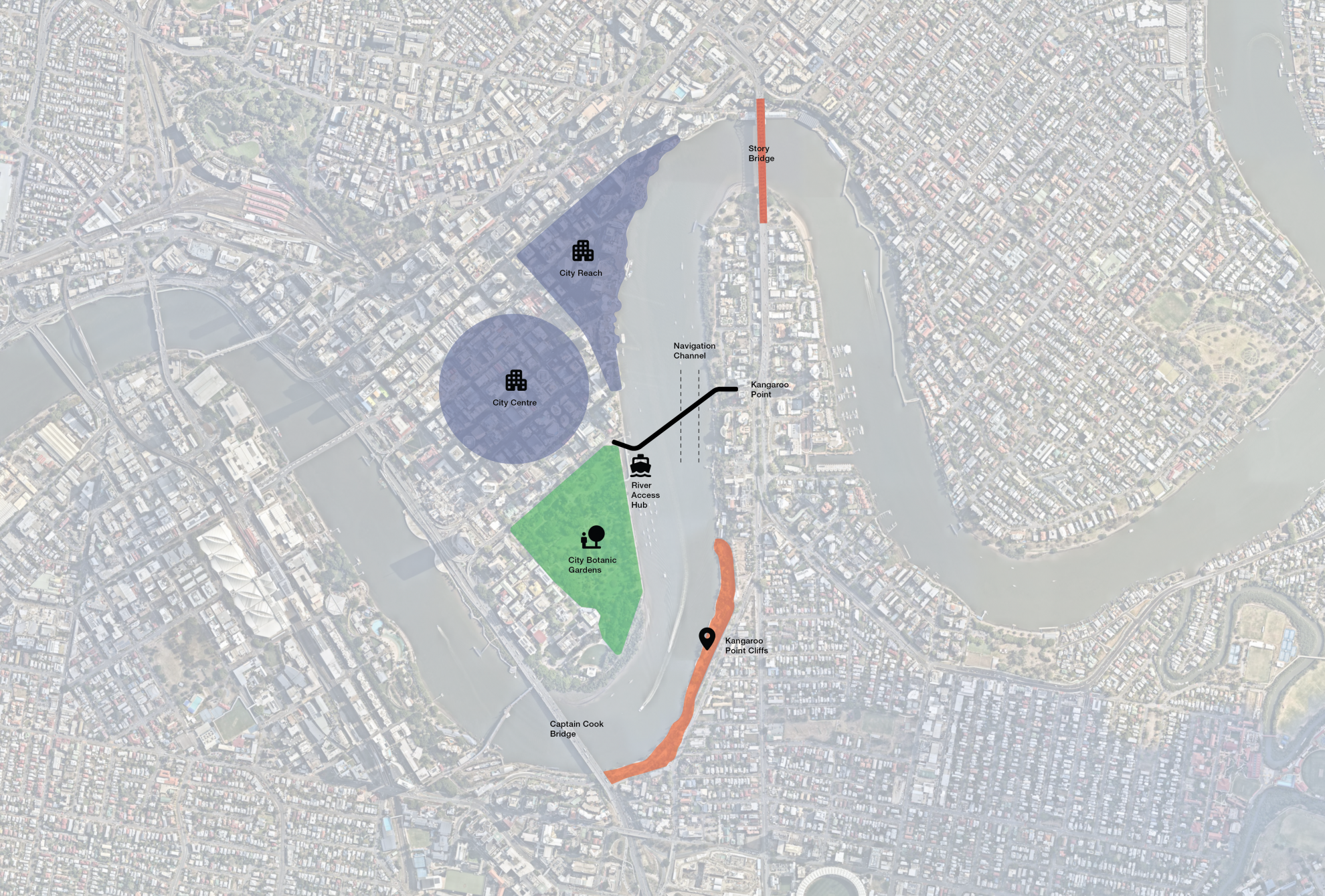 The form of the bridge is seen as a series of threaded jewels suspended over the water, stretching across the Brisbane River with elegance and weightlessness. Reading as a familial collection of elements, the visual language of the main mast relates to all piers and pause point articulations.
Importantly, KPGB, which forms part of the Green Bridges Program, seeks to tackle traffic congestion, and improve public and active transport – creating a healthier city. KPGB will get people home quicker and safer with reduced congestion and wider transport options, giving residents the freedom to spend less time in transit and more time doing what's important.