Jubilee Bridge
Marina Bay, Singapore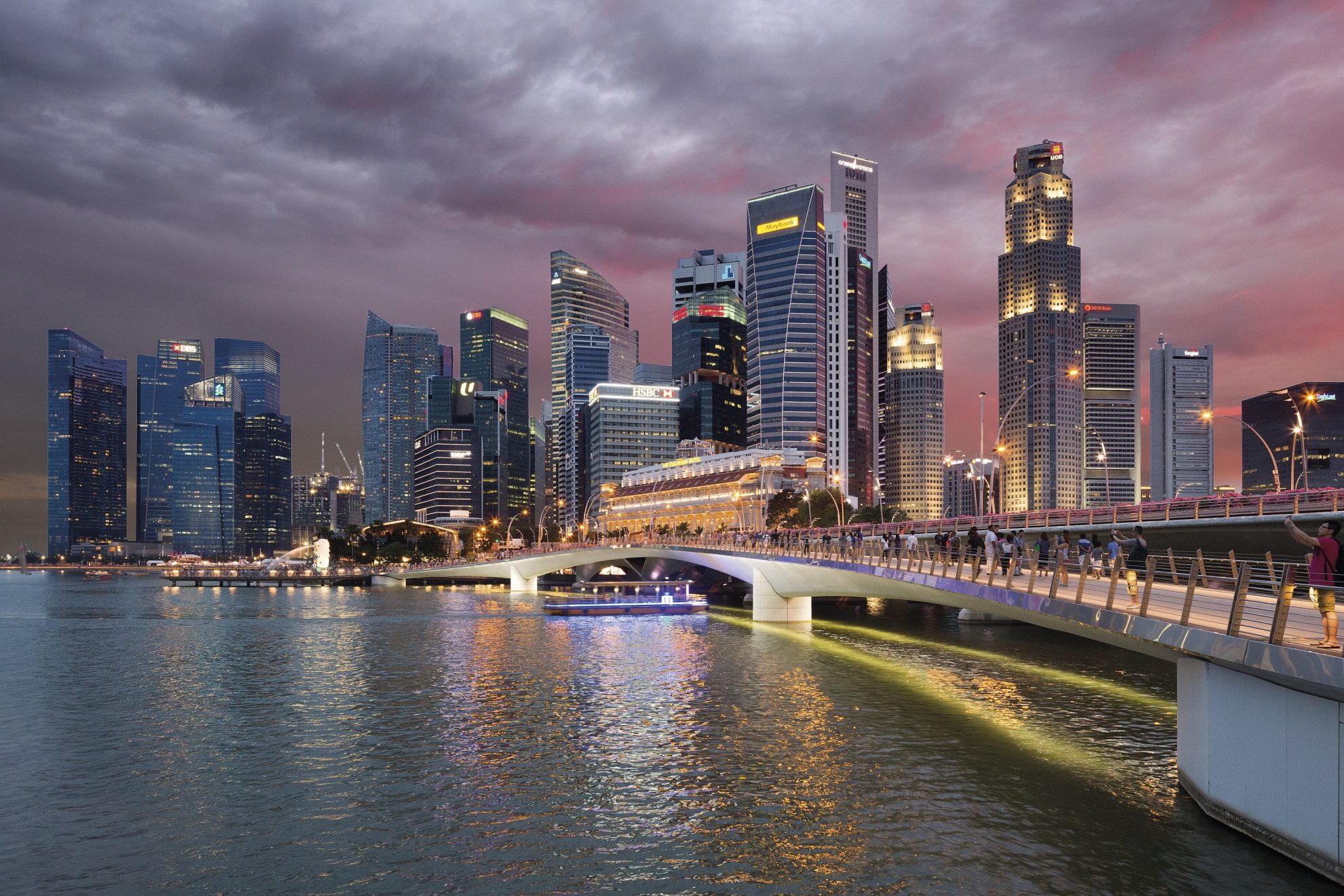 The Jubilee Bridge is a barrier-free access pedestrian bridge that forms an integrated link to Singapore's Marina Bay waterfront pedestrian loop.
This project was secured through a design competition in 2009, with COX Architecture, Arup and architects61 producing an elegant and sleek winning design. The Jubilee Bridge connects to two famed landmarks – the Esplanade Theatre and the Merlion – one of Singapore's most visited destinations.
Marina Bay is a busy environment with the design team challenged to construct the bridge without disrupting the public. This lively environment also influenced design, with the bridge able to cater for large crowds. The Jubilee Bridge is three times wider than the adjacent Esplanade Bridge and can hold upwards of 2,000 people.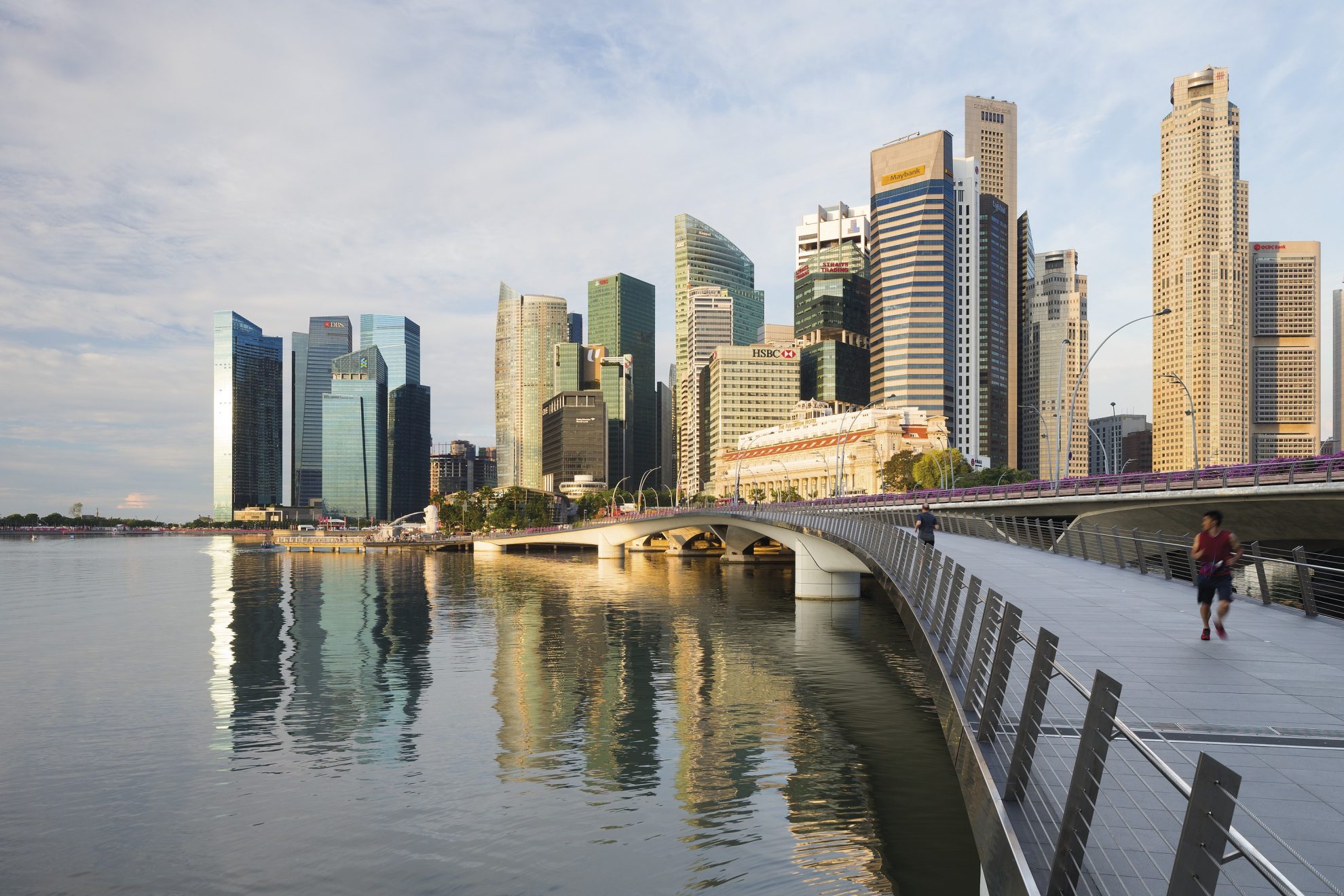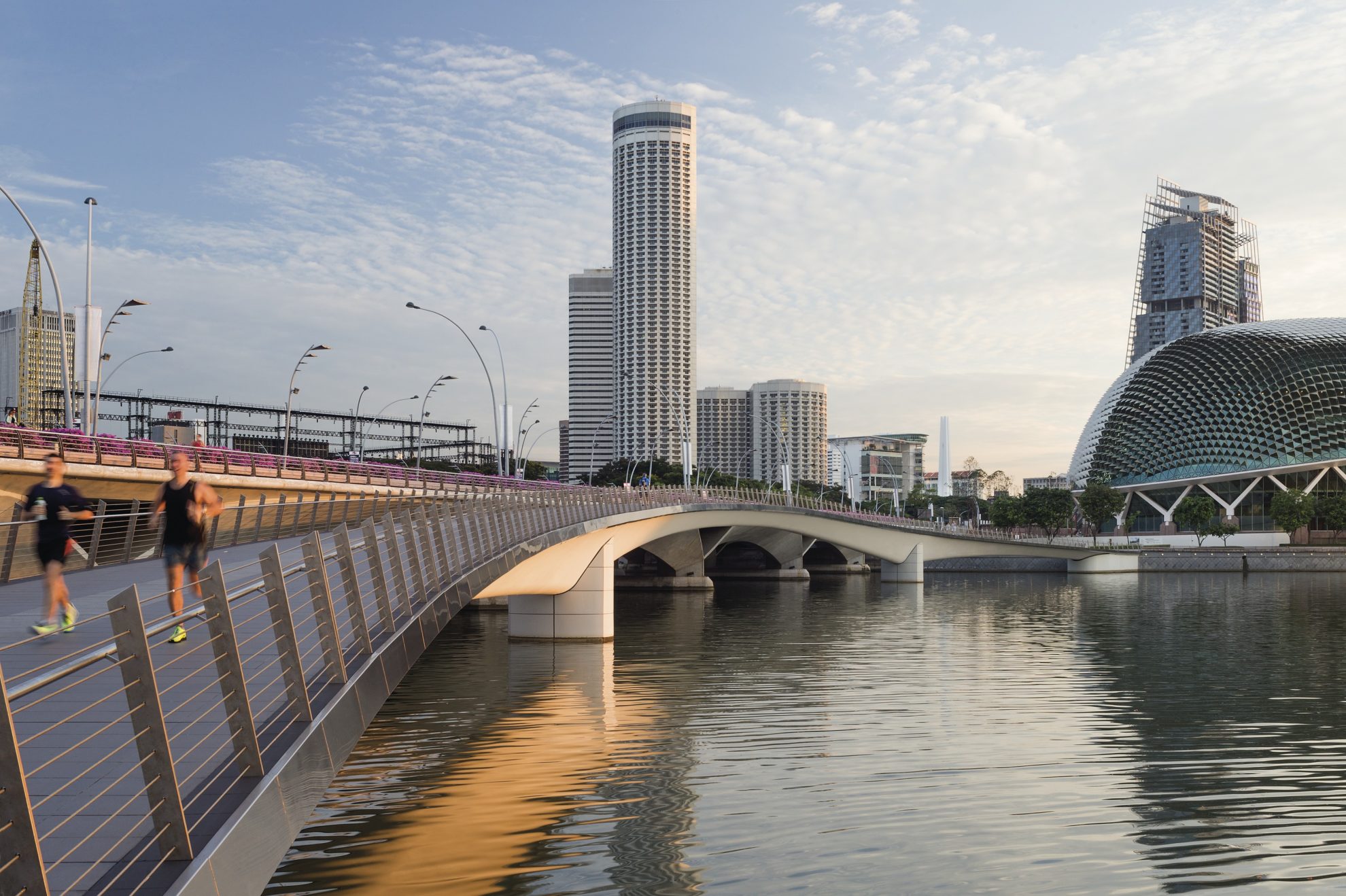 The structures design is simple, using understated double curvilinear geometry to counterpoise the complex COX-designed Helix Bridge on the opposite side of the bay. The bridge form's curving pathway is symbolic of the water spray that comes from the renowned Merlion statue.
The Jubilee Bridge consists of three spans, resting on two main columns. The bridge utilises a post-tensioned, single-cell concrete box girder of varying depth for its structural system – creating a continuous slender box spanning between columns. The structure does not require any vertical support from above the deck, allowing for uninterrupted views of the beautiful Marina Bay.
The bridge's soffit structure uses precast concrete, rendered and painted white. It acts as a mirror for night lighting, enhancing the profile and shine of the bridge that appears as two ribbons in the water's reflection.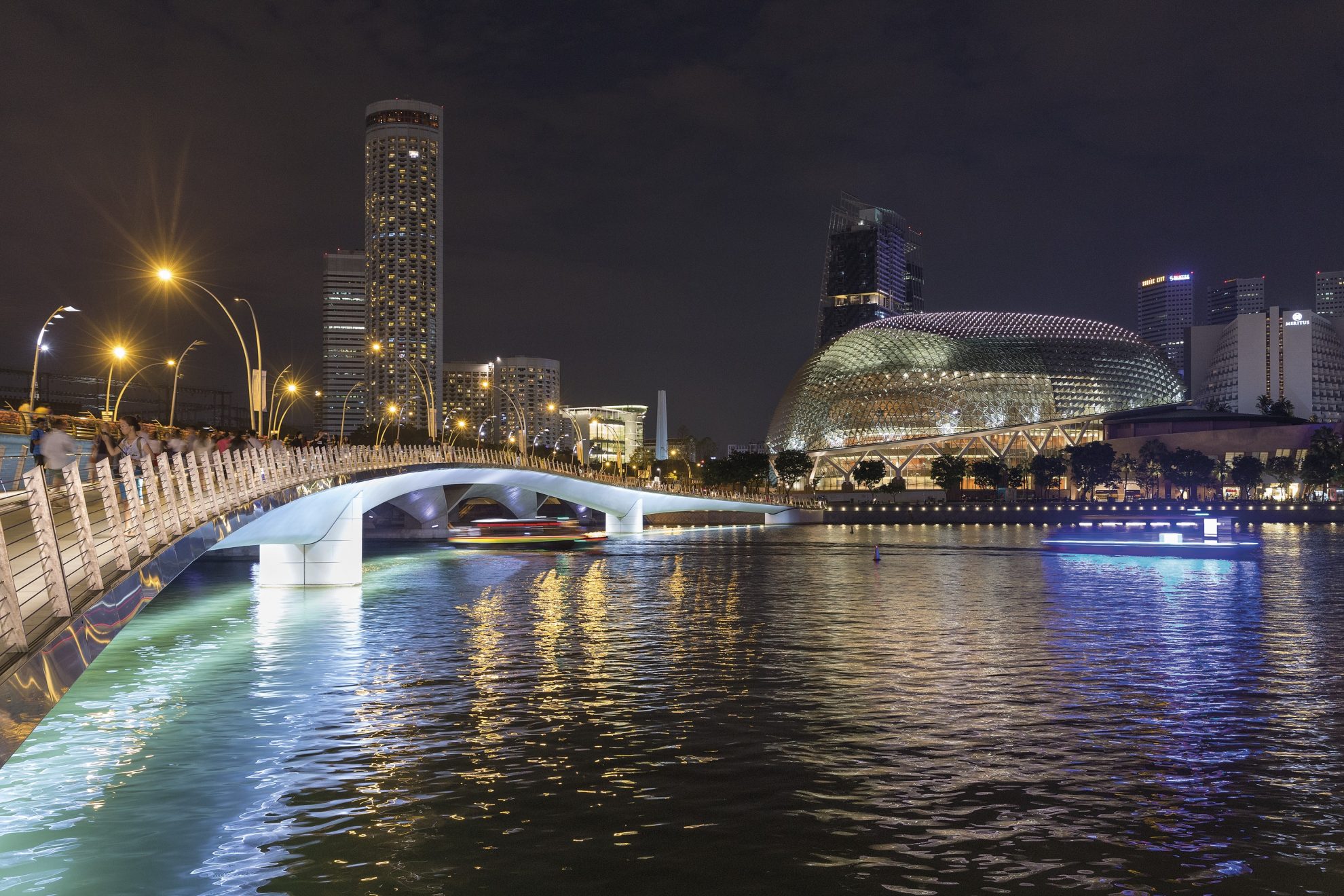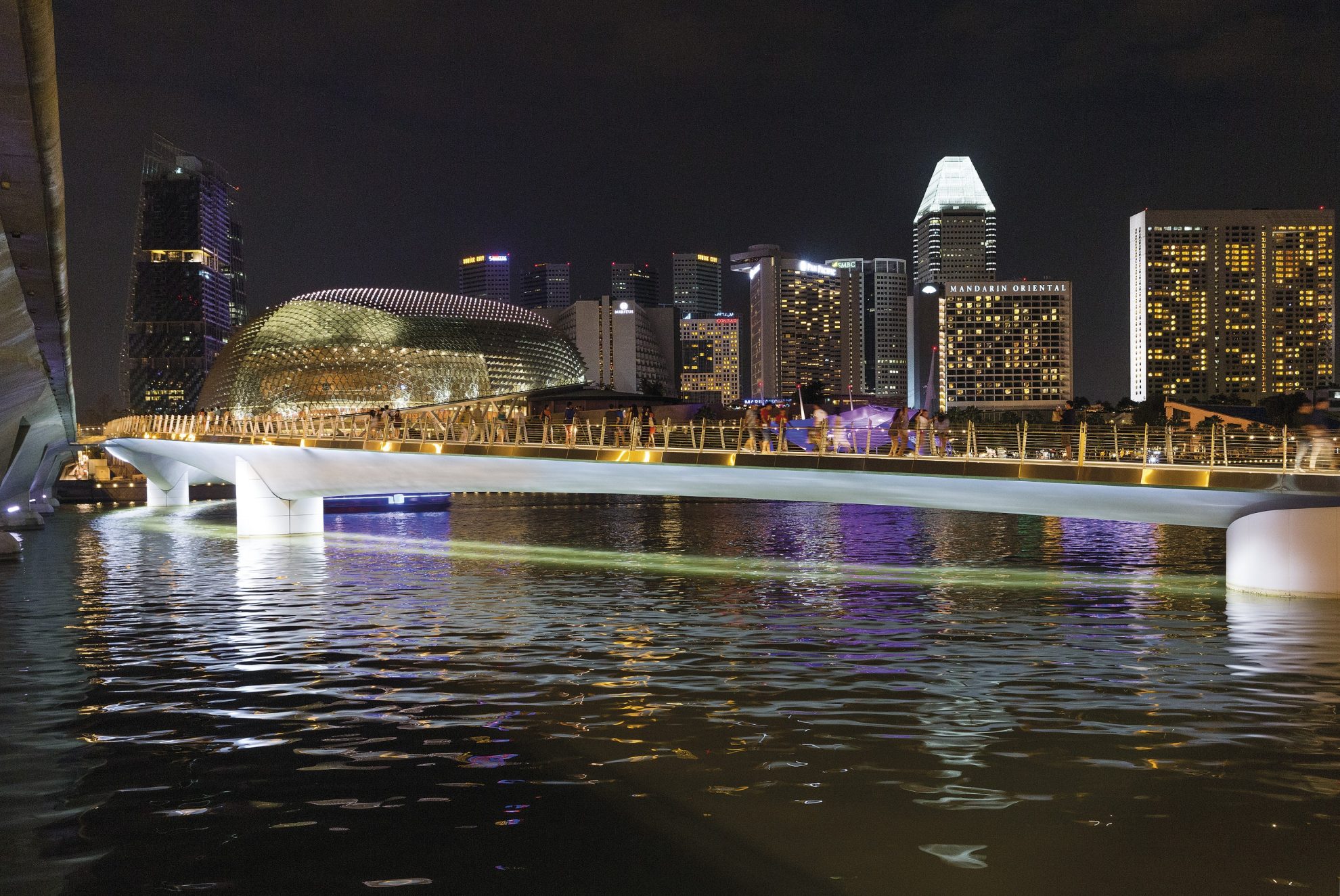 Sticking to the proposed completion date meant the Jubilee Bridge could act as a marker for the nation's 50th year of independence, making it part of Singapore's modern history. It forms part of an 8km heritage trail around the Civic District and closes the pedestrian loop in the precinct. The bridge has added to the area's vibrancy and aided its desire to become a more walkable city.
The form of the bridge is thoughtful with important features such as wheelchair friendly design, energy saving LED lighting and stainless-steel cables. All concrete used is 'green' as opposed to conventional concrete often used in bridge structures. Engineered tiles were utilised for their lighter make up that requires less concrete.