The Sebel Yarrawonga, Silverwoods Resort
Yarrawonga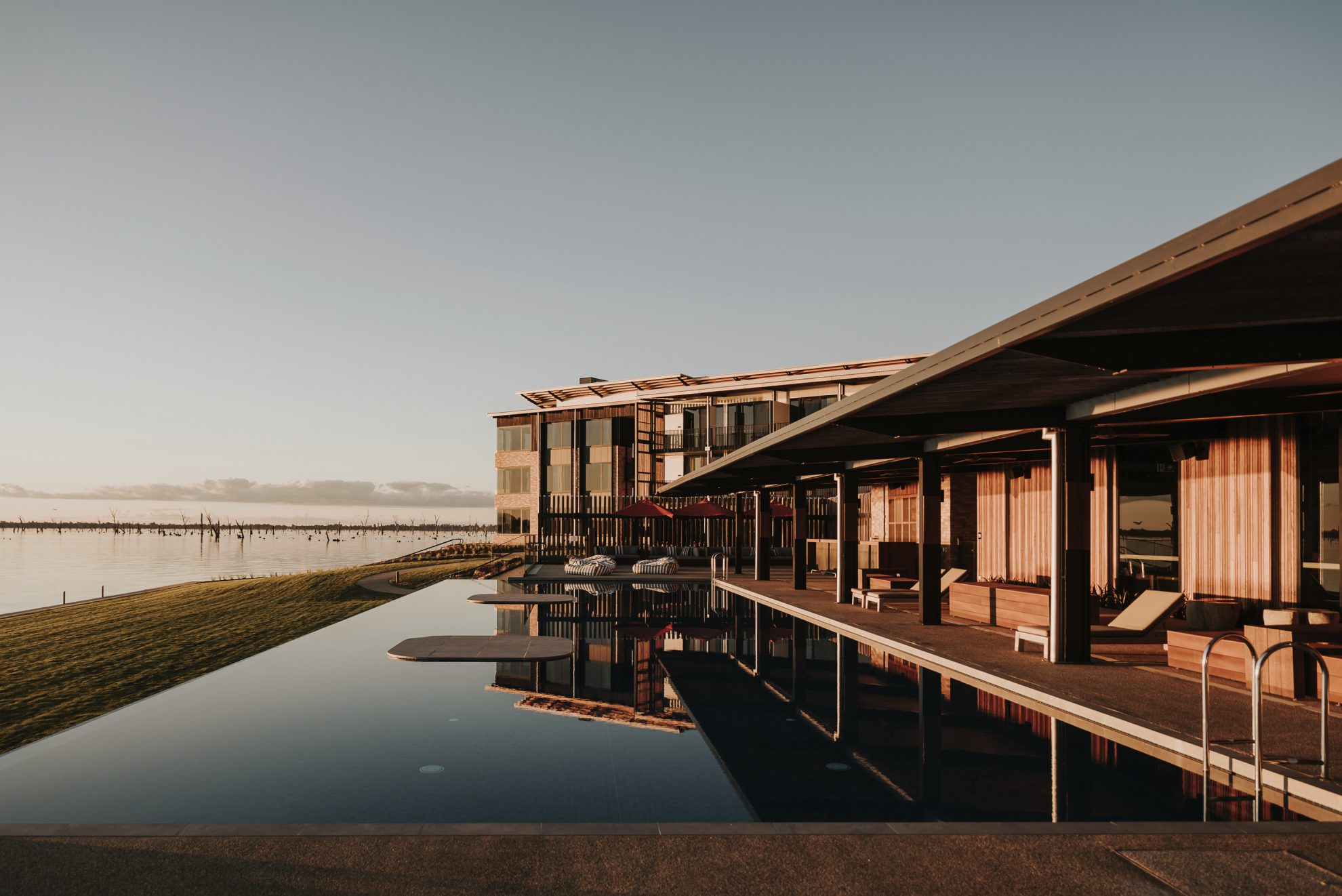 The Sebel Yarrawonga has been designed in response to our client's vision to create a community centrepiece for the master-planned Silverwood's Estate, while simultaneously regenerating a vulnerable waterfront site. The project capitalises on its unique waterfront location through a series of modestly scaled buildings that welcome public access to the resort and Lake Mulwala Foreshore.
The formal language of the resort is inspired by the poetic simplicity of a farm building in the Australian landscape, a decision that proved cost-effective in response to budget constraints. The functional attributes of the roof work 'filters' the surrounding environment, creating a resort experience that is of its place and responsive to the local climate. The simple roof forms provide shelter from the elements, or lift up to draw in the surrounding landscape that is dominated by lake views and foreshore landscaping – seamlessly connecting the resort to the adjacent Black Bull Golf Course.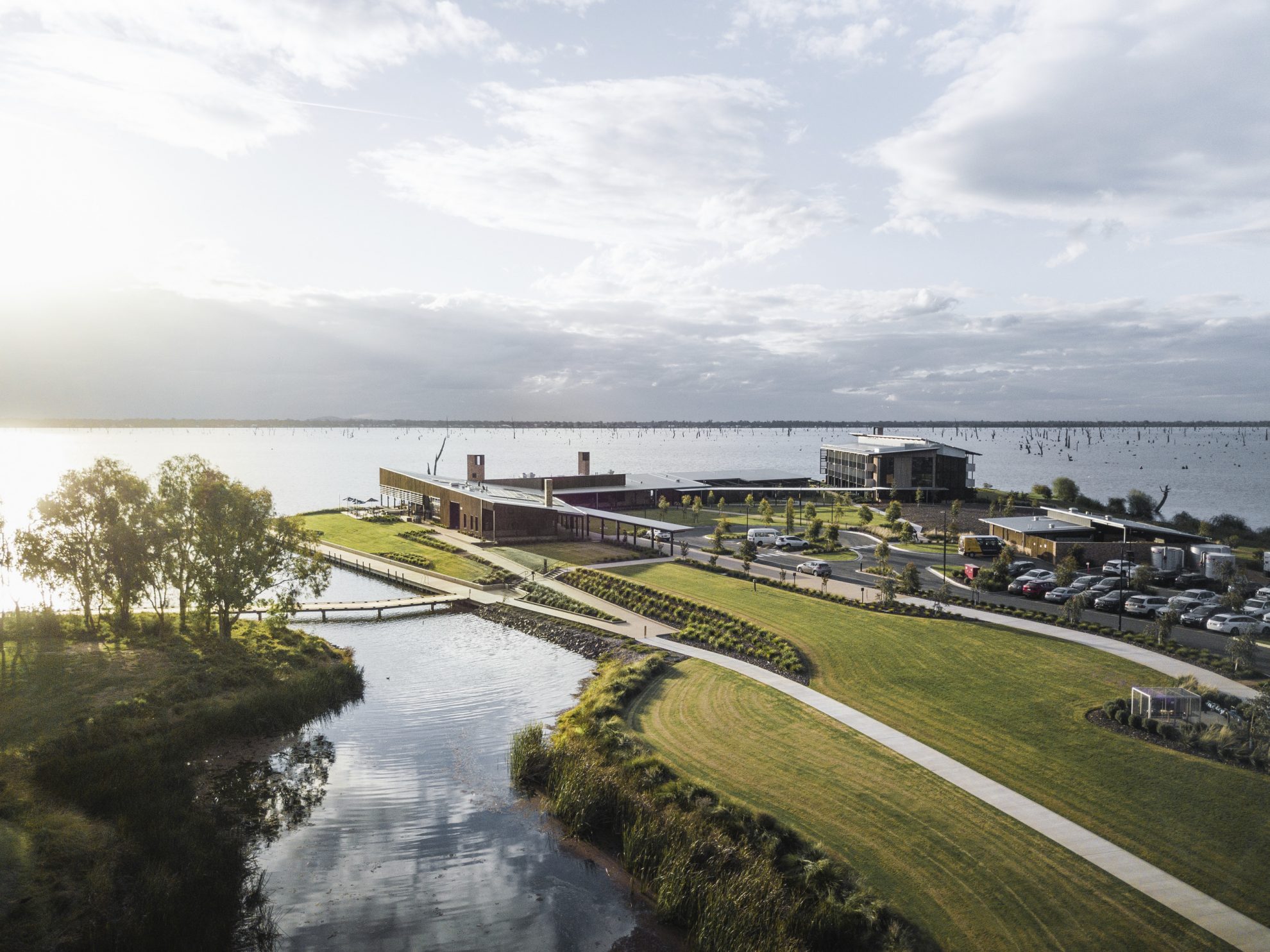 Robust materiality provides a backdrop to the landscape, featuring natural and locally sourced materials such as River Red Gum, burnished concrete and expressed steel structure. The locally sourced clay-fired bricks were selected to imitate the distinctive natural earth tones of the region. Raked ceilings and floor-to-ceiling glazing bring the outside in.
The spatial planning encourages engagement with the elements through external walkways and stairs, maximising views and celebrating the veranda as a response to the rural Australian climate – allowing outdoor habitation while providing shade and shelter from the elements.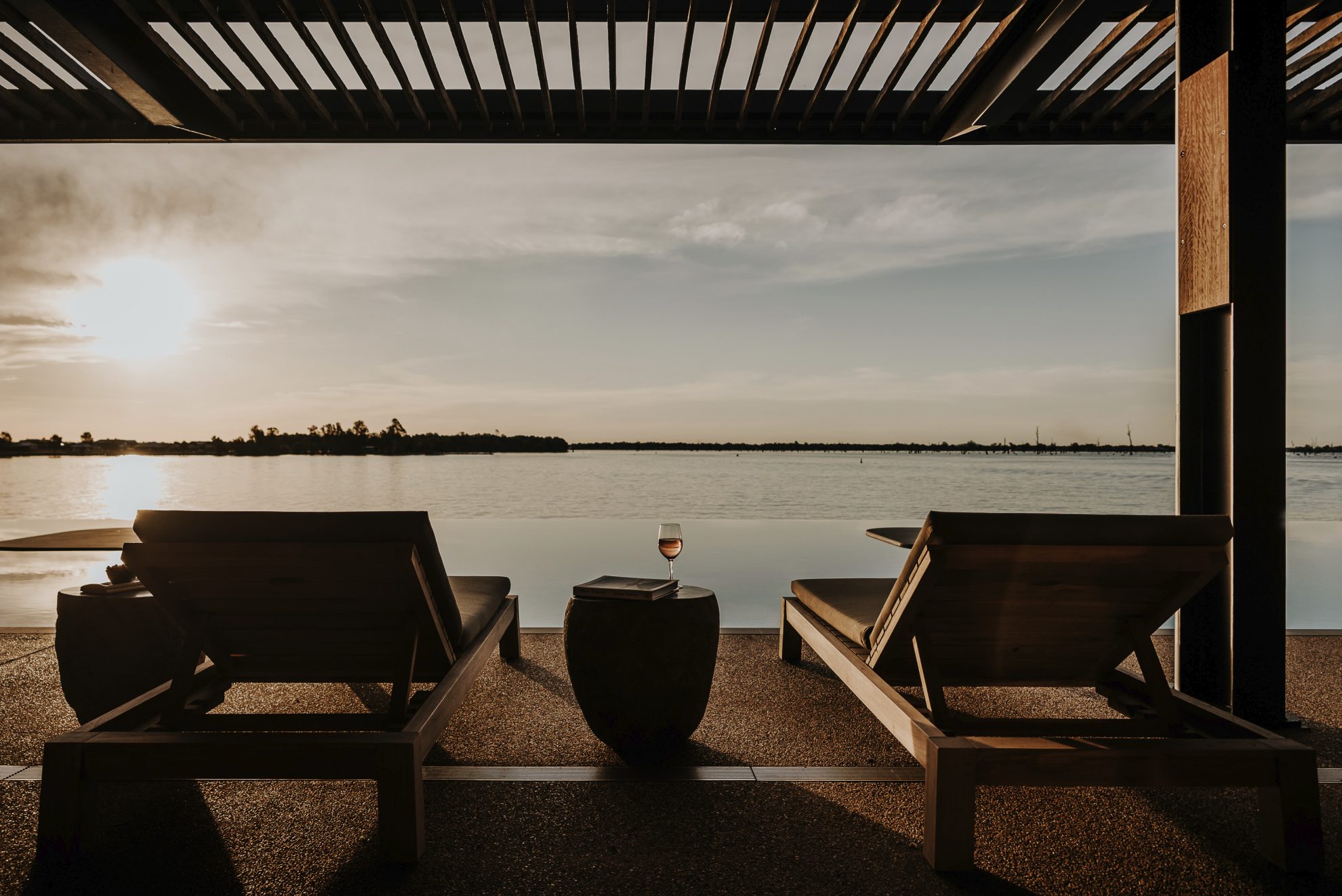 Practical and cost-effective solar principals were embedded in the design through generous roof overhangs that work in conjunction with operable windows and ceiling fans to maximise opportunities for guests and patrons to enjoy the fresh country air and natural breezes. The resort generates its own energy from the extensive 214KW solar array.
The formerly barren site has been regenerated with diverse native plantings throughout the landscape including Red Gum trees in the village green which will mature to provide additional shade and increased habitat for local wildlife.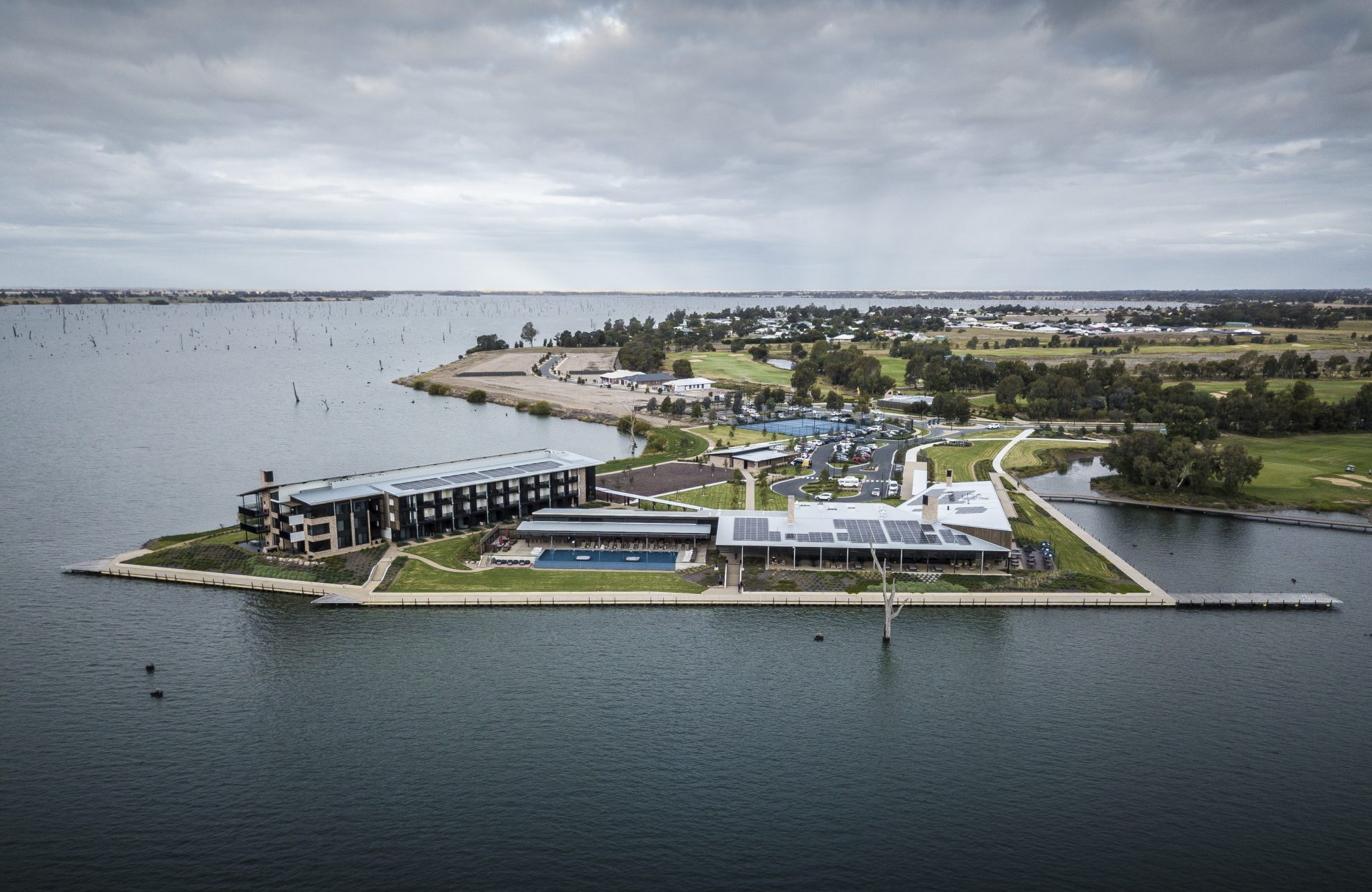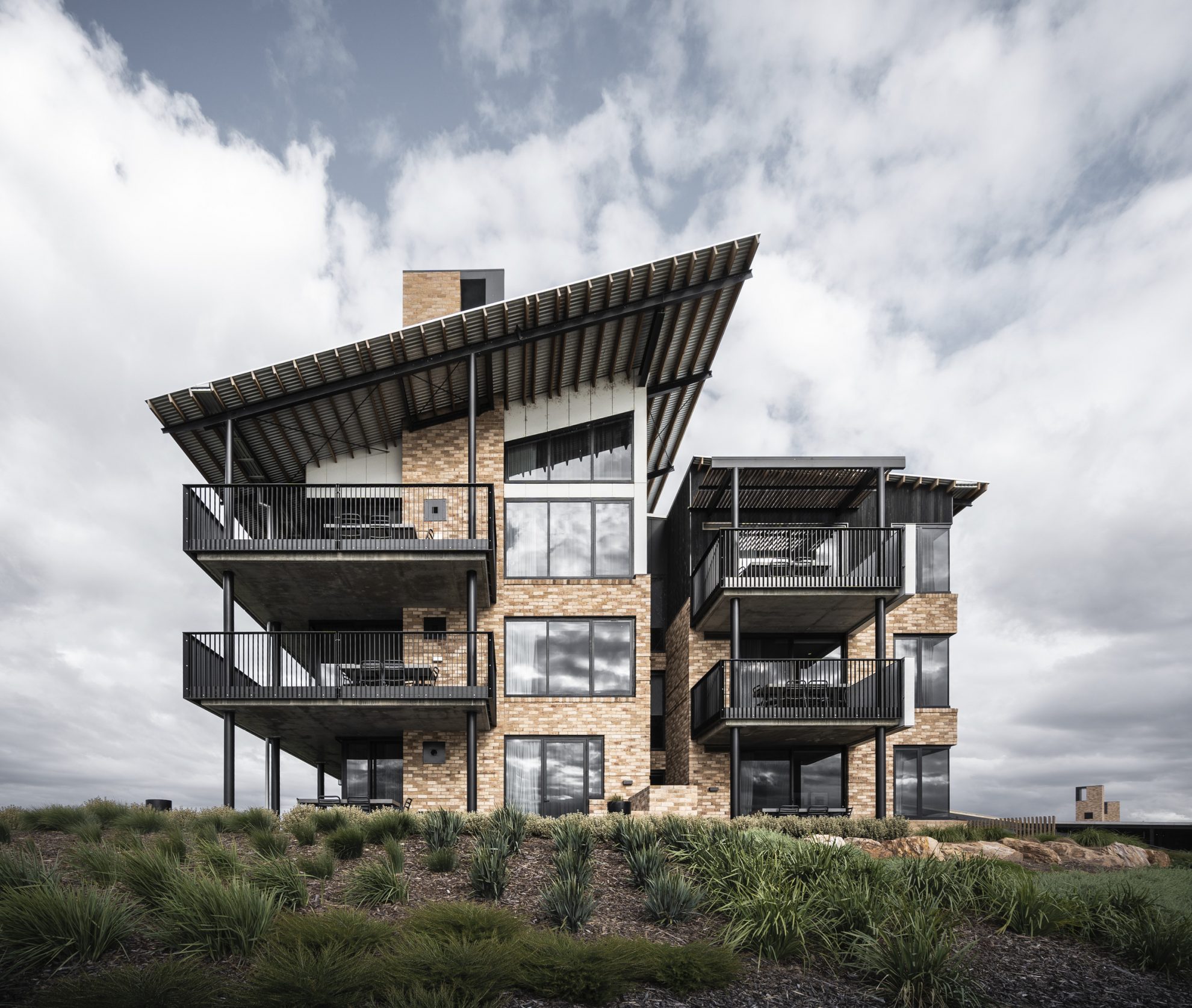 All stormwater from the site is filtered through the wetland and bio-filtration system which feeds into the water features of the adjacent golf course. Considerable earthworks were carried out to relocate surplus soil from the golf course construction to elevate and subtly sculpt the resorts levels, ensuring that the site-wide stormwater treatment system feeds into the filtration ponds.
The success of the resort has delivered the clients, and the community a quality destination which has also stimulated them and broader Yarrawonga region, both through increased tourism and employment, as well as prompting competing businesses in the region to improve the quality of their offerings.