Gold Coast Recreation Centre
Gold Coast, Queensland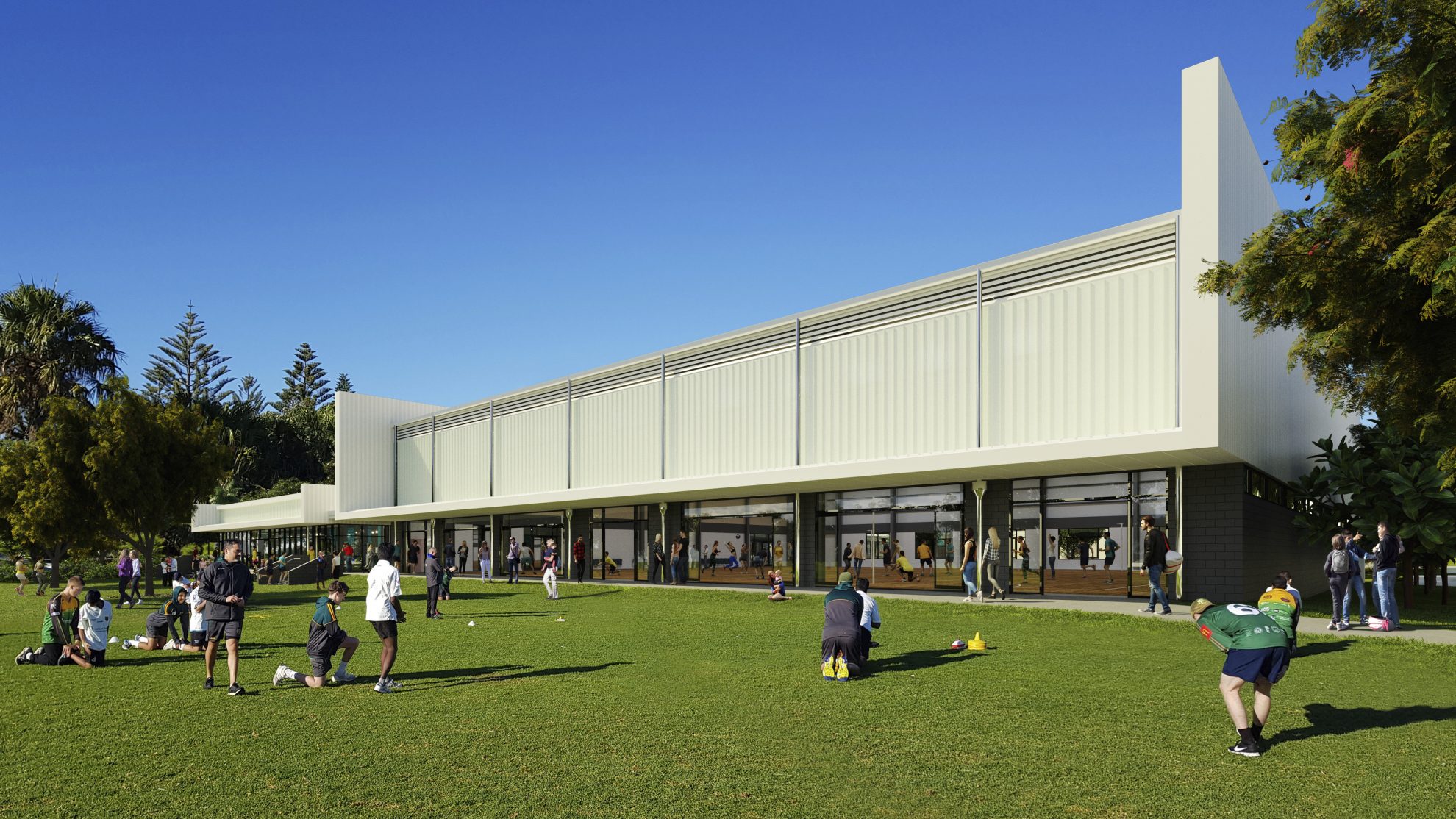 The Gold Coast Recreation Centre (GCRC) expansion is part of a larger revitalisation of the Tallebudgera facility. The brief required the addition of twin multi-sports courts, a gymnasium and amenities. The design addresses two client ambitions: to provide a strong new identity to the highway, plus provide indoor-outdoor user interaction with the oval.
The architecture reflects a Queensland tradition of humble utilitarian design. Avoiding affectation it works with a back-to-basics approach including ample filtered daylight, natural cross ventilation, generous views, connection to greenspace, shaded edges, breezeways, and intuitive legibility of spaces. Planning extends an existing circulatory spine and places new functions on each side.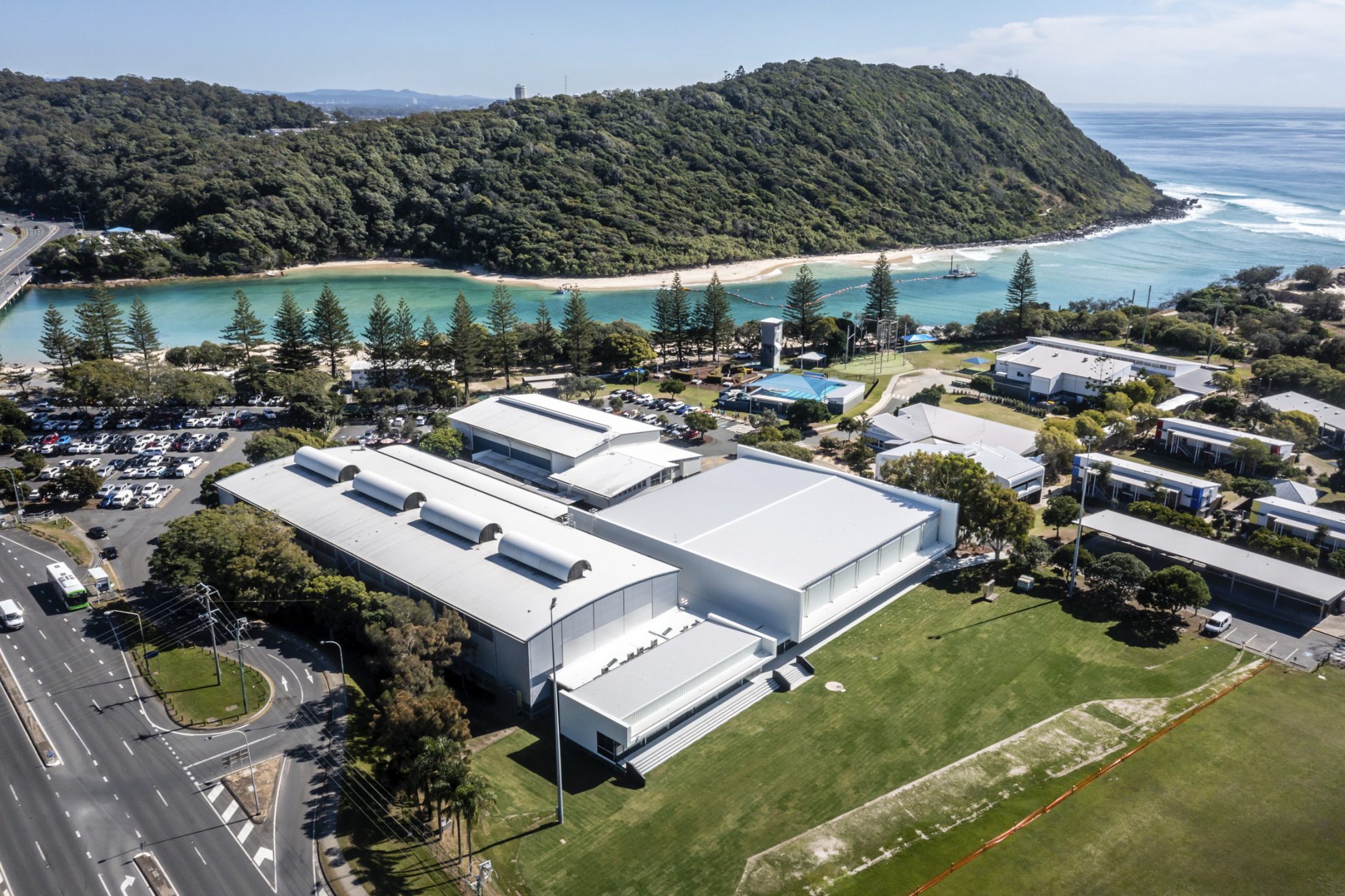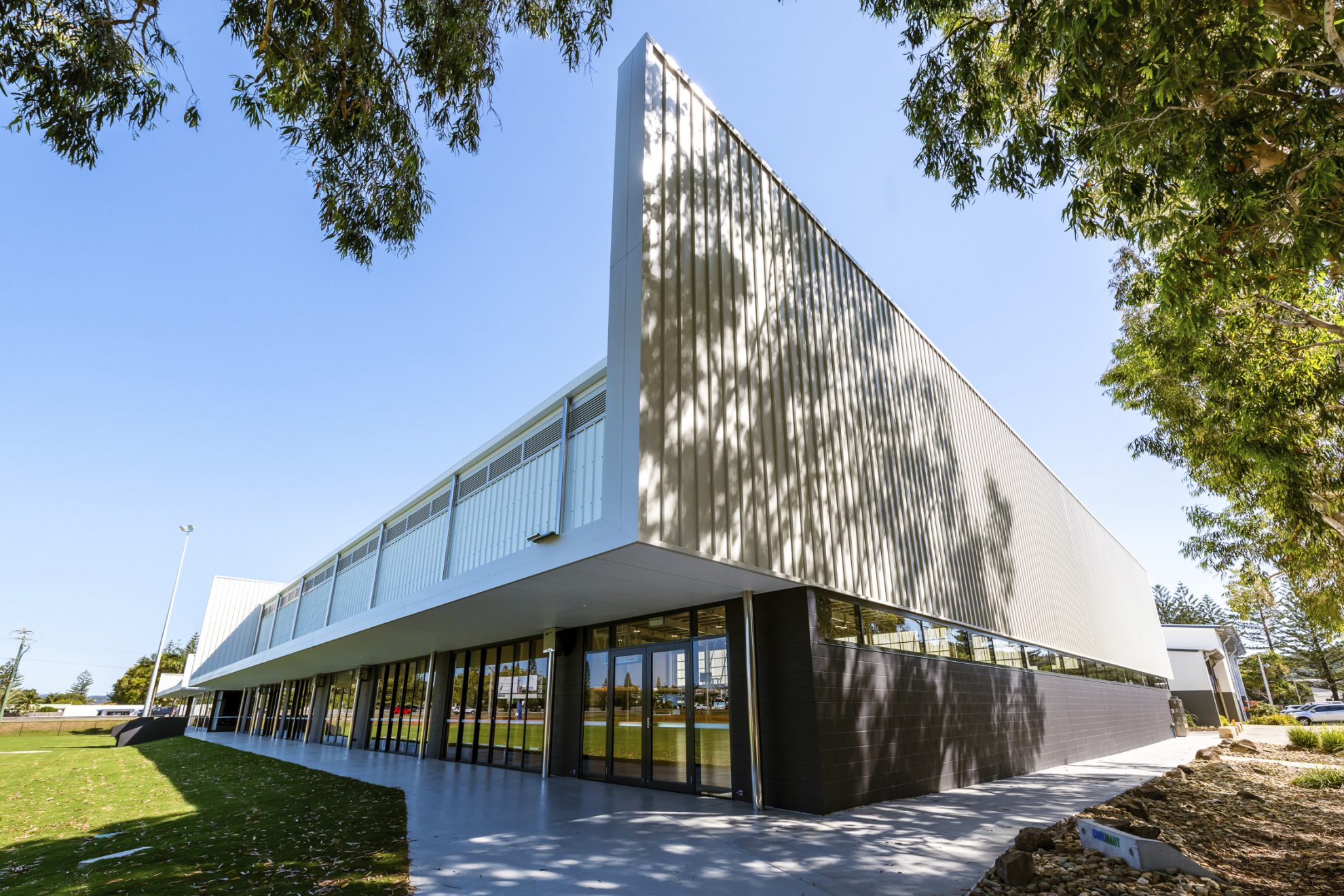 Highly durable and economical materials (painted concrete block, steel, glass, translucent sheeting and profiled metal cladding) accentuate the simple planes and functional forms. The result is an unassuming, carefully proportioned orthogonal composition, intentionally distinct from the barn-like expression of its predecessor. Operable glazing invites views and interaction with the main oval and the translucent sheeting allows the project to have a 'lantern-like' evening glow.
The GCRC's success has driven the need for expansion and the project allows access for even more patrons, including para athletes. Provision of high-quality venues for sports and recreation is pivotal to the State's drive for health and wellbeing and the creation of pathways for young athletes pursuing Olympic and Para-Olympic dreams. The project plays a small part in redressing the sedentary lifestyle of modern Australia.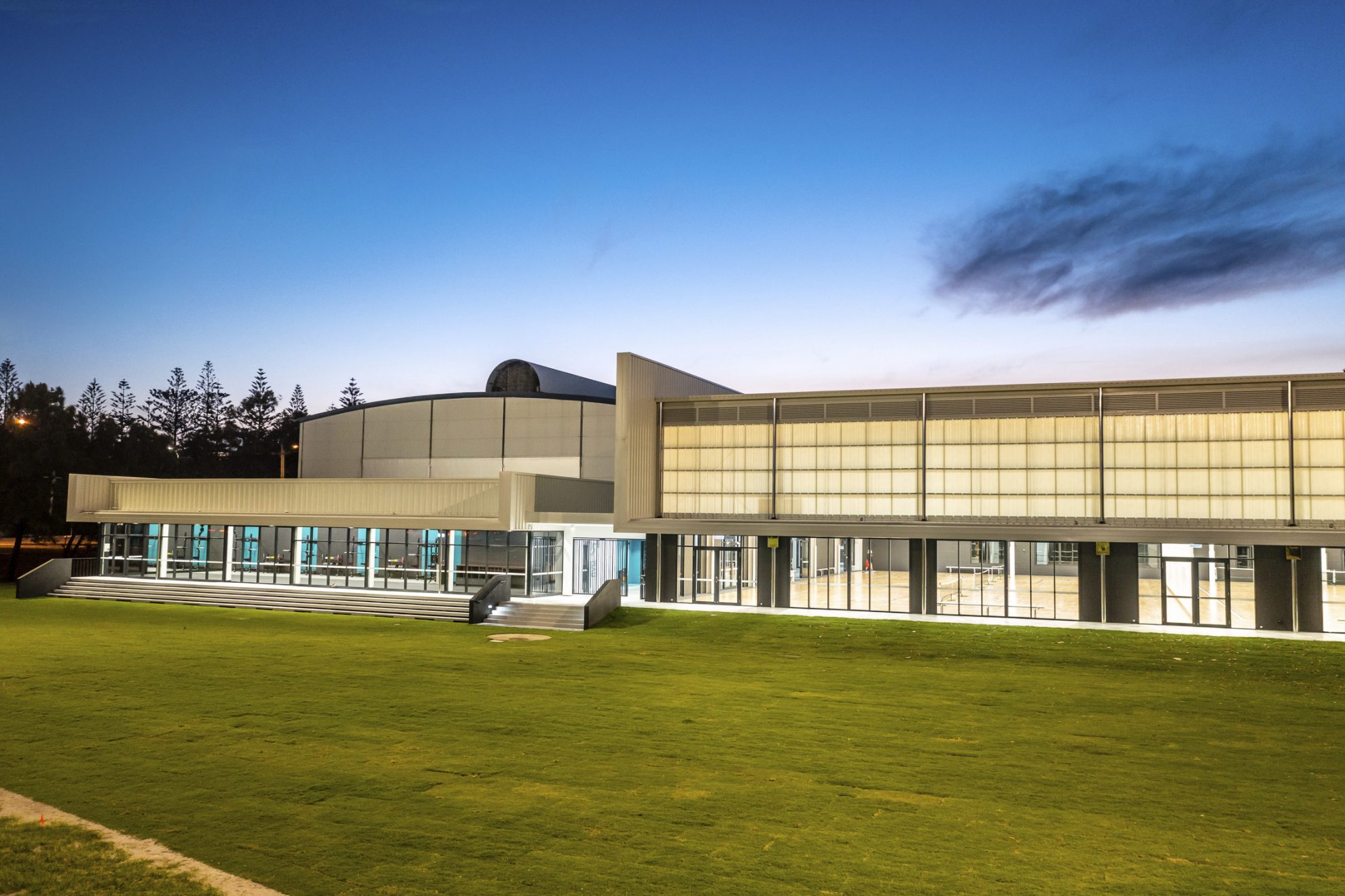 The design supplements its older predecessor spatially with a compact plan, utilising a constrained site. It respects the existing architecture, using lower roofs to create separation. It achieves two campus ambitions. By opening its primary facades to the highway and the main oval, it creates a new identity for the facility and improves user access and flow.
A new reception and sign-in pod is placed at the intersection of three internal circulatory axis. This draws patrons in, provides staff with clear lines of sight in multiple directions and facilitates better event management. Extending the internal circulatory spine allows intuitive wayfinding, assisted with playful super-graphics and colour. The new hall and gym successfully enable direct access to the main oval. The compact plan solution maximises the available main oval dimension, providing flexibility.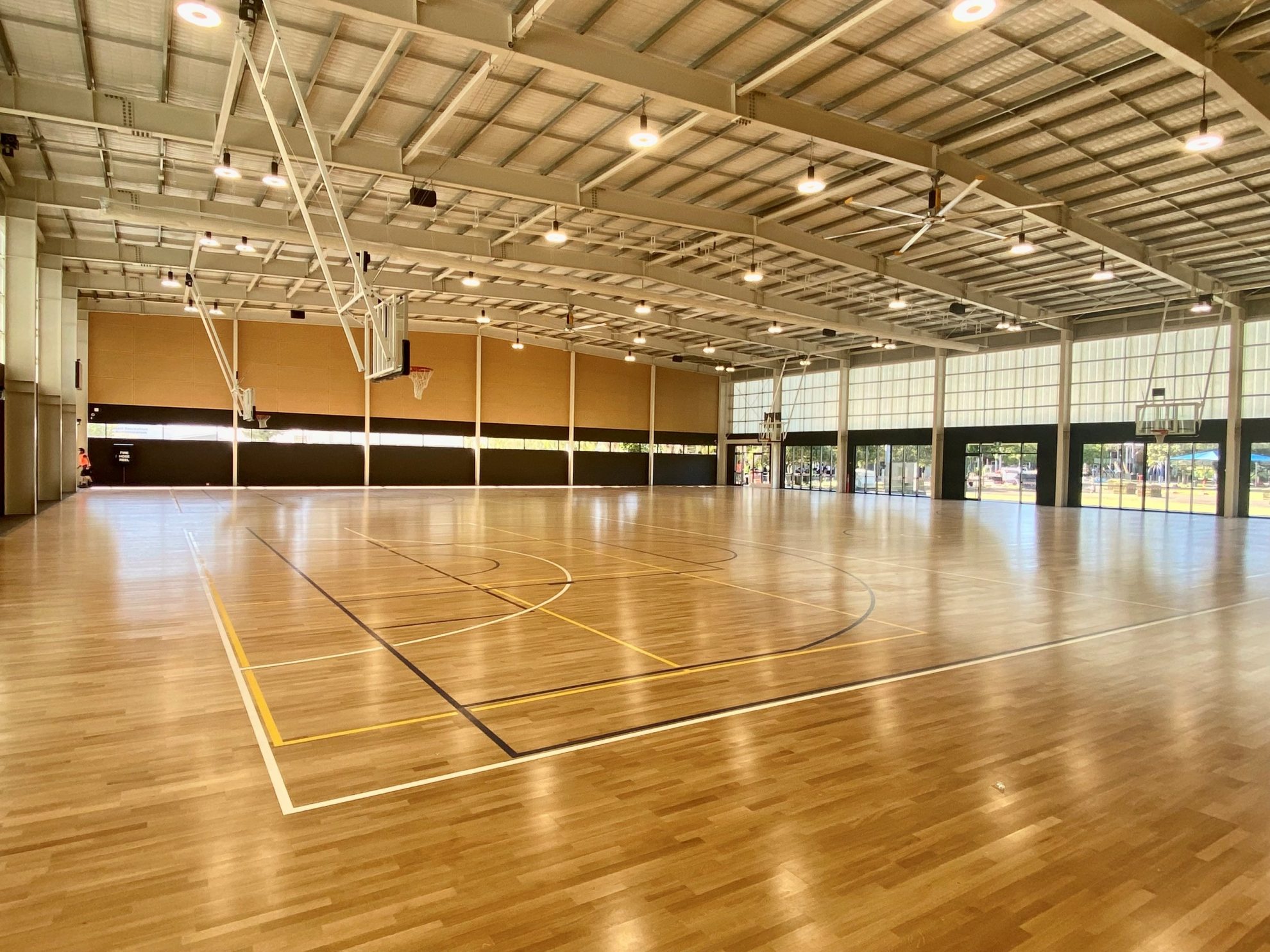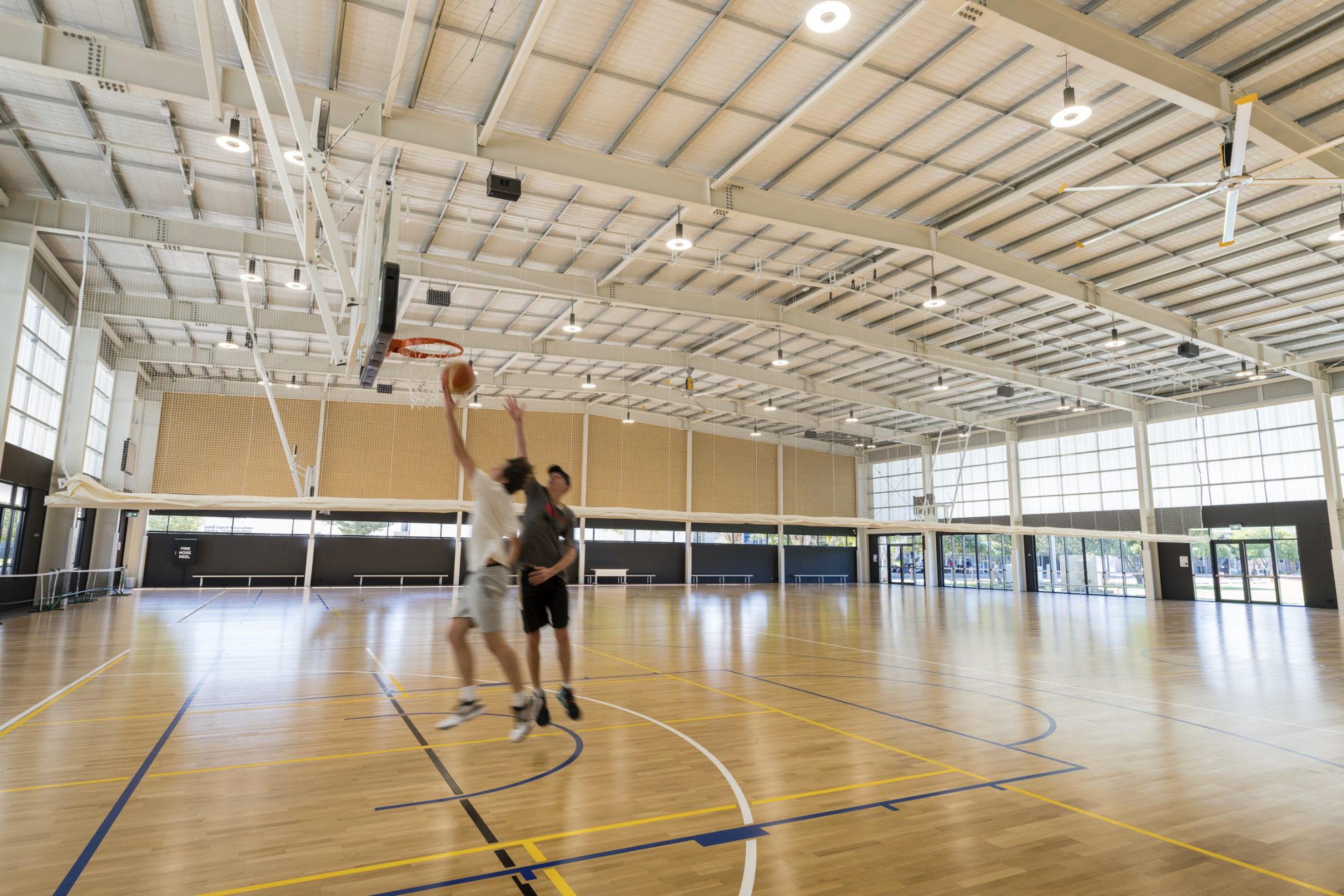 Supporting consultants diligently achieved the utmost economy in their disciplines, continuing the no-fuss approach to every outcome, especially the understated and simple structural design. The additions achieve exceptional value for money with a total construction cost of $7,100,000 this equates to $3,008/m2. The design response seeks to do "more with less": to compose in planes, light, shade, and proportion in combination to achieve a humble architecture.
Whole of life-cycle sustainability is achieved by a materiality which is simple, robust, minimalist and low maintenance. The main twin-court hall is wholly naturally ventilated in a venturi effect, drawing cool sea-breezes through ground plane openings and relieving warm air at high level through permanent eave vents. Large ceiling fans assist on static air days. Deep shade along external verandah and breezeway edges ensures thermal comfort for users and supporters