CSL Global Headquarters/Elizabeth North Stage 2
Melbourne, Victoria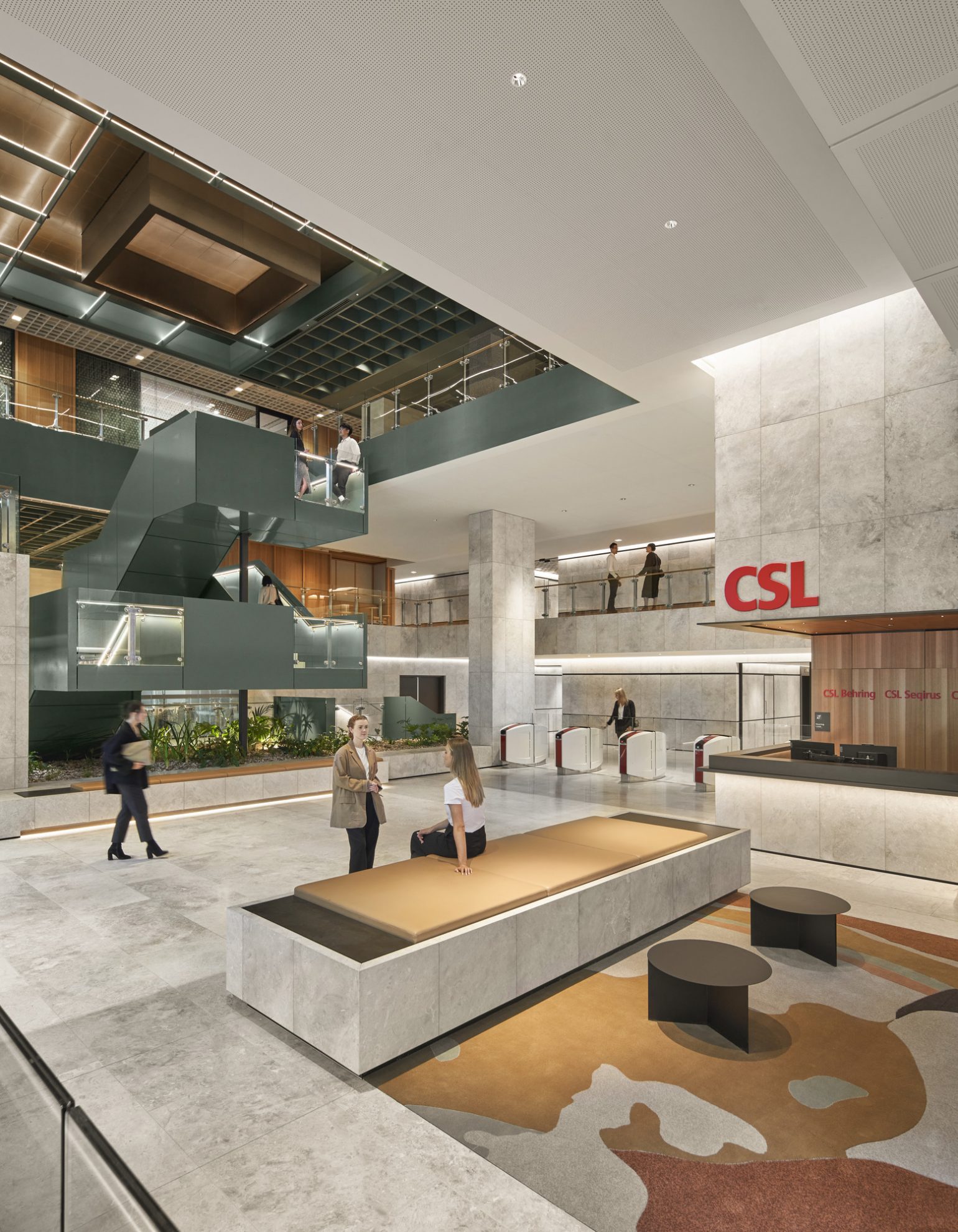 The big business of medical research finds a new home in Melbourne's CBD, seamlessly integrating the worlds of science and commerce in the battle against rare and serious disease.
As the pace of change increases around us – social, environmental, technological, and commercial – legacy scientific and workplace infrastructure becomes ever less fit-for-purpose. These shortcomings risk Australia's role at the forefront of the international bio-sciences effort, an effort more vital than ever before. Beyond the recent focus of COVID19, the prevalence of rare and serious diseases requires our brightest minds working seamlessly with the best technologies to alleviate associated suffering and, where possible, accelerate the path to cure.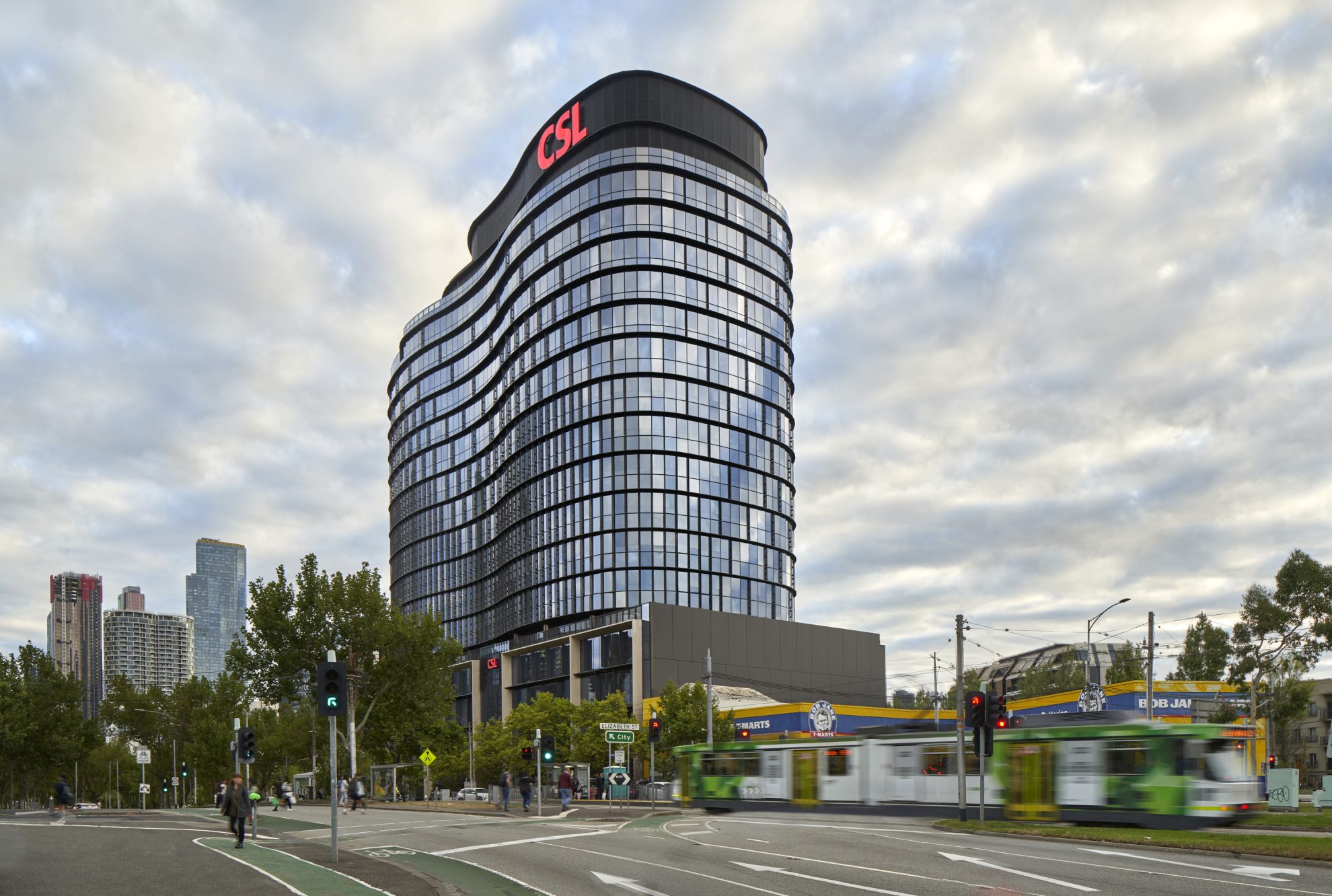 CSL's Global Headquarters is a paragon of excellence – a campus of human-centred ingenuity that seamlessly intertwines research with workplace. At its core lies a commitment to individual well-being, fostering an environment where minds flourish and innovation thrives. The 16-level tower not only drives internal collaboration, but galvanises relationships beyond its walls, propelling influence across the globe.
Situated in a strategic location, bridging Melbourne's CBD and its burgeoning biomedical precinct, the facility is poised to become a prominent industry hub, taking Australian biotech to new heights.
COX, in partnership with CSL and PDG, have designed the new build and integrated interiors for the site sitting in the centre of the Elizabeth North precinct. With Roberts Co leading the contractor team, the project encompasses various complex elements, from the:
Development of a new precinct masterplan
Conception of a versatile building for commercial, research and innovation
A dynamic tailored workplace
State-of-the-art laboratories for life sciences
Specialised Biotech start-up Incubator with co-working amenity
The precinct addresses the needs of workers and the surrounding neighbourhood, introducing a vibrant laneway replete with retail and culinary features, and a sun-kissed town square plaza for moments of fresh-air and down-time. The precinct links Elizabeth St and O'Connell St, carving out a vital pedestrian pathway that connects the Queen Victoria Market, the biomedical precinct, and the forthcoming Parkville metro station.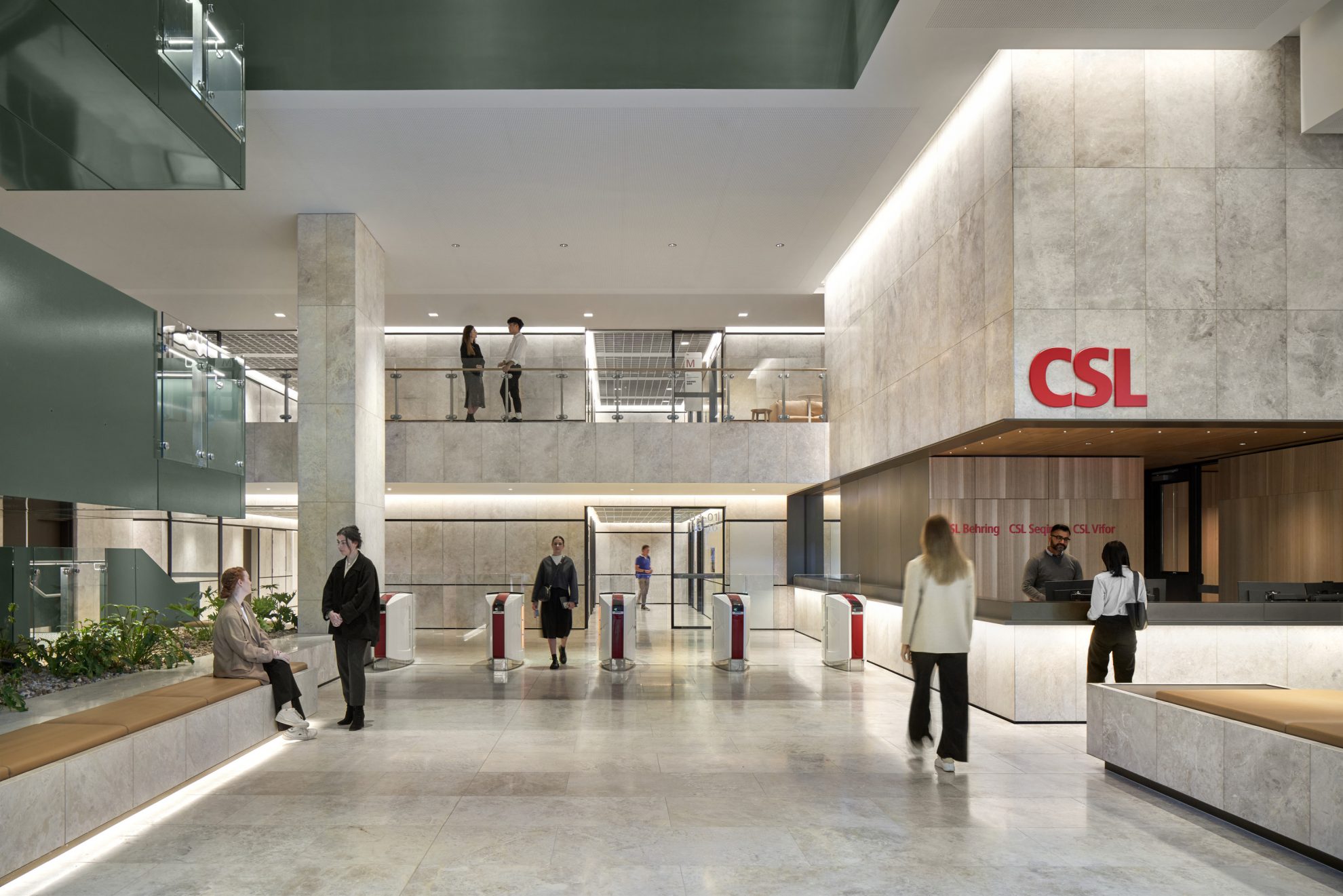 Shifting The Paradigm – From Horizontal Park to Vertical Urban Campus
By uniting CSL's dispersed R&D and executive teams from various corners of their Parkville campus, the new headquarters orchestrates a shift for CSL. Departing from the conventional horizontal arrangement, the facility embraces an urban vertical campus.
Rising 16 levels and spanning 35,000 square meters, CSL's new home serves as a testament to innovation. There are nine floors of dedicated, state-of-the-art laboratories and cutting-edge research and clinical phase production suites, meaningfully integrated with seven floors of versatile workspace designed to optimise connectivity, amenity and well-being.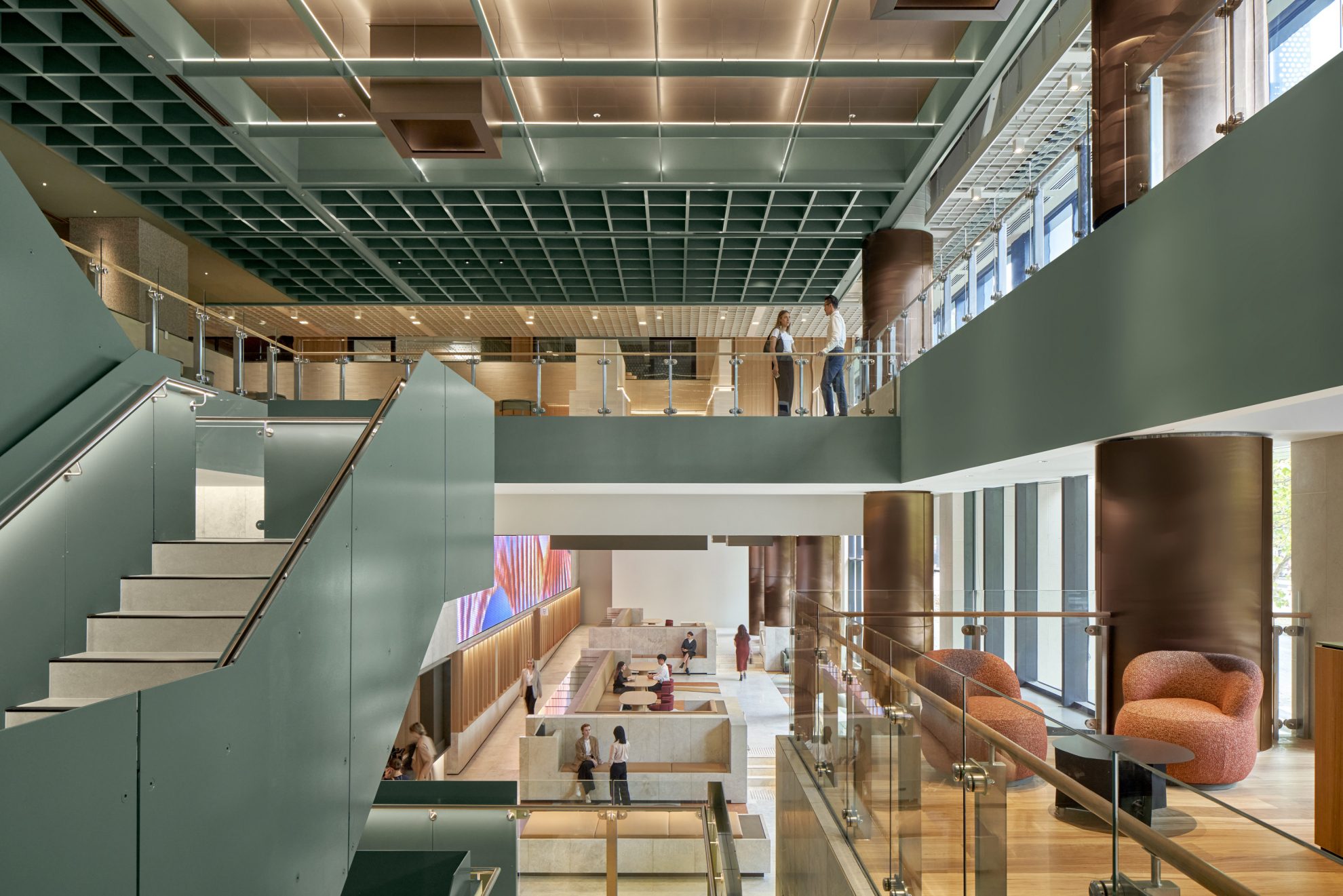 A bold green stair climbs from the ground level lobby, nicknamed 'The Treewalk.' Connecting staff and visitors from the lower business facilities, it journeys through the laboratory levels and weaves back through work floors, rising all the way to the Level 16 outdoor terrace – leading people to experience panoramic views across the Melbourne city skyline. With exposure to all elements of the organisation's endeavours, the treewalk celebrates the concept of CSL-on-show.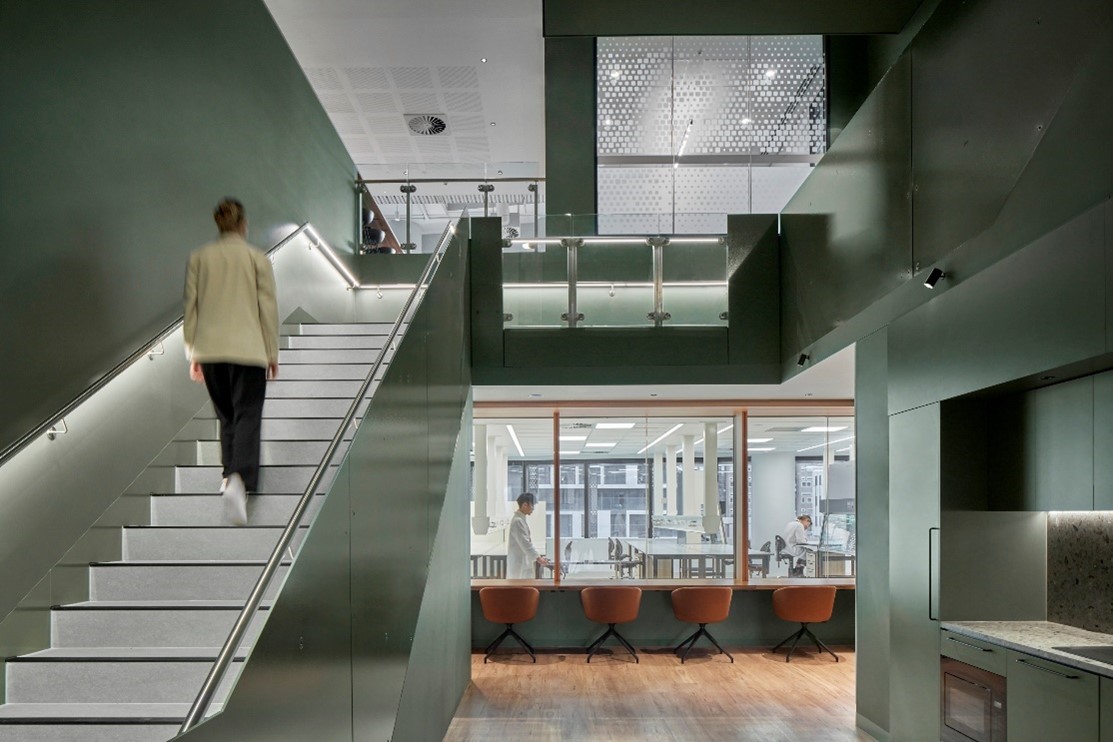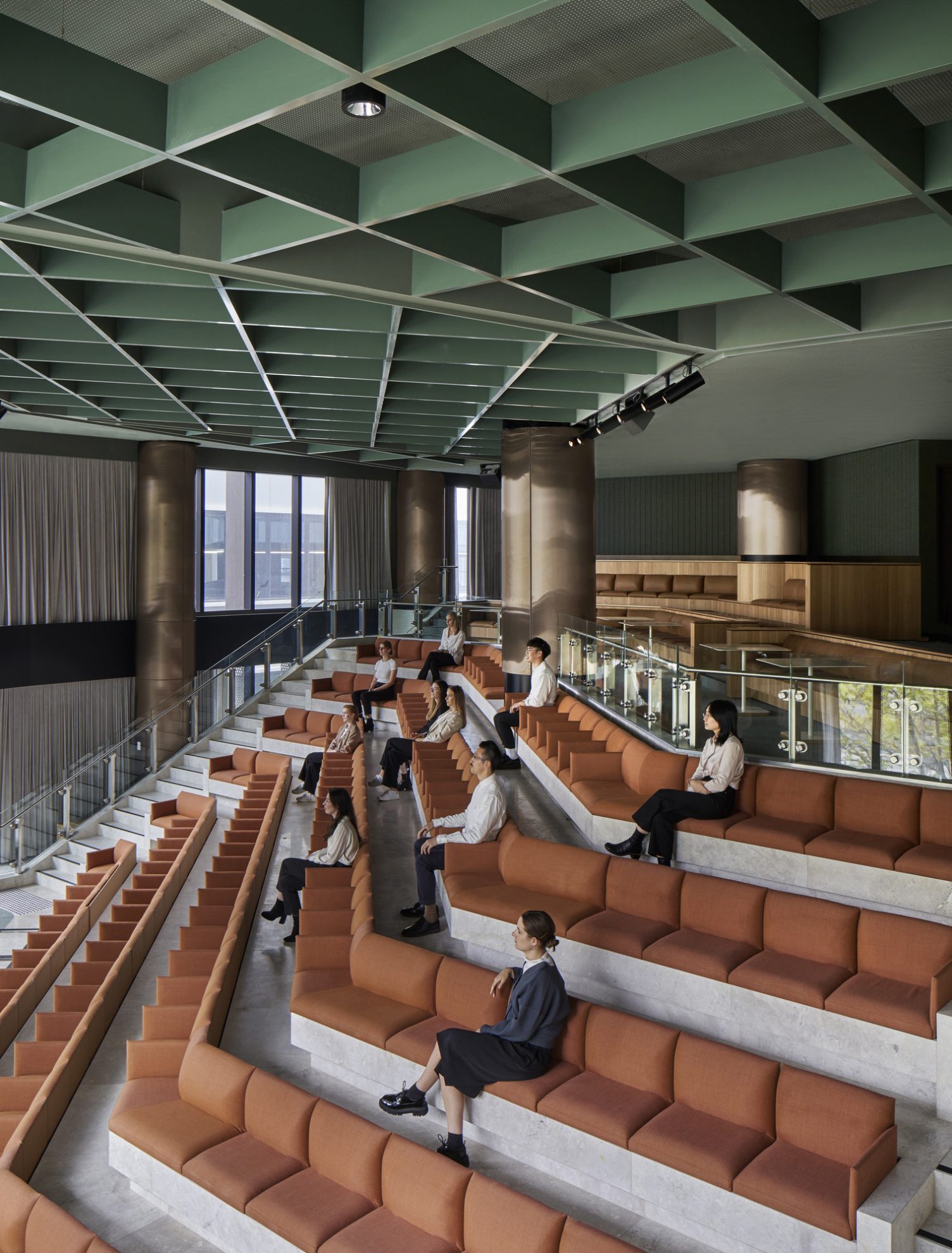 Soulful Synergy – A Tapestry of Human Connection and Nature
A harmonious interplay between nature and heritage, the facility sits amidst the verdant surrounds of Elizabeth Street. Taking cues from the existing heritage fabric, a textured podium facade with deep limestone clad portals and large-scale sun shading elements provides a sustainability-focused, energy efficient envelope with a warm and tactile experience at a pedestrian level.
Driven by a user-centric ethos, the building's contours at street level unfurl with inviting grace, offering sheltered alcoves and communal spaces that encourage serendipitous interactions. The marriage of public seating, landscaping and mature street trees, and a curated selection of retail options invites rather than excludes both neighbours and passers-by.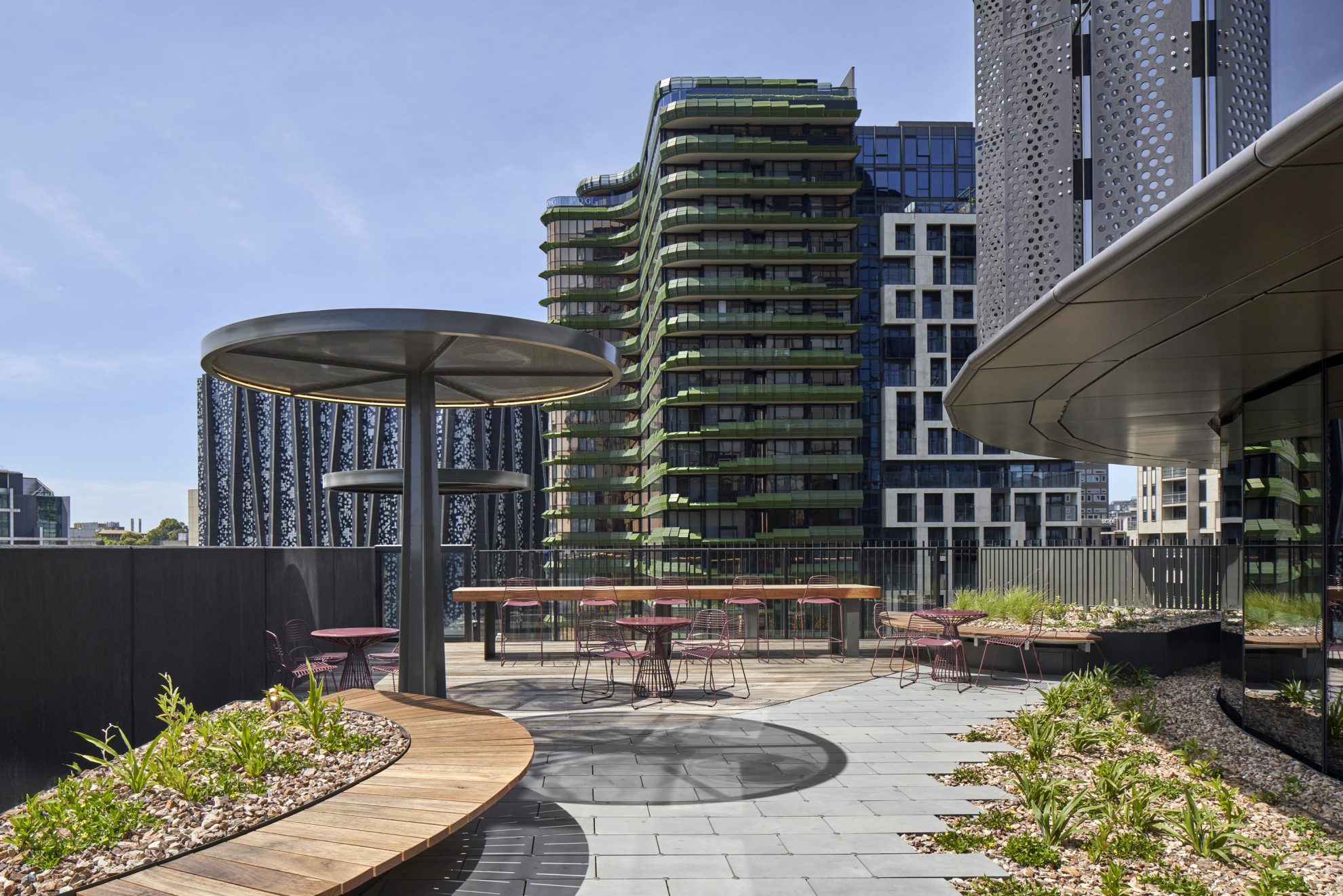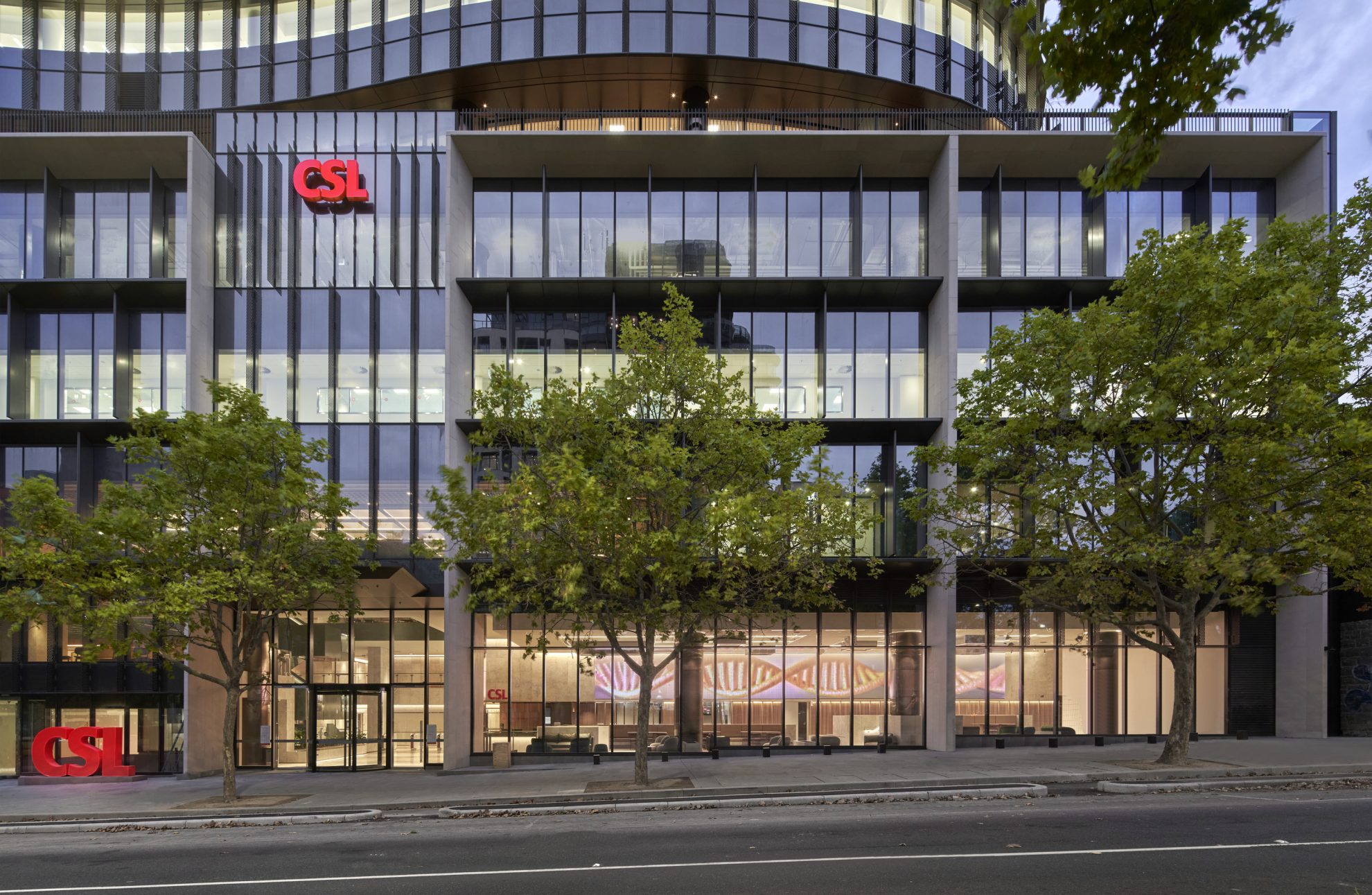 Pioneering a New Era – A Tailored Workplace
With CSL as a single tenant, COX embraced the opportunity to curate a workplace that encompasses and celebrates the history of the organisation, showcasing its values, while ensuring flexibility for the future. With a focus on delivering for both community and their people, educating and innovating was a primary focus for the design.  Elements that support a healthier and more balanced workday, medical innovation and superior performance were integral to design.
The new CSL workplace encompasses a range of complimentary functional spaces, including exhibition areas, an auditorium, and a dedicated business lounge for external stakeholders. Additionally, COX has provided an extensive selection of meeting spaces, collaboration meeting and breakout areas.
Premium amenities have been integrated to cater to the needs of the staff, including end-of-trip facilities, a wellness zone, high-end parent amenities, an in-house medical facility, prayer rooms, and  secluded spaces for focused work or down-time.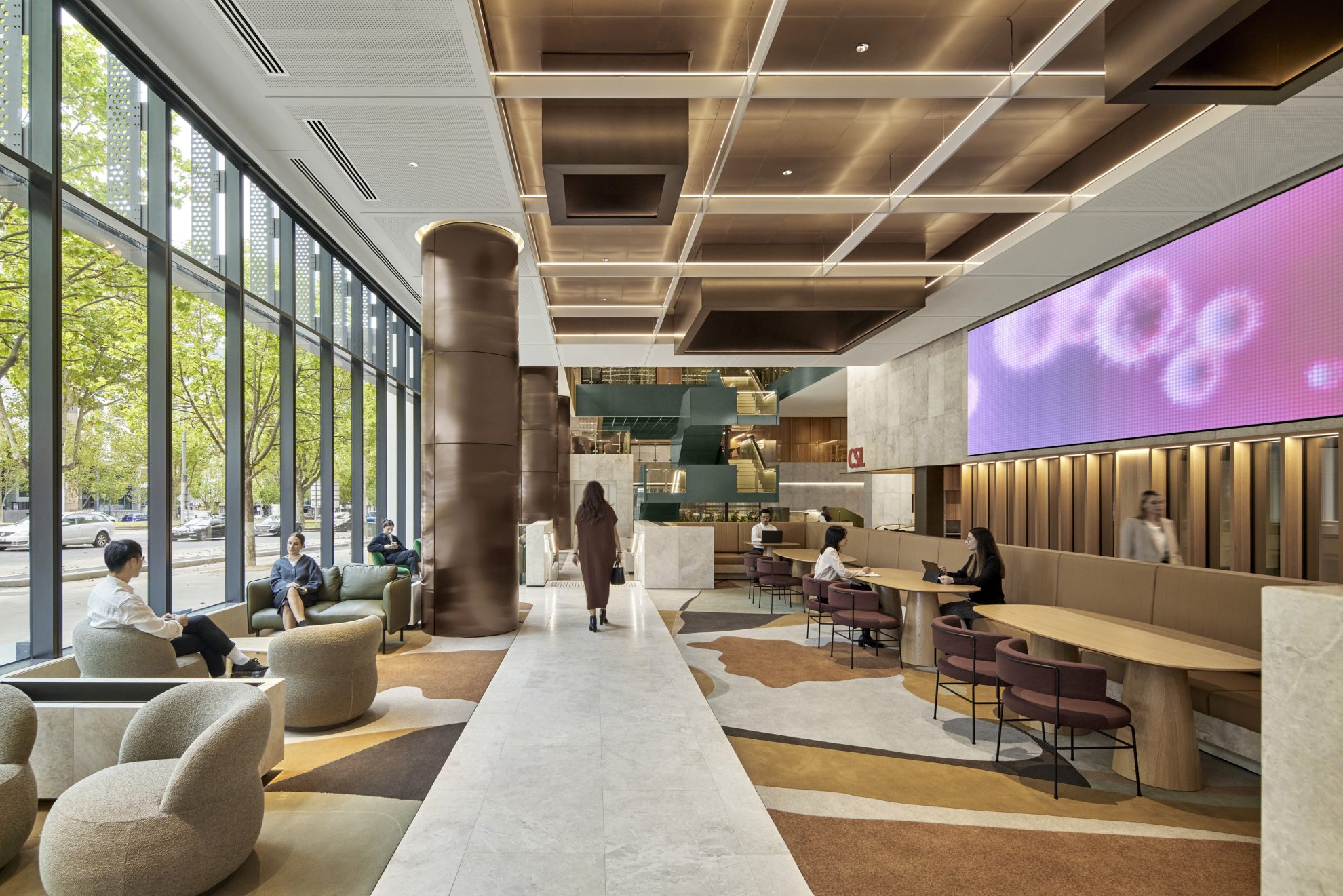 The workplace strategy, devised in close collaboration with CSL, centres around a fixed work point approach that anticipates future shifts toward fully agile working models. This strategy optimises the allocation of spaces by minimising traditional office areas in favour of increasing the availability of meeting rooms. This is a novel hybrid approach for office/small meeting room units that allow for flexible booking based on real-time needs. Supporting infrastructure, such as lockers, advanced booking systems, versatile workspaces, quiet retreats, and top-tier audio-visual solutions, further enhances the adaptability and agility of a work environment that is emblematic of both holistic excellence and the import of its endeavours.
The project's design was initially developed prior to the emergence of the Covid-19 pandemic, with subsequent responsive adjustments made because of the pandemic's evolving impact, ensuring that the design remains resilient and capable of accommodating changing circumstances.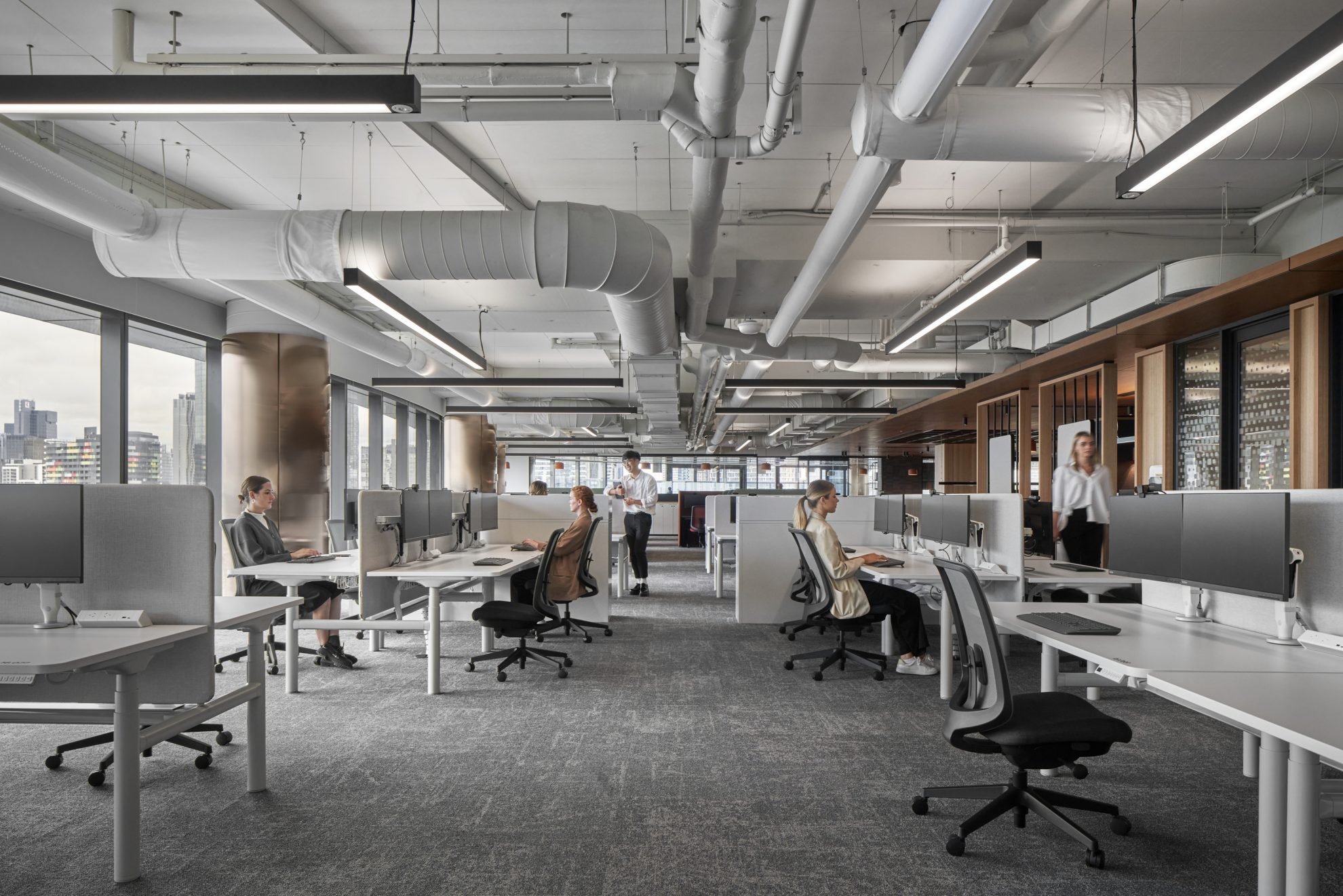 Illuminating Innovation – Laboratory on Show
By putting the laboratory on show to passers-by, we fused the realms of innovation and workplace into an immersive and inspiring narrative. Our design celebrates CSL's achievements internally, also educating visitors on the company's commitments. It's more than functional – it's a storyboard – weaving together the dance of form and life-changing function. Showcasing the lab serves as a source of motivation, fostering a symbiotic relationship between the workplace and the scientific endeavours unfolding within. A captivating intersection, the laboratory is a living spectacle, a high-stakes adventure of design and discovery.
Beyond CSL, the Jumar BioIncubatoris a combination of wet lab and office space for Biotech start-up medical companies. Located on two floors of the new headquarters, it is Australia's first and only incubator to be co-located with a leading biopharmaceutical company, linking research, academia and industry in the heart of Melbourne's Biomedical Precinct. COX's overall design objective was to design a space that evokes a sense of energy and inspiration while fostering a sense of community.