Project Contact
Ronan Moss
Abi Avramov
Alexander Garrett
Audun Alfheim
Christine Murray
Eamon O'Donoghue
James Badgery
James Rendina
Jarrad Needham
Jennifer Salter
Ralf Detjen
Robert Hewitt
Sam Boyd
Sonja McAuliffe
Tony Rowley
Trent Martin
St Germain
Campbell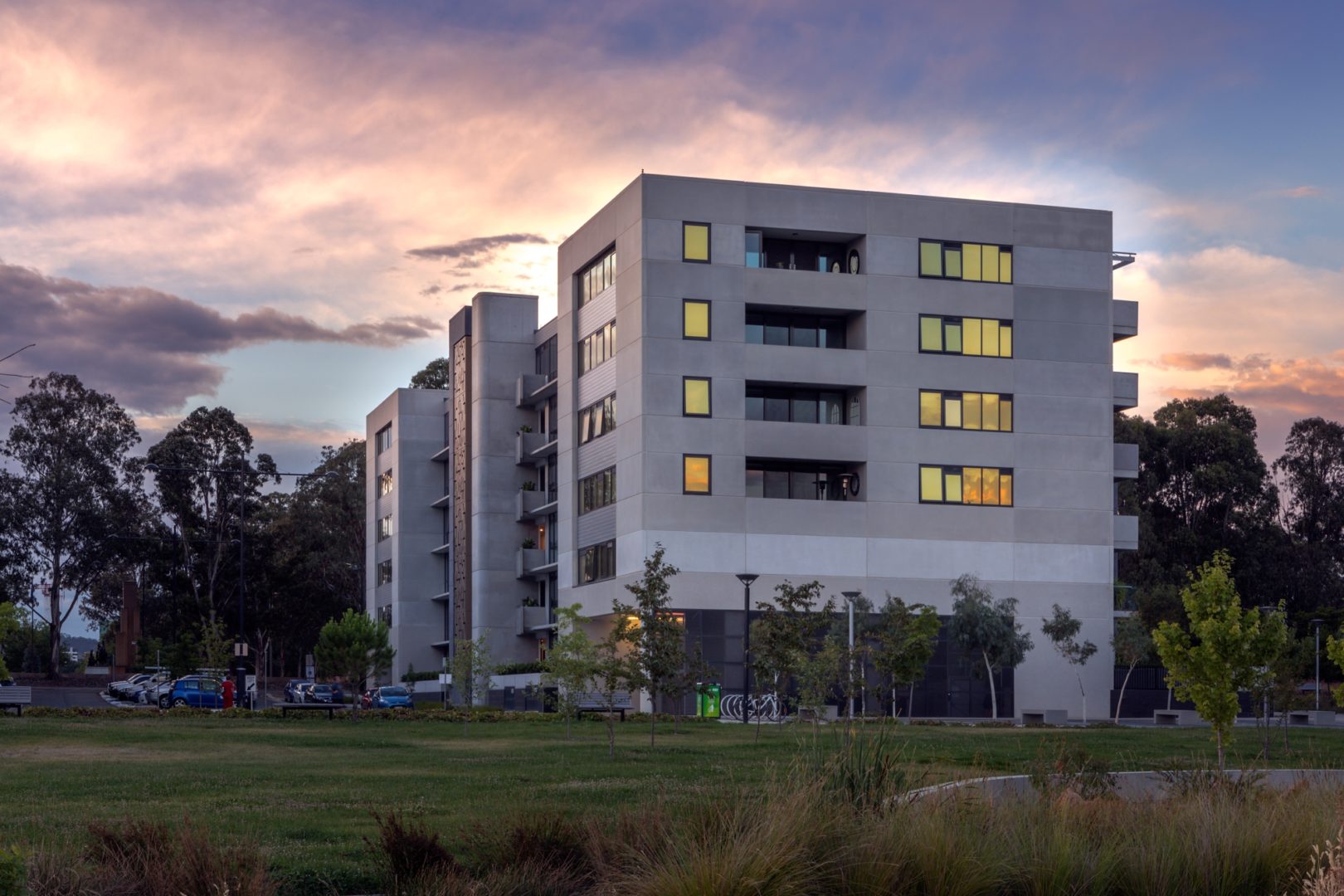 Saint Germain is part of the Campbell 5 (C5) housing precinct and occupies a prominent position on Anzac Parade – one of Canberra's main axis roads.
The architectural character of this precinct is defined by the robust national capital buildings of the parliamentary triangle nearby, consisting of strong precast facades that are quiet and restrained. This building responds to its precedents in a similarly restrained manner using simple forms and typologies
To saint Germain's northern front, a rectangular charcoal box sits on columns, setting up an intimate relationship to the adjacent park. In contrast, the buildings rear is simpler, presenting clean glass facades with an expressed lift and stair core. The corners of the building are expressed in acid etched precast concrete – defining the edges.
The building is primarily residential in nature, presenting itself with six stories to the rear and three stories to its front. This step-in building responds to the transition between the one to two story suburban home to its north and the next Campbell 5 multi-storey precinct to its south.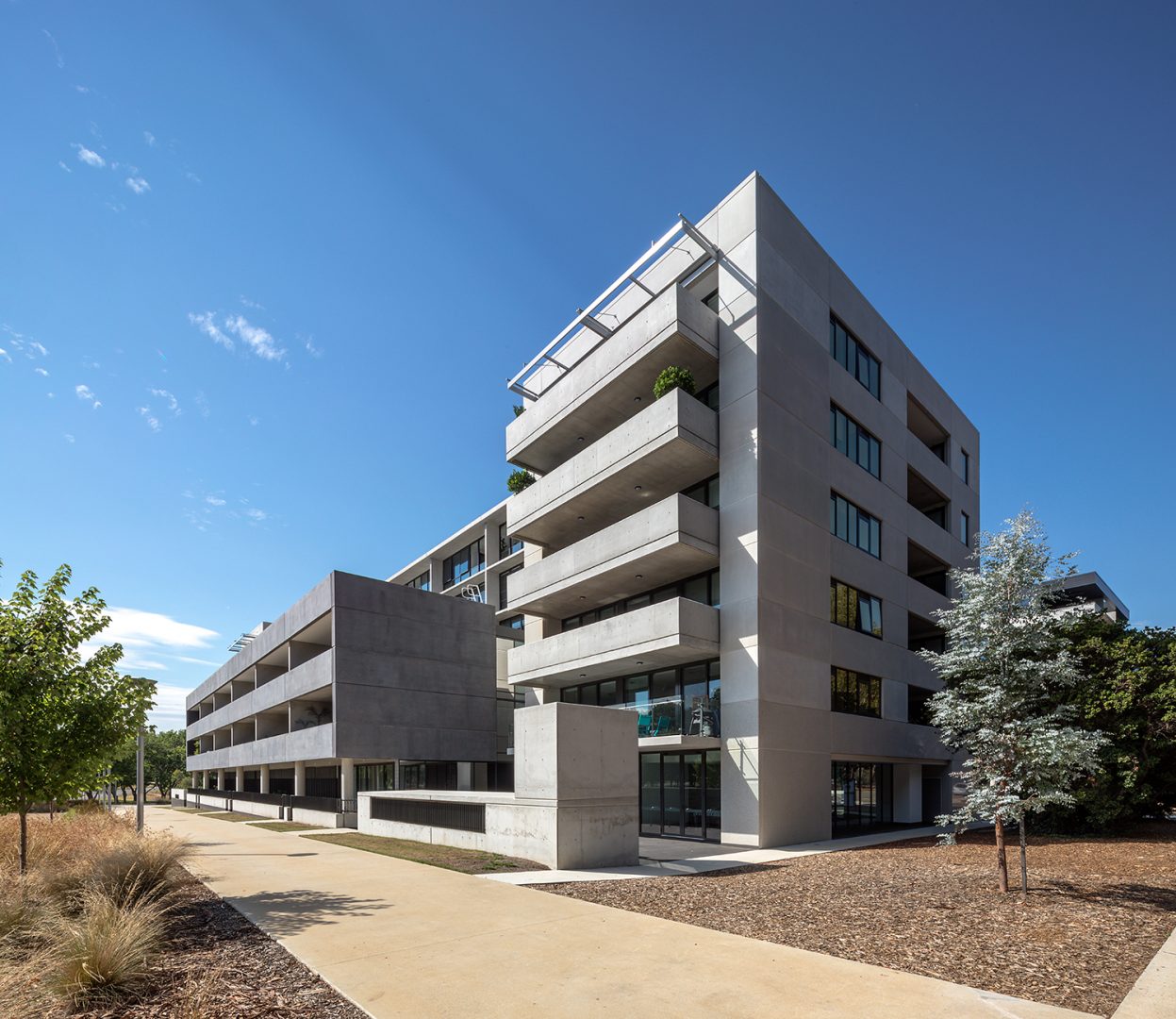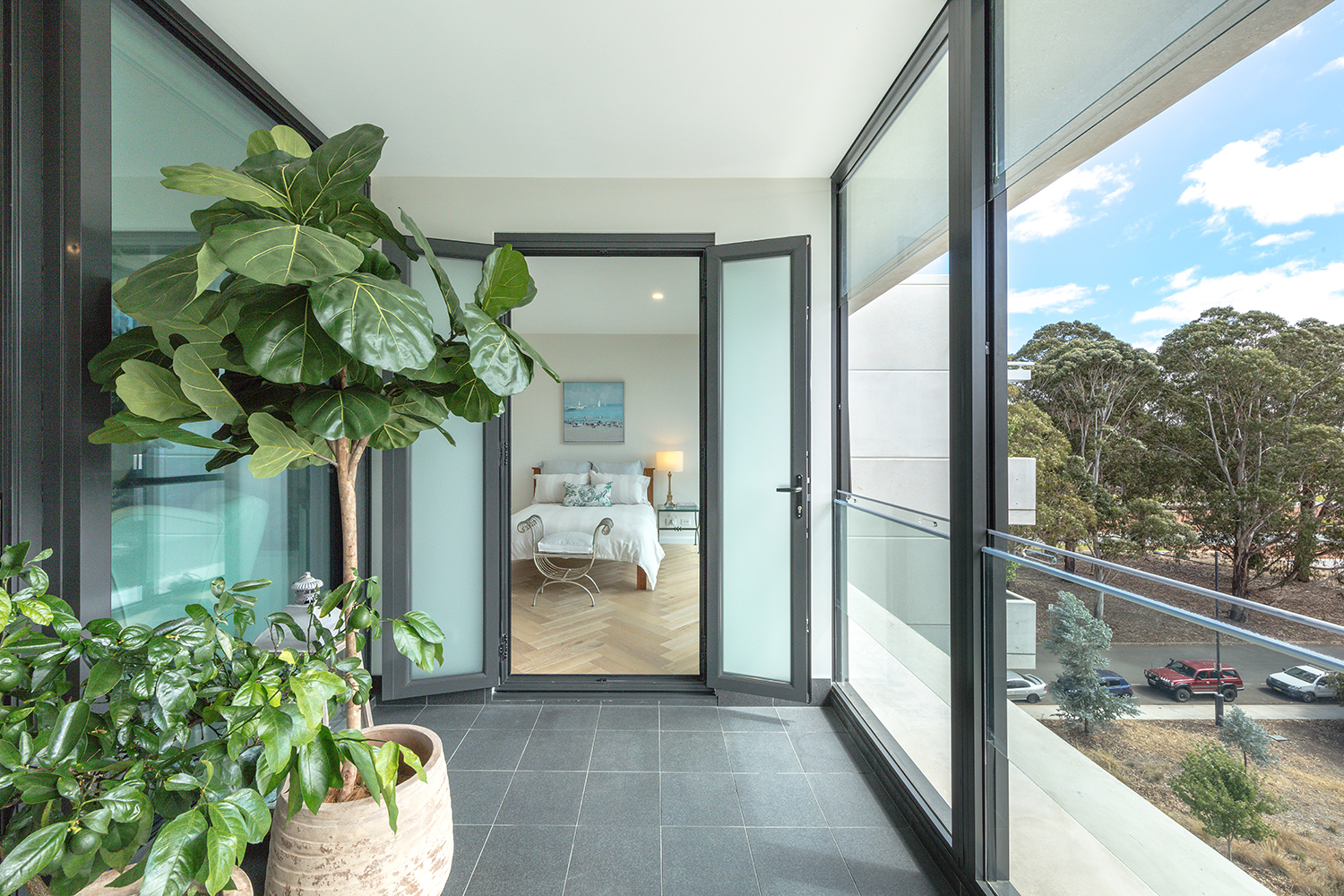 Atriums puncture the building form to allow light and ventilation to penetrate a deep floor plate. An ambience of light is created, with views back to Mount Ainslie and the wider green spaces of the precinct providing pleasant views that belie the areas density. On the ground floor, a community dining room and common space is provided for residents. This provides yet another excuse to collaborate, meet and connect with fellow residents and the wider Canberra collective.
Saint Germain's courtyard residences were designed to replicate customary house-like environments, offering living, dining, kitchen and bedroom spaces that wrap around personal central courtyards. These courtyards bring natural light and the outdoors to the houses, furthering a sense of spaciousness, order and permanence to the residences.
The penthouses residences are filled with light, air and space with ideal norther sun and unimpeded views. The penthouses have a traditional feel with their classic arrangement of 'enfilade' spaces that unfold towards the views over the village green the Mount Ainslie. Versatile and innovative gallery spaces add additional layers of amenity to the residences.
The St Germain development presents as an interesting typology in Canberra's apartment market. The design has created an outcome where every apartment is north facing and cross ventilated – in a multi-residential building, this aim is often sought, but not often met and has proved popular with buyers.