Project Contact
Tim Morgan
Akiko Spencer
Alison Livingstone
Andrew Gunther
Brett Duke
Brett Miles
Bridget Chapple
Bryony Milner
Casey Vallance
Catherine Allen
Cleopatra Ganis
Dale Armstrong
Danielle Walker
David Kirwan
David Murrell
Deanne Passenger
Domenic Mesiti
Domenico Romano
Ehsani Hooman
Graham Humphries
Hamish Brown
Ihab Imam
James Baker
Jayson Blight
John Negus
Jonathan Russell
Kate Pottinger
Katie Holzberger
Katrina Pollock
Kim Richards
Kirstie Galloway
Leung Choi
Madeleine Webb
Mark Shay
Matthew Alder
Max Navius
Maxie Navius
Megan MacKenzie
Michael Rayner
Misha Lamb
Mohsen Rahmanian
Natalie Hoitz
Natasha McGuffog
Peter Hale
Samantha Johanson
Samantha Ritch
Sonia Palmer
Stephanie Donigi
Stephen Gunn
Susan Desbrosses
Tamagin Blake-Smith
Tara Ram
Ton Ha
Troy King
Troy Rafton
Wei Shun Lee
400 George Street
Brisbane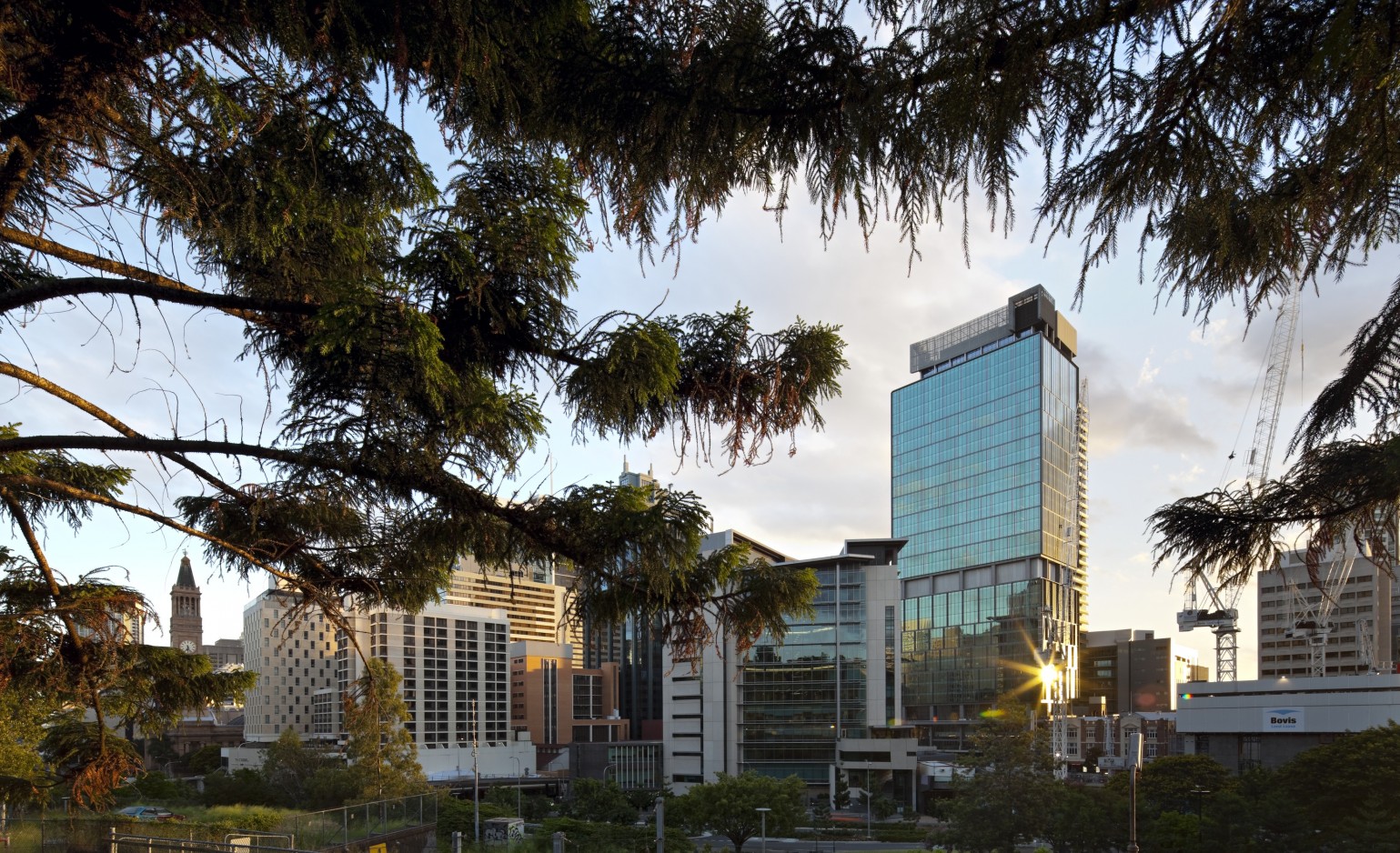 400 George Street is an office tower opposite the Brisbane Magistrates Court designed in 2000. The building forms a gateway to the city's legal precinct. Despite the different building types, COX ensured to relate the forms, materials and details to accentuate the sense of connectivity.
For the courthouse, we created a variety of public spaces around its base, each animated by integrated artwork. This opportunity did not exist for the office tower which fills its whole site area. COX considered if there was a way to make its foyer feel and act like a public space, rather than merely corporate space.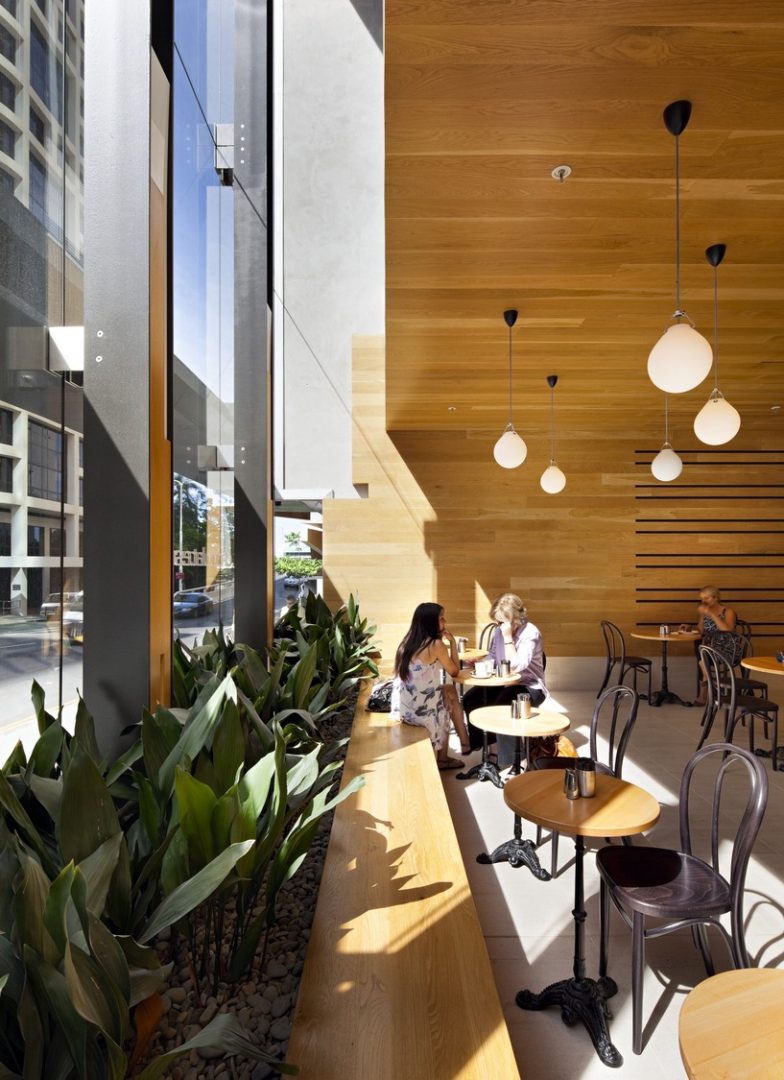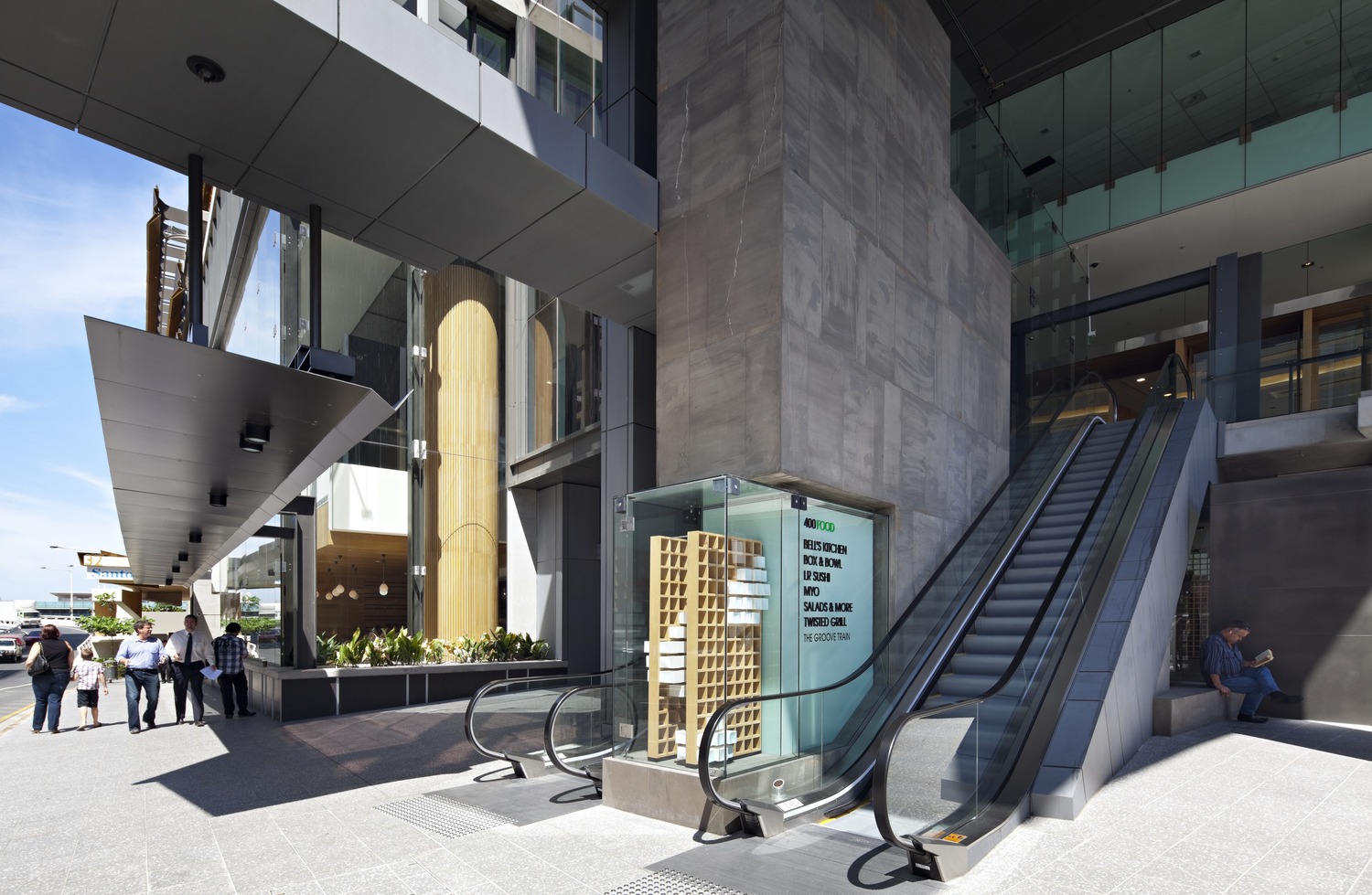 The intent was achieved in part by rising the foyer through three levels and activating it with a restaurant on ground floor, a long food court at first level, and a gymnasium and crèche at the upper level. However, the more definitive action was created by inhabiting the space with an artwork by Brisbane artist Donna Marcus.
Entitled 'Trickle', the work consists of multiple 'stalactites' and 'stalagmites' made from over 3,000 recycled aluminium saucepans, biscuit tins, pudding bowls and lids. Their domestic reference changes perception of the space, and they also refer to the tank stream under the site, the original source of the city's water supply.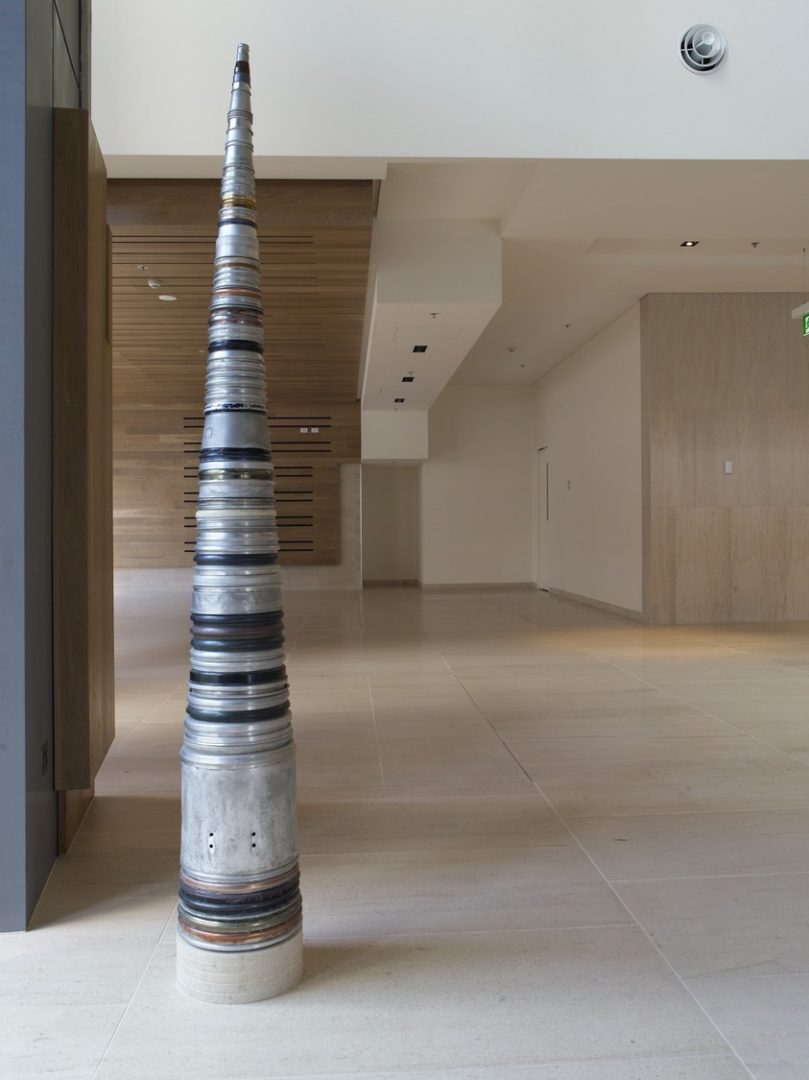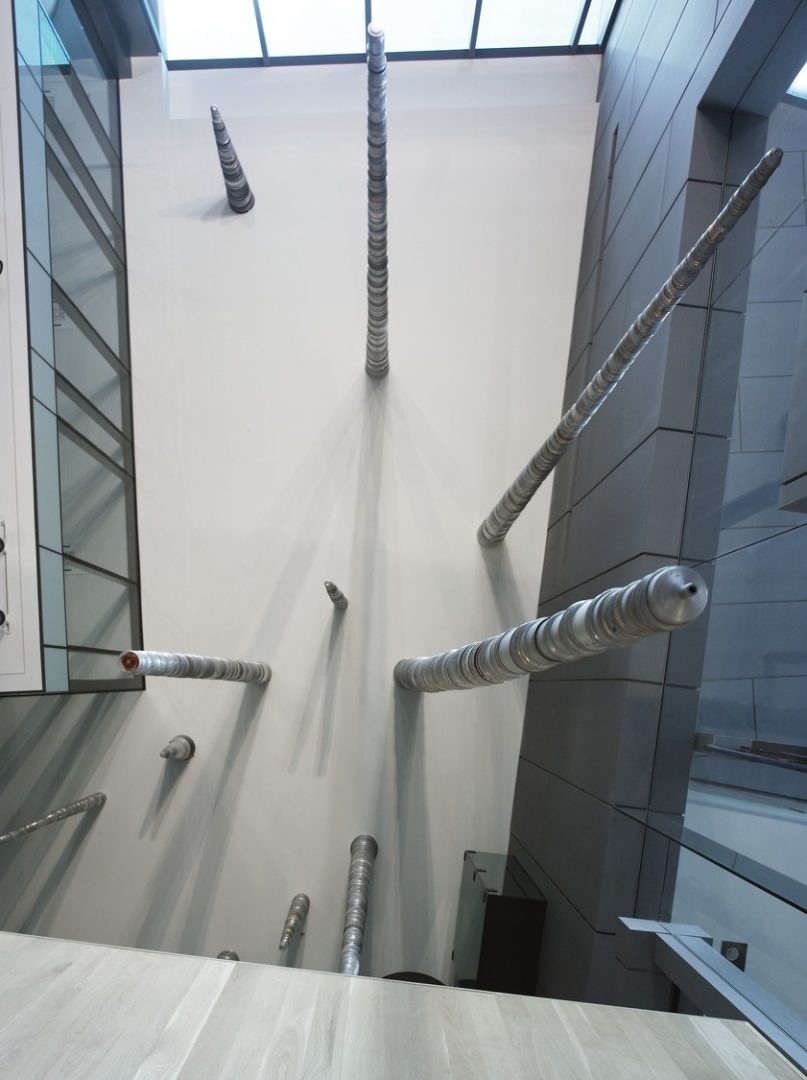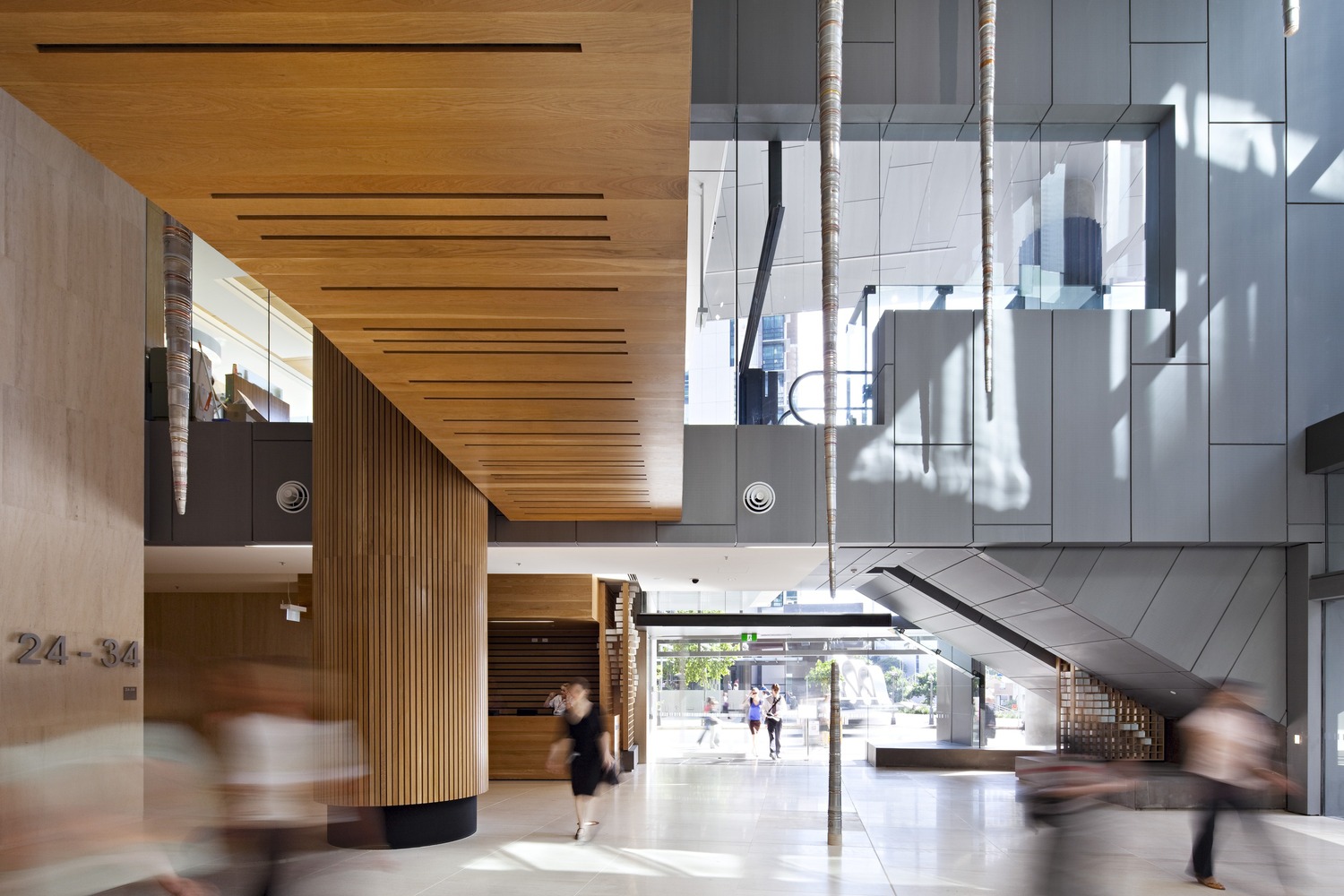 Two emerging artists, Gemma Smith and Kenji Uranishi, also worked on the space. Gemma Smith created large wall pieces as abstractions of chessboards in a further domestic reference. Kenji Uranishi's works form thresholds linking outside, inviting access. They challenge sense of scale, interpretable as either scale models of fictitious towers or as intimate pieces of furniture.
The office tower is also designed to challenge notions of urban scale, breaking at mid-height to match the roof level of the courts opposite, and corresponding its skyline elements with those at street level.