Project Contact
Satvir Mand
Amy Miles
Arnaud Despretz
Bernard Knight
Cameron Hallam
Caryl Joseph
Claudia Hobor
Edward Salib
Elisa Rombold
Eric Lee
Hayley Cross
Ian Hutchinson
Jason Chern Shuer Goh
Jason Goh
John Eglington
Joshua Young
Julie Watts
Kerwin Datu
Lachlan Miller
Lauren Smith
Marni Reti
Mitchell Page
Norman Keshan
Paddy Williams
Paul Sproule
Paula Bautista
Peter Ung
Philip Atkin
Rebecca Marlow
Sam Shephard
Saverio Cremona
Shelani Perera
Tina Zheng
Tony Tang
Vincent Uso
William Gow
Xaever Mand
Xion Lin
Wynyard Station Upgrade
Sydney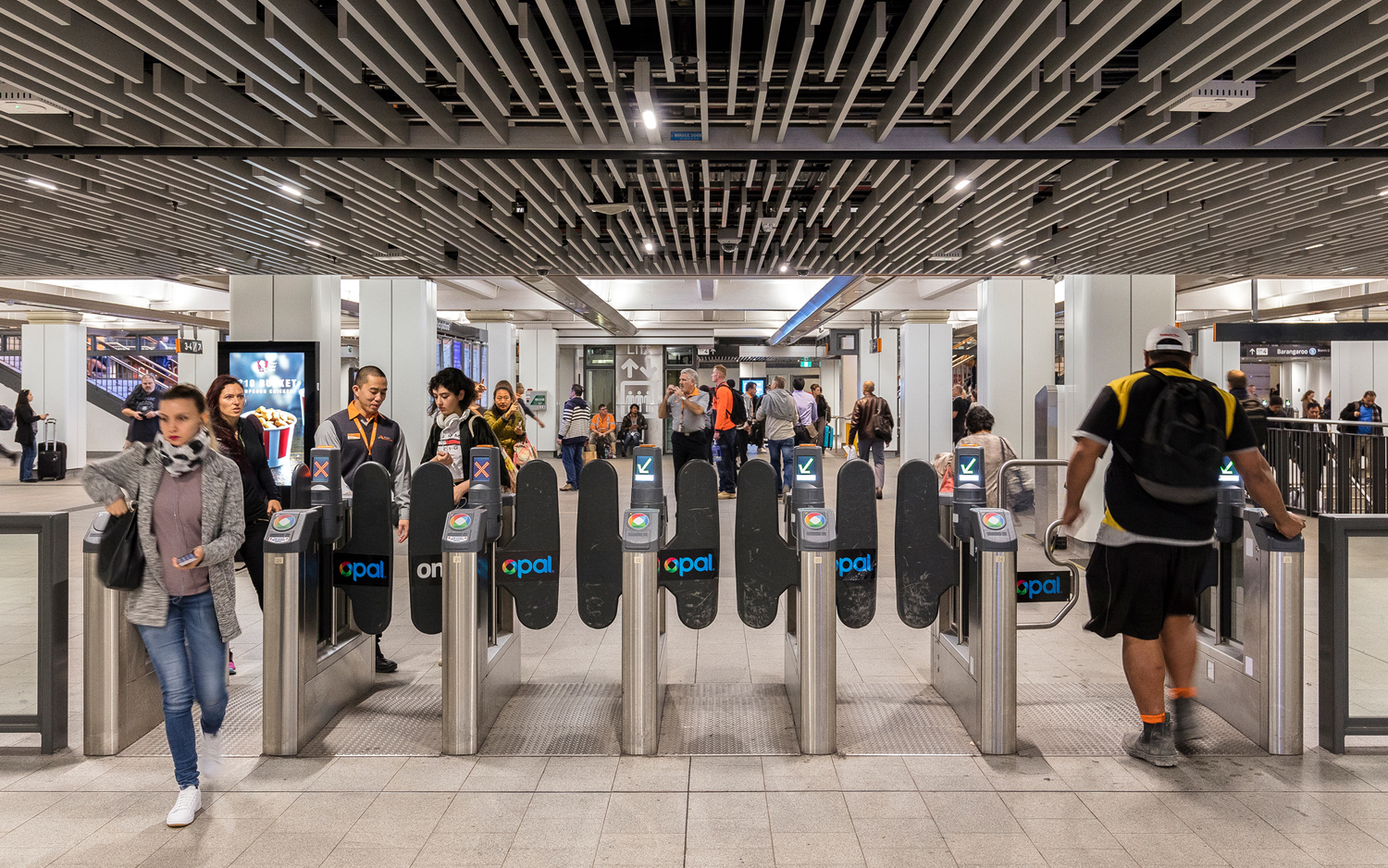 The Wynyard Station Upgrade has given Sydney a brighter, safer, faster and more accessible travel link, with increased capacity for tomorrow's Sydney.
Wynyard is an important city making precinct and primary hub in Sydney's City Centre. With the consistent growth of Sydney, the station will cater for an ever-increasing population.
The station opened in 1932 as part of a network loop that serviced the city centre.  Construction was undertaken as part of a complex cut and cover methodology – first excavating then re-building Wynyard Park on top. The station consisted of a large single level, low height concourse.
Decades of various utility and station service augmentations resulted in an incoherent space, where wall and ceiling finishes were haphazardly put together to meet immediate requirements.
The Wynyard Station Upgrade aimed to interpret and celebrate the history of the site while designing a space that can provide a modern station experience. Where possible COX aimed to reveal or match the station's original soffit and column structure, balustrades, handrails and plasterwork.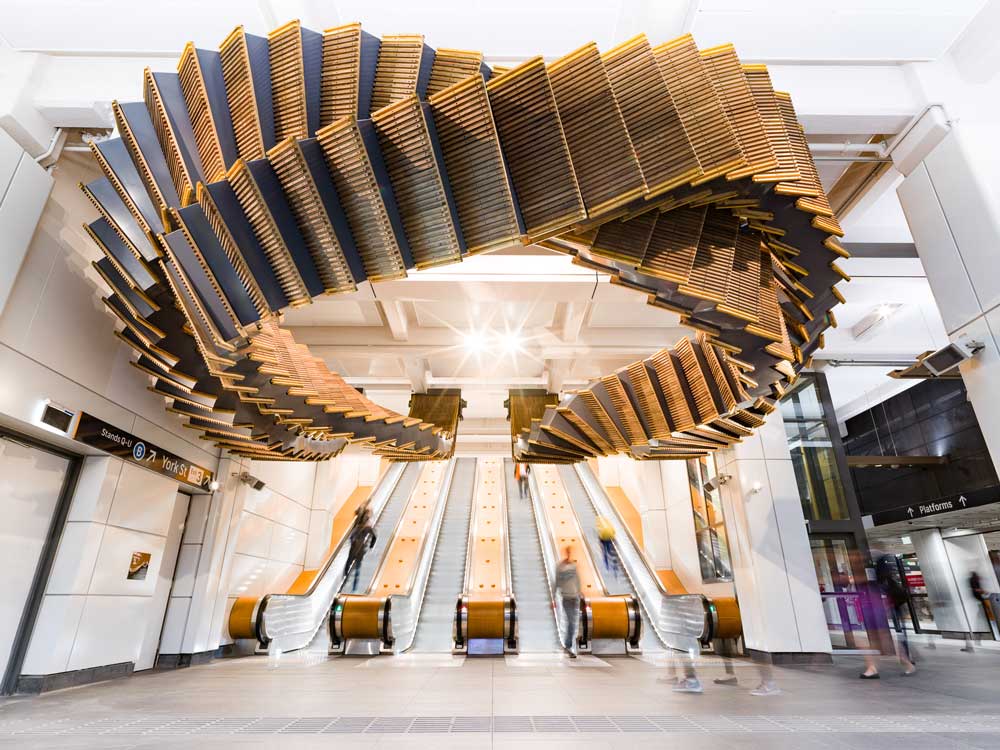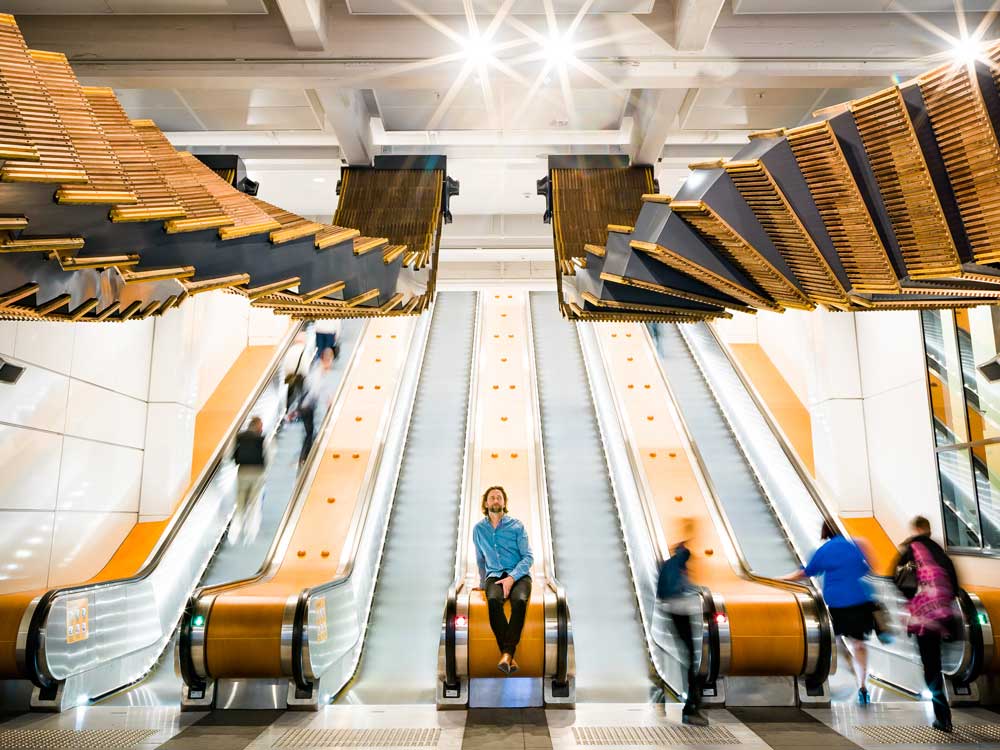 Throughout the upgrade, long forgotten history was revealed – including remnants of an elaborate dining room ceiling that was integrated into the design. Suspended ceilings were removed to increase the perceived height of the station and reveal more of the building's original structure. To help share these stories and more, a series of digital interpretative devices, including animated screens, were installed.
The escalators were a major point of focus for the design. Extreme care was taken to replace the York Street escalators, which had been in continuous use for sixty years. The new escalators were adapted to appear similar, utilising details such as timber infill panels. The substantial mid-20th Century machinery serving the former escalators was reassembled and is now displayed in a museum space below the upgraded escalators.
Chris Fox's suspended sculpture INTERLOOP hovers above the York Street escalators.
Chris Fox, INTERLOOP Artist
Its tumbling, looping form and reuse of the 1930s OTIS escalator treads provides a dynamic and potent signifier of Sydney's past while embracing the future. It is a major landmark for Sydney and for Transport for NSW, who commissioned the installation and has been enthusiastically embraced by the public and commuters alike.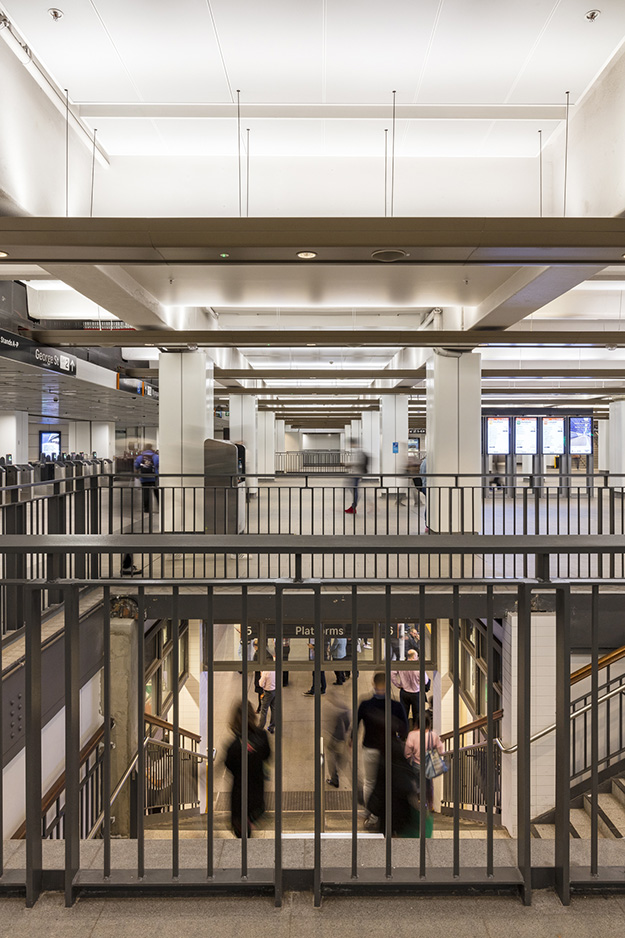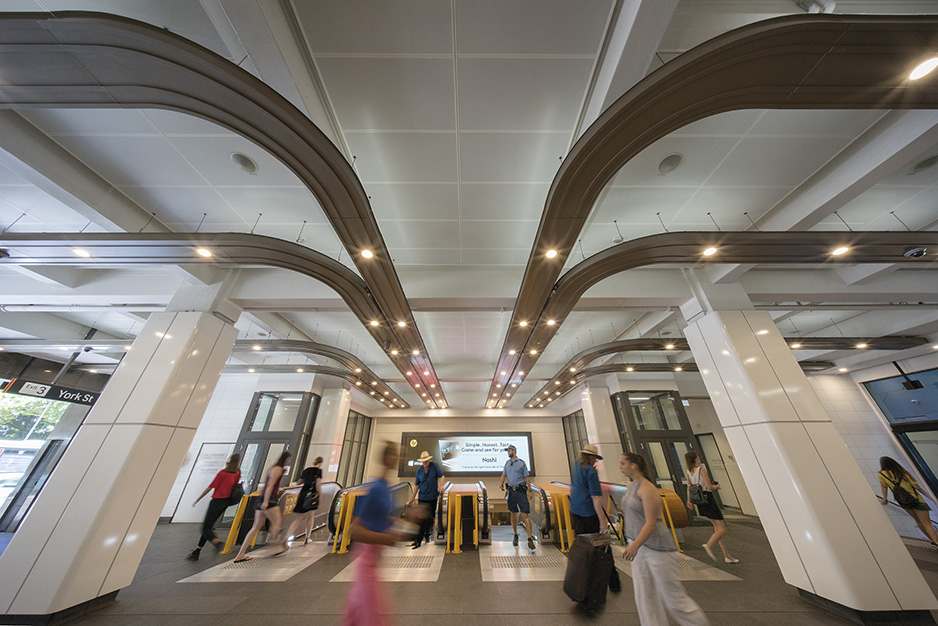 Given the internal and enclosed nature of the station, the design focused on four main initiatives.
Integration
The upgrade ensures a customer environment that links Wynyard Walk, the station concourse and the entry to Wynyard Place. It improves pedestrian connectivity and permeability through the precinct and integrated the new station entries created at Barangaroo, Napoleon Plaza and Clarence Street.
Identity
Design choices have given the station a sense of identity as a movement corridor and premier transport interchange. It is consistent in its quality of design intent, material and finishes. The station concourse seamlessly integrates with surrounding retail links yet expresses a distinct character and strong sense of identity through key components including heritage, services integration, lighting and material design selection.
Architecture
The concepts provide an enhanced transport experience for both outward and inward customer journeys through efficient station planning, space reconfiguration and revitalizing the form and aesthetic of the existing station.
Heritage
The intent was to design a station that respects elements of the original layout and remaining original fabric, while also providing a modern station experience.
This upgrade has allowed more people to access, exit and move easily through Wynyard Station. Adding facilities such as a lift at the York Street entrance, safer escalators and new and upgraded stairs have reduced queues and crowding. Facilities have improved, with new fixtures and fittings creating a lighter and bright station. Behind the scenes – staff work areas were also upgraded.
It's now easy to get around the station – wayfinding, signage, more ticket gates and decluttered train platforms and concourse areas contribute to the safe flow of people. Trains are now able to run more regularly and to schedule. The streamlined station layout also makes it easier to get on and off trains.